Dine like a Sheikh at My Favoureat Kopitiam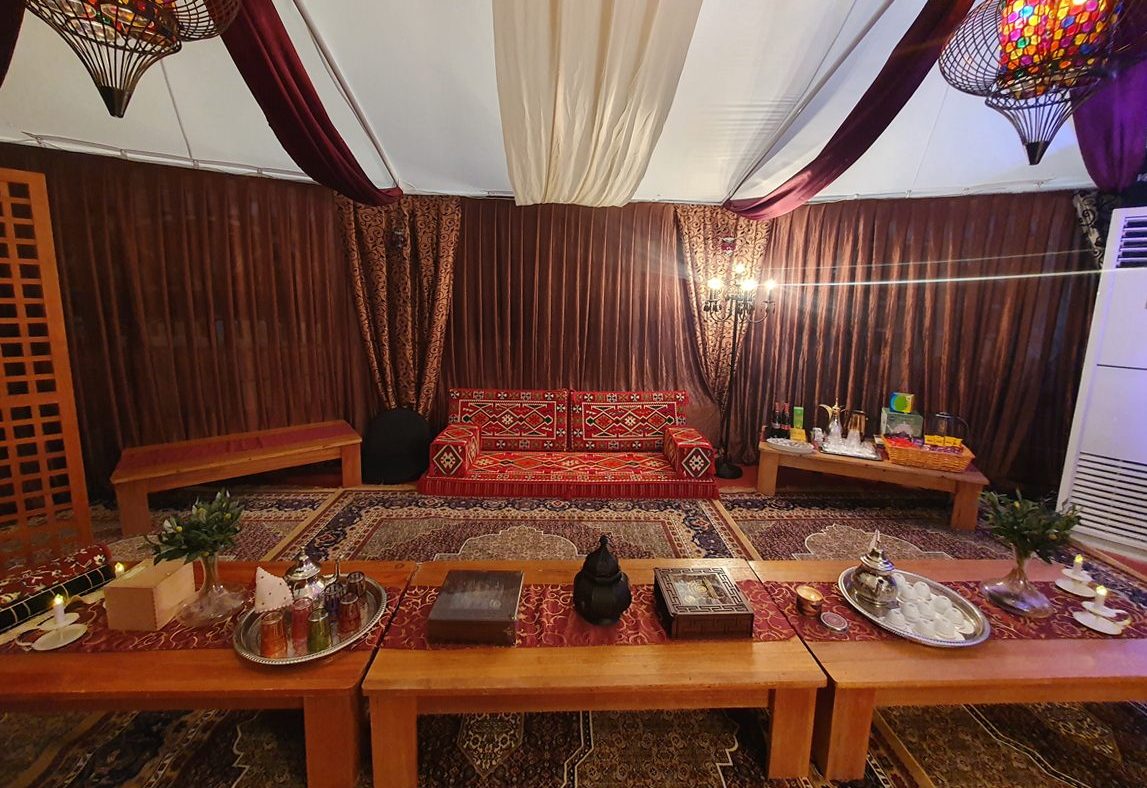 by Rozman Mashor
Well now. That was certainly different. Given the dominance of the Islamic faith in Brunei and its close relationship with several Middle Eastern countries, I have often wondered why themes revolving around cultural facets of that region are not utilised more often when it comes to the food and beverage industry here. In the defence of restaurant and eatery operators, maybe such thematic approaches are often pursued and I have simply been unaware. Regardless, if my ignorance is a factor to take into account, then it nonetheless worked to my benefit as My Favoureat Kopitiam wowed the team and I with the ambience of their Ramadan set-up.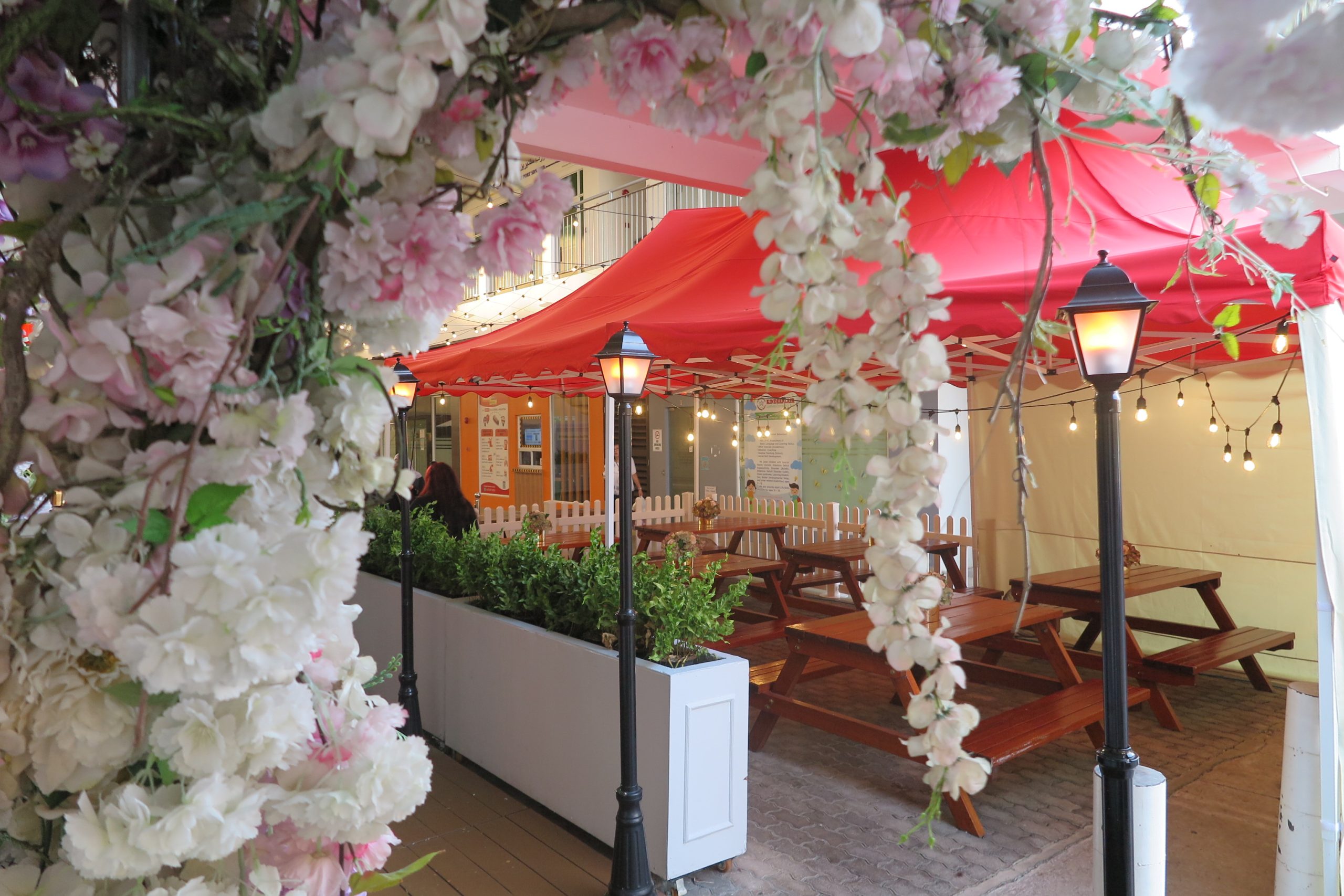 Located on the ground floor of the Haji Munchit & Hajah Dayang Rapiah Complex, the eatery simply referred to as MFK has made their presence felt throughout the entire span of the complex. Throughout the duration of this month, multiple tents have been set-up for diners to break their fast within. Technically there are two different themes in play, with the smaller tent right next door to the eatery embracing a white interior populated with circular tables, and a green focus wall at its rear as part of its Magical Garden vibe. There is a mini pagoda at its centre for people to take pictures against because MFK knows the truth of the Sultanate's citizenry, which simply said is: we are obsessed with taking photos and this is an opportunity for diners to do so. Don't be shy, snap away. Overall, it is clean and pretty despite its simplicity, but of more interest are the Bedouin-styled tents running the entire length of the complex's central space.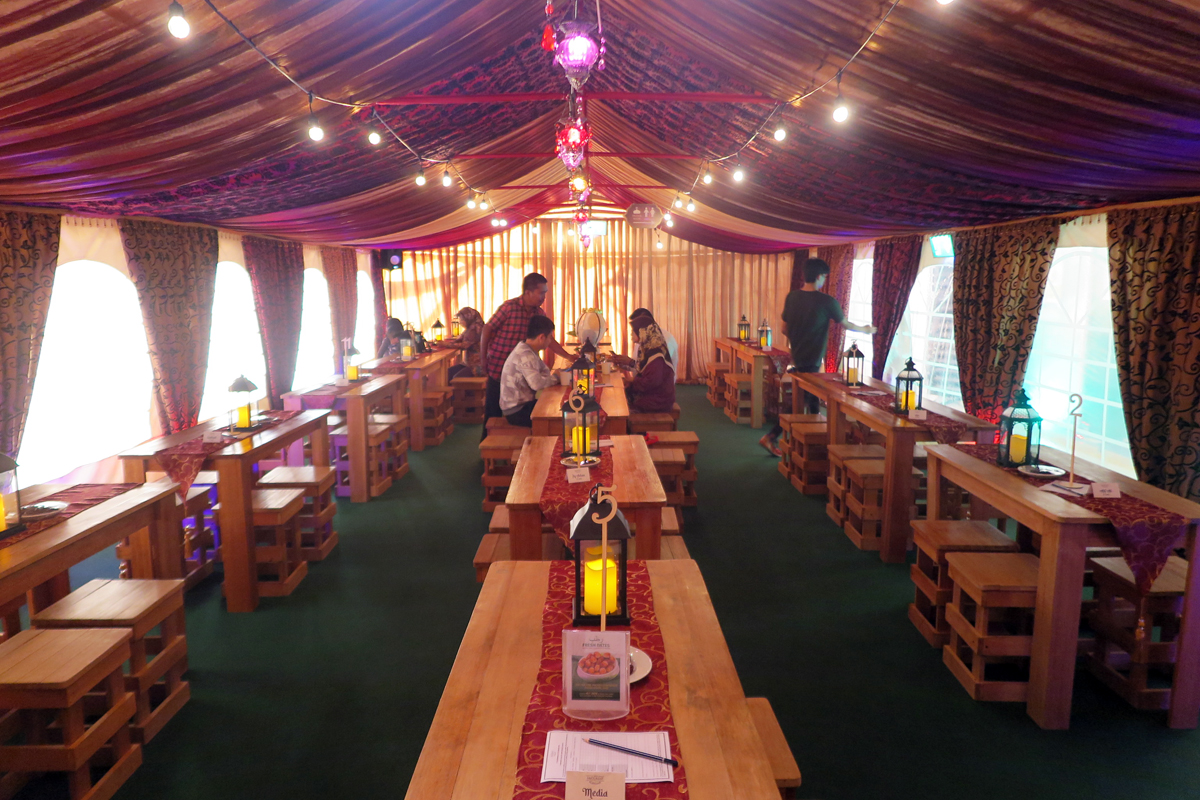 Just a 30-second walk away will bring you to the main attraction. The exterior of these tents are white and give nothing away. However, once you push through the curtain of beads suspended from the floral archway into the interior, you can be forgiven for thinking you had been transported to a different world. Branching off to the left, the interior has a brown-reddish dimness to it, is full of dark wooden tables and benches for diners, while multi-hued stained glass bulbs and lamps provide a warm golden illumination. A mist machine is used prior to the arrival of guests to contribute yet further to the ambience of Arabian nights. To the right of the entrance the vibe is still the same but this section is where the food is situated. The menu changes daily so do be sure to check with staff in advance to ensure what is on offer coincides with what your taste buds are craving. The only staple is the desserts, which always remain the same and is inclusive of ice cream, caramelized popcorn, and cotton candy.
For an additional surcharge, groups of people can make use of the VIP tent, which is decked out in such a way that I felt like a Sheikh. There are low-lying floor couches, atop a splendid soft rug, with a long narrow table that divides the space. Once again the golden illumination is easy on the eyes with no harsh glare at all. There is a snack bar that diners can pay a little extra to access should they wish, as well as portable AC units within all the tents. So don't worry just in case you were wondering.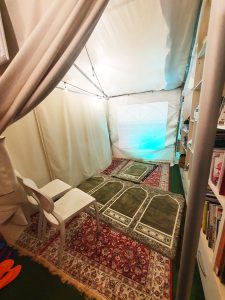 You may imagine yourself as a Bedouin for the evening but you won't necessarily be sweating like one who just set up his tent in the desert, as MFK has taken steps to ensure everyone's comfort. Diners have access to both the different thematic tents, so just because you have booked seats in the Arab Quarter, doesn't mean you can't wonder around and take a peek at the Magical Garden section.
With prayer rooms on hand for both men and women, everything has been accounted for. All that remains is to wait for the breaking of the fast so that you can tuck into a variety of dishes with gusto. With a roughly 120-person seating capacity, do call in advance, and for those of you who do dine in, have a great dinner!
My Favoureat Kopitiam is located at Unit 9, Ground Floor, Haji Munchit & Hajah Dayang Rapiah Complex, Jalan Komersial Jaya Setia, Bandar Seri Begawan BB2713. For reservations, call +673 821 2828 and be sure to follow them on Instagram at @MyFavoureatKopitiam.