Baiduri Cardmembers on the Receiving End of Exclusive Sungkai Discounts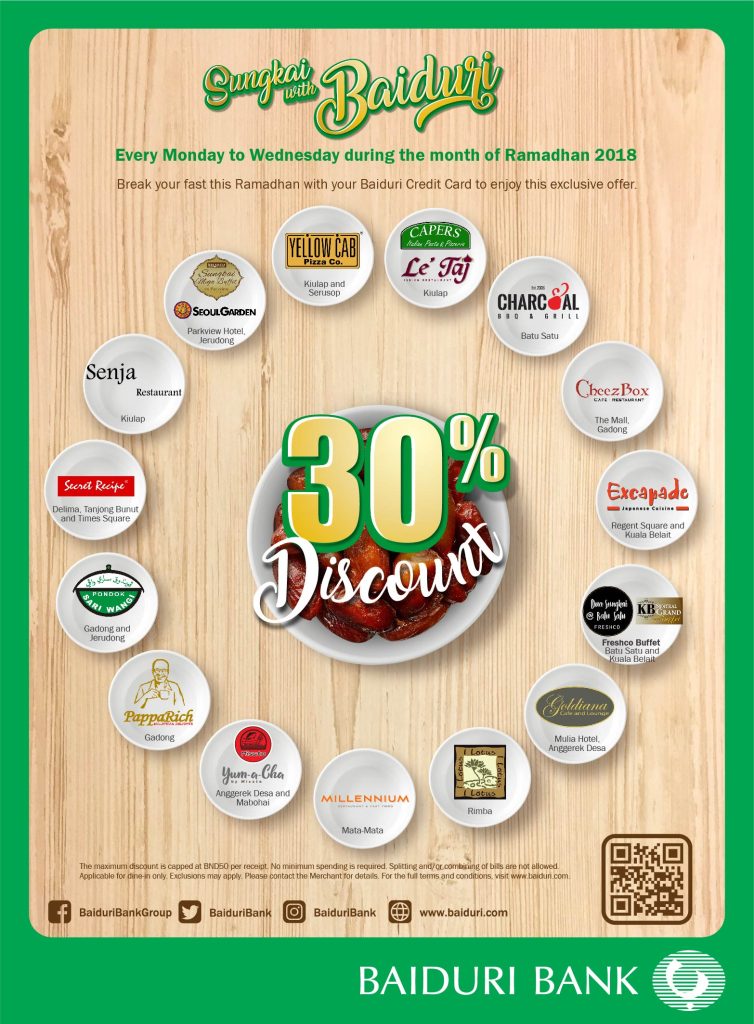 This Ramadhan, Baiduri Credit Cardholders are the lucky ones entitled to a 30% discount when breaking fast at selected culinary outlets all over the country. Collaborating with over twenty restaurants in Brunei, Baiduri Bank has come up with some sweet deals for their customers to enjoy every Monday, Tuesday and Wednesday during the fasting month!
Participating restaurants in the Sungkai with Baiduri promotion include Capers Café & Restaurant, Charcoal BBQ & Grill, Cheezebox Café & Restaurant, Freshco Buffet at Freshco Batu Satu, Grand Buffet at KB Sentral, Freshco Sungkai Mega Buffet (Parkview Hotel), Goldiana Café & Lounge (Mulia Hotel), I-Lotus Restaurant, Le Taj Restaurant, Millennium Restaurant, Misato Japanese Restaurant, Papparich Restaurant, Pondok Sari Wangi Gadong as well as Jerudong, Secret Recipe, Senja Restaurant, Seoul Garden and Yellow Cab Pizza Co.
With no minimum spending required and discounts of up to BND50 off the total bill, Baiduri Credit Cardholders are welcome to indulge themselves in the specially selected outlets with the Sungkai with Baiduri promotion.
For more updates on exclusive promotions by Baiduri Bank, be sure to follow the Baiduri Bank Group on their social media handles on Facebook and Instagram.