The Unfunny Business of Comedy
by Intan Abu Daniel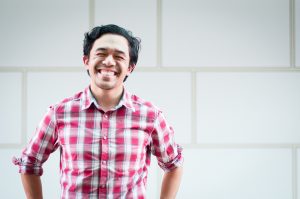 Zainal Bostaman is a stand-up comedian in Brunei, and he is an ordinary man. He goes on stage and talks about ordinary things ranging from the pressures of being single to his dislike for babies, and it works because it's side-splittingly funny, and by the end of his set, it's apparent that nearly everyone in the room can relate to at least one aspect of his stories. Zainal is an ordinary man, but a very funny one, and his audience gets him because they're ordinary people too, dealing with similar life situations. And it's this shared human connection that pushes Zainal through the unfunny, and unforgiving, business of comedy.
But there is nothing ordinary about Zainal once he's out of the spotlight. Off stage and away from the cameras, Zainal is quiet, introspective and determined. He's been determined for a few years now, in creating and maintaining a local comedy scene.
So what prompted the drive to start a comedy industry in Brunei?
"A friend of mine in Singapore asked if I wanted to catch a Comedy Open Mic, where anyone could go on stage for five minutes and try to make people laugh. I saw some people going up and some of them were funny and the rest were atrocious. My friend said to me, we could do that! So the following week, I got up on stage and had my five minutes, except I only took two minutes because no one laughed. It was such an embarrassment."
"The emcee came up to me after the show and gave me tips to be a better comedian. I came back every week, hung out and learned from other comedians, and that's how I started. I wished we had the same type of scene here in Brunei, and that's why I started BruHaha."
Zainal continued to perfect his art form, by going abroad to perform stand-up routines and continuing to absorb information from other comedians, something he believes is crucial if you want to improve as a performer.
"When I was in London I was around comedians who, on a scale of 1 to 100 in terms of comedic level, were in the 80's to 90's. I came in a 10, I improved until I went up to 50, and then I had to leave. As someone with some experience, I can help aspiring comedians here grow to my level, but my own experience is limited. And if we can't grow together as comedians to an international level, I am not doing anyone a service."
How can a comedian get to be that good? By doing stand-up comedy as much as possible.
"Everywhere else in the world has Open Mic sessions where you can go on stage and just perform. You can record yourself, take note of the lines the audience laughed at, and over the weeks, keep coming up on stage and try out different lines until it becomes a whole set. The more you go on stage, the more feedback you get. Unfortunately in Brunei, you go on a show and you only get five minutes, so you can't try out new material to see which ones are funny and which ones aren't, because the next time you go on stage, it'll probably be in another two months. To get that good, we need more stage time."
Going up on stage and delivering jokes is not necessarily reserved for those who are naturally funny. Zainal maintains that being funny doesn't come naturally to him – he was scared stiff of public speaking when he was younger (he overcame that fear by joining Toastmasters) – but he works at being funny. Stand-up is an art, and like all other art forms, it takes dedication, skill, and a lot of practice, and if you don't work at it, it can be very unforgiving.
"Comedy is very brutal. Everything is prepared, written, tested and performed by you, so if your gig doesn't go well, you only have yourself to blame."
"To stick with comedy, you have to appreciate stand-up as a craft. Everyone, eventually, will have a bad gig. And to plough through that negativity, you need to understand that when they don't laugh at your jokes, it's not personal. Then you work harder on that material for the next time you go on stage. And you keep going on stage because that's the nature of it. In comedy, the most successful people are the ones who work at it. Otherwise, you're not going to last long in this industry."
On PechaKucha night in 2016, Zainal talked to the audience about being single in Brunei. He talked about the pressures he faced from his family for being unmarried, about the tips and advice he received from his family and friends, at how average he imagined himself to be, and it was hilarious. The set ended on a depressing note but it had the audience in stitches, and when we got up from our chairs to leave, we were still smiling.
Earlier generations of local comedians have set the groundwork, but whether or not it's a direct result of Zainal's hard work, a new generation of funny people have come out of the woodwork and are beginning to shine. From the stand-up comedians of Zainal's BruHaha club and the funny lads of Filterworks Productions (of which Zainal is a part of), to household Instagrammer Babu Si Nur, comedians in Brunei have become local celebrities. It might not be a booming industry yet, but it's an optimistic beginning.
Keep updated on events with the BruHaha Comedy Club by following them on Facebook, and see what Filterworks Production are up to by checking out their Facebook page.