Exclusive Deals and Exciting Bundles At DST and Vicom's Collaborative Limitless Connectivity Fair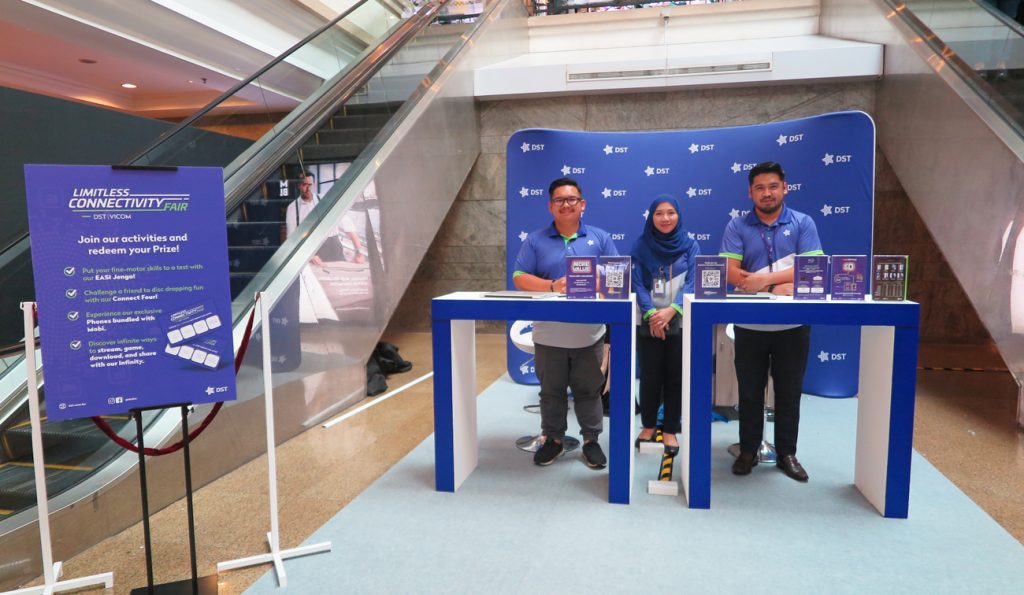 The Limitless Connectivity Fair was officially launched on 27 January 2021 at The Mall Gadong as a collaboration between DST and Vicom Enterprise. Officiating the launch was the Guest of Honour and Chief Executive Officer of Datastream Digital Sdn Bhd (DST), Yang Mulia Tuan Radin Sufri Radin Basiuni, as well as Mr. Kevin Lim, General Manager of Vicom Enterprise. The Senior Management team of DST, Vicom Enterprise as well as members of the media were also in attendance during the event which will be open to members of the public until 31 January 2021.
Exclusive deals aplenty, new and loyal customers alike are in for a treat at the Limitless Connectivity Fair where DST will be offering a range of Mobi Contract Phone Bundles spanning several brands such as Oppo, Realme, OnePlus and more. However, an unbeatable treat lies in the Mobi Contract Bundle where customers who register to Mobi 80 under a 24-month contract plan can choose between the Oppo A15, Oppo A31 or Oppo A53 at a cool $0. But new Mobi 50 subscribers or customers switching from other service providers to DST are also in for a treat! For just $1, you can get the Oppo A31 or the Oppo A53 for $39.  What a steal!
But if you're heading there to see what they have in terms of WiFi, DST is also offering free devices for those who switch from their current service provider to DST's Infinity. New Infinity 58 subscribers will get a free Xiaomi Mi Box S which offers a universe of streaming options with all your favourite movies and TV shows in tow just by simply connecting the TV Box to your Smart TV. Those who switch to Infinity 98 are entitled to free Deco M5 Routers, a Mesh WiFi Router which brings the joy of a seamless internet experience in all corners of your home!
As part of their Easi Everything campaign offer, the Easi Bundle offers a special deal to those who purchase an Oppo phone and bundle it with Easi for 24 months where they can get up to 100% of their phone value back. A free Portable MiFi device for WiFi on the go also awaits those who subscribe to Freedom 28 or Freedom 48. And for those who register to Easi, Mobi or Freedom, upgrade their Easi to Mobi, subscribe to the Mobi Contract Phone Bundle or switch from their current service provider to DST, lucky draw prizes including the iPhone 12 mini and the Apple Watch SE await you!
There's something for everyone at the Limitless Connectivity Fair with six sizable areas for members of the public to explore all of DST's products ranging from the displays of Mobi Contract Phone Bundles, the seamless entertainment experience with Infinity, the display of Easi Bundles as well as a customer service booth to attend to general inquiries and a pop-up counter where existing customers can pay their bills.
Fun activities such as Easi Jenga and Connect Four by DST, as well as other deals by Vicom including Phone Auctions and Lucky Draw Prizes will be held over the span of the five days, to be enjoyed over free drinks from Coffee Bean and Tea Leaf and free ice-cream from Happy Cream & Co.. Happening from now until Sunday, 31 January 2021 from 10am to 10pm (excluding 11:30am to 2:30pm on Friday), visit the DST website for more information on the Limitless Connectivity Fair. Don't forget to also follow them on Instagram @dstbn!