Showcasing the Beauty of Ethnically Diverse Women in Art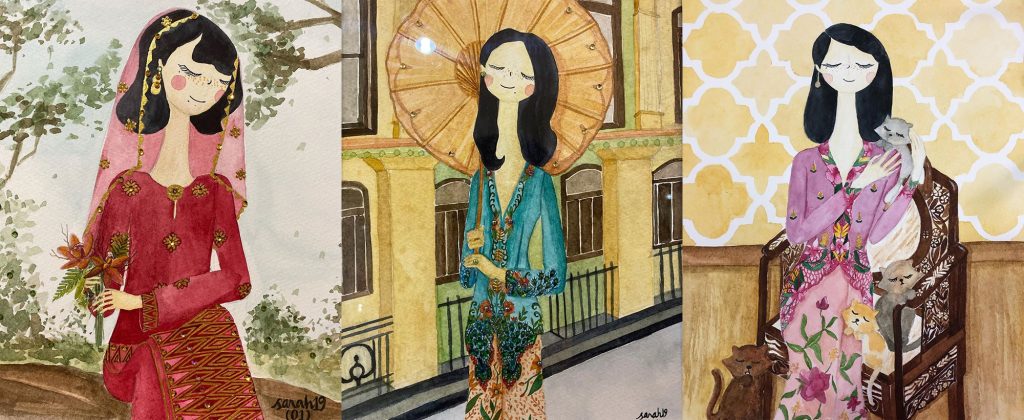 In an age consumed by digital media and the new culture of over-processing images through filters and editing software, a piece of intricately produced cultural art is extremely refreshing on the eyes. The imagery of beautiful, ethnically diverse women of Malaysia should never be shunted through the process of photoshopping yet must retain the vibrancy of its culture – a fact that Malaysian born Noor Sarah Mohamed Reza seems to be very attuned to.
Relatively new in Kuala Lumpur's diverse art scene, Sarah arrived with an artistic style that is both vibrant and subtle in its effect. With a keen eye to detail, her art strips away the extraneous to focus on the intricacies of a traditional costume and the features of her beautiful woman.
The 30-year old's artistic skill has been evident since the tender age of four, but she only pursued her interest to pursue art as a career later on in life, after graduating with a BA (UNISA) degree in Communication and Media Management from Taylors University. It kicked off with her first freelance job in May 2018, where she was tasked to create illustrations for a to-be-published book authored by renowned mental health activist Datin Sabrinah Morad. 
Her artistic journey began in earnest from that promising beginning, and she then took the opportunity to exhibit and sell her artworks at places like the Collectors Pick, Amcorp Mall and Petaling Jaya.
With a style that is accessible, energetic and down-to-earth, her subject matters vary in accordance to her mood, which makes her artwork a continuously fresh and unpredictable. Using mainly watercolour, acrylic and pastels, her portraits of ethnically diverse women of Malaysia is a prime example of her eye-catching talent. 
Check out more of Sarah's works on her Instagram account @senisara.my.
This article was first published in the October-December 2020 issue of BiG Magazine "Borneo to the World".