Blue Raincoat Collective Calls for Big Hearted Creatives to Spruce Up 101 Tables for Charity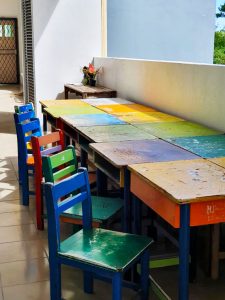 The Blue Raincoat Collective brings in another win for our community, this time with a wholesome  social initiative that promotes and celebrates basic upcycling 101 with the endgame of giving back to the community. The social initiative titled "101 Tables: A Community Giveback Project" aims to breathe new life into 101 unused tables donated by Yayasan School Sultan Haji Hassanal Bolkiah by calling on a nationwide search for big-hearted individuals to take these tables into their care, spruce them up and by February 28, deliver them back to The Collective Makerspace where they will be donated to underprivileged children living in Kampong Ayer in need of personal study essentials.
A philanthropic initiative with a creative kick, individuals will have the chance to be as imaginative as possible when beautifying and improving on these tables with child-friendly alterations (keeping in mind to refrain from using imagery or words which are age-inappropriate).
Before the upcycled desks are given back to the community, a free-to-public exhibition will also be held from 1 March 2021 to 14 March 2021 showcasing the refurbished desks thanks to the creative design efforts of everyone taking part in the project. Open from now onwards for anyone interested in getting involved in the community giveback project, simply contact Azim at 673-864 2936 to organise a pick-up time to collect a table and chair set.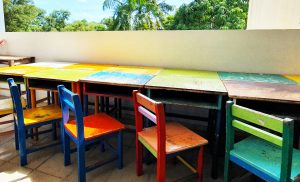 The Blue Raincoat Collective has shared a long-term partnership agreement with Yayasan Sultan Haji Hassanal Bolkiah (YSHHB) under the Ristaan Abadi Initiative where community projects have been held with efforts to better the life of Kampong Bolkiah B residents, particularly the youths. Currently, a community centre is in the works where workshops and upskilling events can be held to benefit its residents in the long term.
So here's a rundown!
What: 101 Tables: A Community Giveback Project
Why: To upcycle old school tables and provide personal study desks for underprivileged children in Kampong Ayer
Where: The Collective Makerspace (for collecting and returning of desks)
When: 28th February 2021 (deadline!)
Who: Azim (673-864 2936) or Intan (673-8645680)
For more inquiries about the initiative, drop them an email at blueraincoatcollective@gmail.com.