BiG Finds Around Brunei
In the BiG office, quarterly brainstorming sessions typically result in a bunch of us shouting out ideas. Our overzealous researching of all things Brunei typically results in a minefield of finds – from art to music to food to products to people – that hit our radar. Sadly, not all of these fantastic finds make the cut, and so we thought for this issue, it'd be fun to shine a spotlight on what caught our eyes this quarter.
Without further ado, read on for our BiG Finds Around Brunei!
Intan finds: KOD22
A proper punk rock band in Brunei? I have to thank my music-crazy husband for introducing me to this three-piece punk group. They've got completely original songs that range from croons (Sayang Abang Lai) to anthems of RAEG (their song Anti-Rape, a perfectly rage-worthy topic) to frenetic beats against satirical lyrics (Lagu Orang Sanang MV). Listening to these guys actually take me back to a time when people wore a devil-may-care attitude and music that came out of the radio was fresh, thrilling and above all, unapologetic (90's represent – also, ignore me: I'm old). At a time when finding original music involves scouring through the recesses of the Internet for a white elephant, it's truly fantastic to find one in your home town.
Follow them on Instagram (@_kod22_) or check out their YouTube channel (Kod 22).
Shy finds: Tibetan Bowl Meditation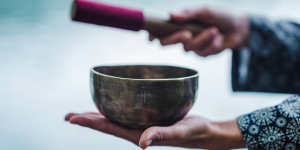 In the office, we've all got our thing. Our Assistant Editor Shy's thing, among many other things, is finding peace and tranquillity while doing absolutely nothing. Which is why the idea of someone banging on a bowl to transmit the right sound frequency in a low impact class that involves 45 minutes of lying down would appeal greatly to her. We jest, but honestly, this guided meditation has been proven as a way of easing you into a state of deep relaxation, and this is perfect for those who struggle with sleep, anxiety and restlessness, or those who just need to take a dang break – and that's no laughing matter at all.  
Get your sound healing vibes on and check them out on Instagram (@lifeflowyoga.bn).
Shy also finds: The Frame Shop
Shy's reasoning here is simple (and probably has a lot to do with the influence from our sister company, WaMa Designs): everyone has a feature wall gallery in their house nowadays. Just about anything arty, meaningful or just plain pretty can be framed, and the selection of said frame makes or breaks the entire thing.
The Frame Shop in Kuala Belait makes customisable picture frames for all of your framing needs, and their designs are elegant creations that doesn't take away from the beauty of the subject but rather enhances it! We are fully ready to embrace the idea of having a wall gallery in 2021, and we are absolutely going The Frame Shop to get started.
Check them out on Instagram (@theframeshop.bn).
Aqilah finds: Heartbead Jewellery
Aqilah and her sisters bring a whole new meaning to the word 'Sister Power' – they have such a sibling bond that they willingly do things together, cook things together, watch things together, shop for things together, and so it's not at all surprising that Aqilah's BiG find this quarter has to do with her sisters. It was her sister who discovered Heartbead jewelry – a brand that creates, sources and crafts beautiful minimalist jewelry, and loving the simplicity of the elegant designs, the sisters went to the Heartbead shop (don't worry, they sell online too!) to each buy their own unique charm bracelet, which they're all sporting on their wrists today.
Sisterly love bond aside, Heartbead offers some truly breath taking pieces that make perfect gifts for loved ones (or yourself!). Check them out on Instagram (@heartbead), go to their website (www.shopheartbead.com) or just visit their shop located at Little Soho in Batu Bersurat. 
Aqilah also finds: Khraftonite
So very khrafty! Regrettably not very skilled in the art of embroidery herself, Aqilah's shortcomings in this craft led her to Khraftonite when looking for a personalised embroidery gift for a friend's birthday. These are beautiful and customised embroidered pieces ranging from memorable quotes and passages to flowers in bloom to an embroidered likeness of your face! 
Embroider clothing or a bag or frame it and gift it to a friend (or yourself!) – and they even have keychains!
Follow them on Instagram (@khraftonite) for more details!
AJ finds: Vanessa's Mighty Trio Jam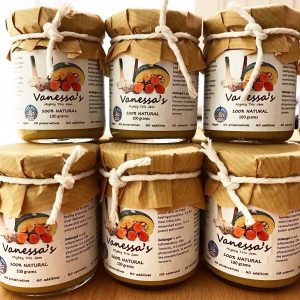 AJ and her husband are food-conscious, superfood eaters, and once on a supermarket trip stumbled upon an aisle featuring locally made jams. The Mighty Trio Jam caught their eye because a) it had turmeric in it and b) turmeric is a superfood and c) who would put turmeric in jam? The 100% natural jam turned out to be a great buy because it was absolutely delicious and didn't taste like turmeric (it is a truth universally acknowledged that superfood tastes so much better when it doesn't taste like superfood). Vanessa's Jam is from Brunei and has plenty of other types of nutritious jams, ranging from Nangkajam to Coconut Surprise, and AJ's out to try them all.
Grab a jar at Supasave Gadong and Seria, Hua Ho, Radisson Hotel Brunei and the BWN store or follow them on Instagram (@vanessasjam.bn).
AJ also finds: Borneo Ghost Stories
The lovely people at BiG have a weird fascination with horror, and when Borneo Ghost Stories vol 4 by Dr Aammton Alias (full disclosure: we at BiG are big fans of Dr Aammton and fully recommend his children's book, Riki and the Dream Seed) came out, AJ didn't waste time in placing an order. Having read the first three volumes of this popular collection of short and horrifying stories, AJ knew what to expect when she started on the first page: chills and more chills! Pick it up, get scared, and support your local creative writing community while you're at it!
Head over to Nollybook or to their website (nollybook.com) to grab yourself a copy!
This article was first published in the October-December 2020 issue of BiG Magazine "Borneo to the World".