BiG Getaway: AYYY, Zamboanga!
by Sheyenne Jazreel Siah
Zamboanga, the exotic-sounding highly urbanized city is a glimmering gem encased in sparkling turquoise waters. So when our friends in the Department of Tourism Region 9 invited us over for a firsthand experience of the renowned Zamboanga Hermosa Festival late last year, we packed our bags and jumped at the opportunity.
Right off the bat we found ourselves immersed in our very first event; the highly competitive Regatta de Zamboanga. The sun shone favourably upon some 200 vintas (traditional sail boats) who were out bright and early to coast the curved shores of R. T. Lim Boulevard in a bid to win 15,000 pesos as well as the prestigious honour of besting their fellow sailors. Open to all Zamboangueños, the race has been a pillar event of the Hermosa Festival and is a vibrant tribute to their patron saint, La Virgen Nuestra Señora del Pilar de Zarragosa.
Fittingly vinta 001 emerged as the overall champion, neon sails pulled to attention as they sailed towards the cheers of crowds spanning the finishing shoreline. With great cheer in the air, their victory was followed by another show of victory, an impressive capability demonstration held by the Philippine Navy through the Naval Forces Western Mindanao. Fresh from the thrill of the show, we were ushered to the Wow Sardinas Grand Boodle Fight where the masses come together to partake in a public feast of tinned sardines and crackers, highlighting the city's standing as the "Sardines Capital of the Philippines"—aptly titled considering 9 out of 12 national sardine companies operate within Zamboanga, accounting for roughly 70% of the city's economy.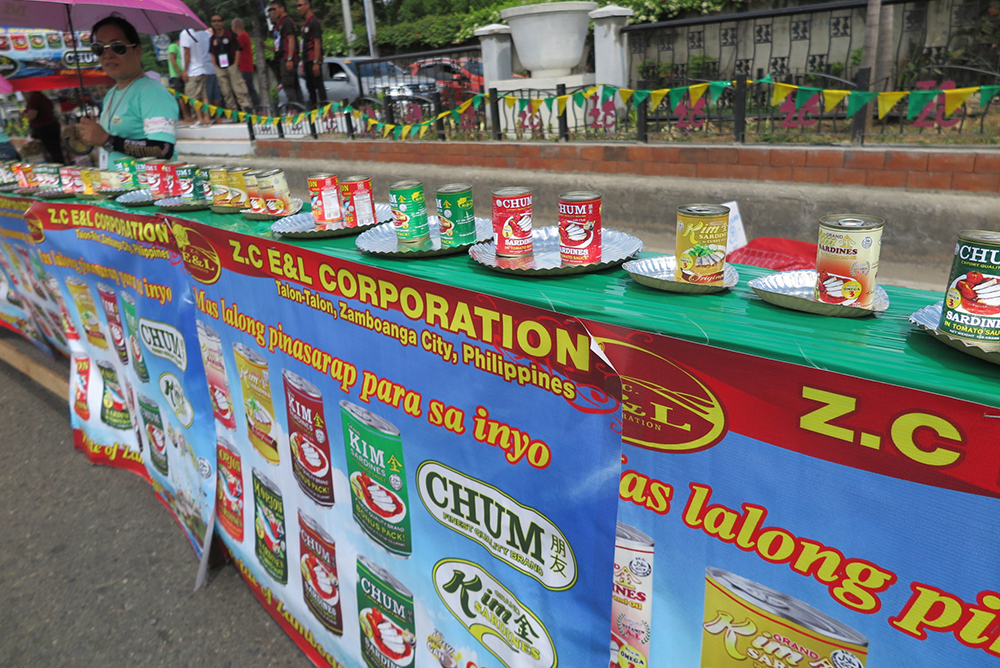 On the day we were invited to venture around the famed islands, we were first brought to ride downstream through the mangroves of Zamboanga where we gradually became acquainted with the workings of a mangrove (and harmless upside-down jellyfish which run rampant in these parts!). Brought to a halt, we were told to reach into the water and, carefully avoiding algae, to pull up strands of lato. The deliciously savoury sea grapes grow in abundance around here—also known as "green caviar" for its characteristic salty taste and explosive crunch akin to that of roe. The department of tourism takes vast measures to promote the preservation of the mangroves because one square metre of sea grass can produce up to 10L of oxygen—just one of the benefits of a healthy mangrove ecosystem.
Anton Mari H. Lim is someone familiar to these areas as the founder of Yellow Boat Project (www.yellowboat.org), a donation-based organization that builds boats for children in underprivileged river areas to help them get to school safe and dry. "You don't have to be swimming to school to know how it is to be swimming to school. It's about empathy" he says, as we watch the community of bright yellow boats bobbing in the water, helmed by children and their parents, a noble and successful attempt at community-based ecotourism.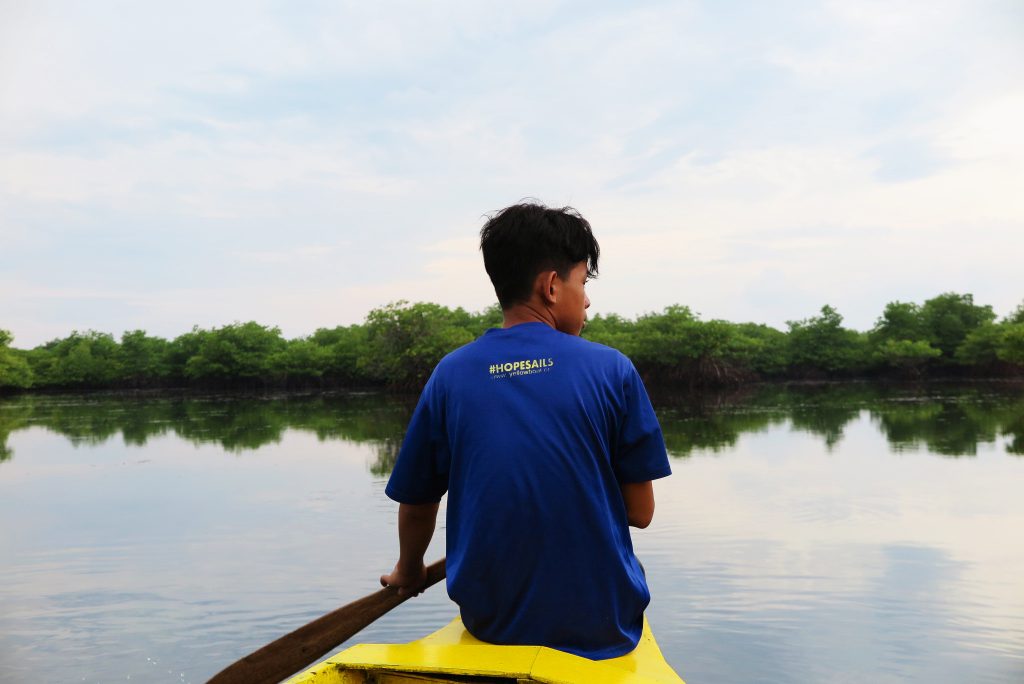 Breathtaking bodies of water was a running theme of our trip as we were brought to Onse Islas in Panubigan where we trekked on the serene Sirromon Island for a peaceful scenic lunch surrounded by sparkling waters and then to Bisaya-Bisaya island for a splashy afternoon of sunbathing, kayaking and laughter among astounding rock formations. It should be mentioned that all islands were maintained to an impressive standard of cleanliness as part of the "Garbage In, Garbage Out" policy.
For two consecutive nights, Bay Tal Mal Restaurant hosted us for dinner as we dined on a symphony of spices and herbs in their famed Latal platter parading a variety of traditional Tausug dishes such as tyula itum and beef kulma. Another iconic must-try we came across was Alavar Seafood Restaurant were we had our first taste of curacha, a luscious and fleshy deep sea crab, cooked in Alavar's iconic sauce; both which would linger on the tip of our tongues for the rest of the trip and indefinitely.
Speaking of curachas, they make for wonderful island feasts to be devoured voraciously after a morning of beachy fun in the sun on Great Santa Cruz island. The island itself is defined by its pink coralline sand and as our guide aptly puts it, "If Santa Cruz had a Facebook page, its profile picture would be its pink sand". As one of the protected areas in the Philippines, it has been recognized by National Geographic as one of the best beaches in the world and taking in the contrast of the aquamarine waters against the dotted pink sand, it's not difficult to see why. Visitors are regulated and should make advanced bookings and reservations through the tourism office before their visits.
To cap off our experience of the utmostly happening Zamboanga Hermosa Festival, the Mascota Del Zamboanga competition was our final magnificent sight to behold, the definite icing on the cake which was the series of exhilarating events leading up to this. An opulent fashion showdown that takes you through the ages, the competition took place at the Astoria Regency Convention Center and shone a spotlight on 15 intricate designs by local up-and-coming designers. The stunning mascotas, elaborate Spanish-inspired formal ball gowns worn by aristocratic Zamboangueño women back in the day, are showstoppers in their own right and absolutely iconic to say the least.
A BiG shout-out to our friends in the Department of Tourism Region 9 for showing us around the gem that is Zamboanga. For more information on Zamboanga, head over to their Facebook page at @tourism9zampen.
This article was first published in BiG Magazine's January-March issue "Brunei, With Love". But while in the midst of Covid-19, stay home and stay safe!