Sweet Nyonya Delights Cafe; Bringing Traditional Comfort Food To Your Table
Up until recently, authentic braised beef noodles were a delicacy whose cravings we could only expect to curb off until our next trip to Taiwan. But Sweet Nyonya Delights Café knows only too well the despair felt by fans of the popular soupy dish so you can imagine our delight when they recently announced that they would be adding Taiwan Beef Noodles as part of their specialties menu! With its signature broth requiring an astounding 20 ingredients and a solid eight hours of cooking time to achieve the full-bodied flavour that everyone knows and love, this was no simple feat but the charming café that is best known for its traditional kuehs executes the dish beautifully. The tender Australian Beef Shank which tops the already flawless bowl is just the icing on top of the cake, completing the seemingly simple yet entirely wholesome dish.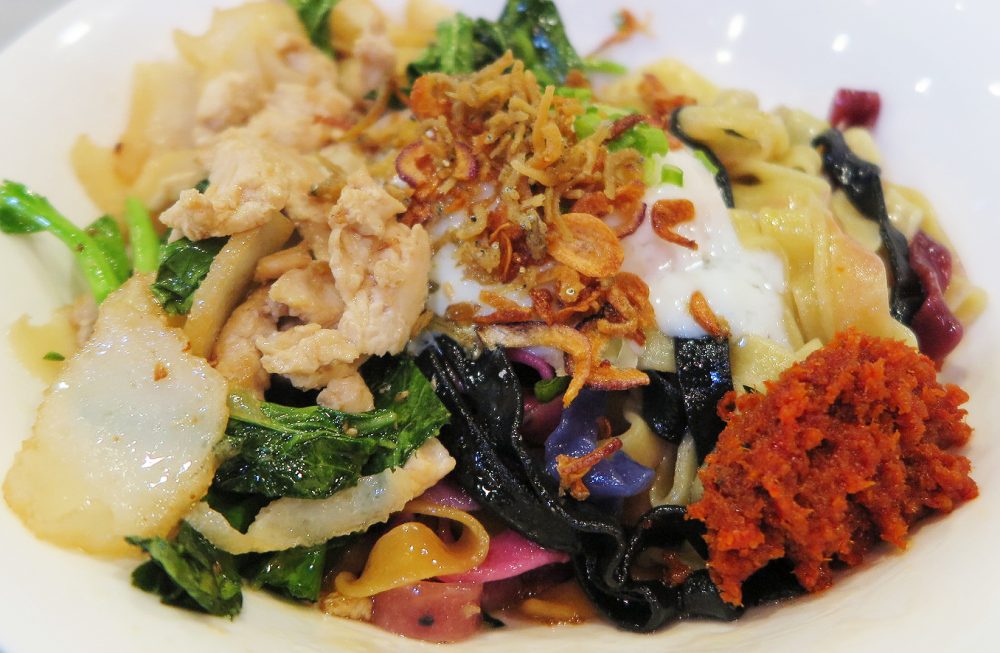 Speaking of wholesome dishes, we were also introduced to their artisan Pan Mee noodles—with an eye-catching twist. Using only natural ingredients such as beetroot, spinach, sweet potato and pumpkin, the fresh hand-pulled noodles are dyed in an array of pretty colours from seaweed green to morning glory purple making it almost too pretty to eat.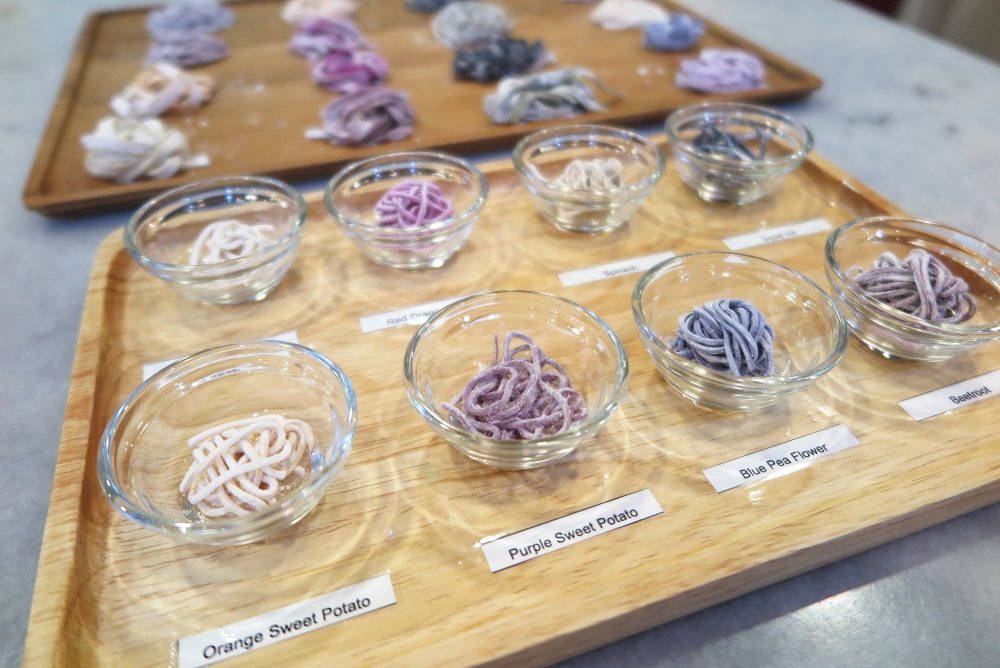 But when presented together with a dollop of hot chilli paste and runny poached egg yolk, sprinkled over with some savoury dried anchovies and fried shallots, there is little else to do but to take the biggest mouthful you can muster. And what a delightful mouthful that is!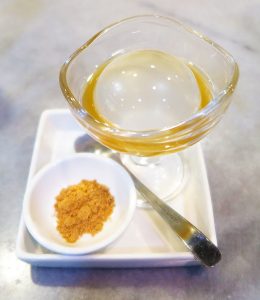 We were also introduced to the world of delightful desserts and kuehs available in the café during our visit there. Taken right off the pages of Pinterest and food-obsessed Instagrams, the Mizu Shingen Mochi, more popularly known as the sensational Raindrop Cake on the internet, piqued our interest the most. Fashioned in such a unique way that it resembles a clear orb, the dessert is none other than a humble concoction of clear agar coupled aesthetically with a side of soybean flour and sweet brown syrup, making it a clean-tasting dessert that you'll be sure to remember.
Entering the simple but charming kopitiam style café, customers are immediately serenaded by the bountiful options of traditional kuehs that have peppered our childhoods for as long as we can remember. No longer requiring early morning visits to the market to get your fill of angku kueh, kosui, seri muka or chai kueh, we grabbed our trays and filled it to our hearts' content with the likes of classic putri mandi, ongol, pulut and a covetable selection of mochi. Diners will find Sweet Nyonya Delights' menu offers a comforting array of dishes and appetizers that feels like home to the stomach such as nyonya curry, rendang, fried carrot cake and nyonya chicken rice just to name a few.
Pay a visit or two to Sweet Nyonya Delights Café in Regents Square Kiulap and prepare to find comfort in the simple elegance of their assorted menu (check out their menu here). In the meantime, follow them on Instagram (@sweetnonyadelights_kiulap) and Facebook (Sweet Nonya Delights Kiulap) or call ahead to book a table at +673 871 6369.