Dazzling Jewels at the Trophée Chopard
It has been a lucrative relationship between Chopard and the Cannes Festival since 1998, and in its support of filmmaking, co-president and artistic director of Chopard, Caroline Scheufele, created the Trophée Chopard which would be presented annually in honour of a young actress and actor in the making. Marion Cotillard and Jack O'Connell are just two talents who have been previously awarded this honour, along with other actors and actresses of their caliber.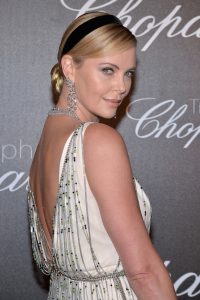 This year marks the presentation of the 17th edition of the Trophée Chopard, which was given to Anya Taylor-Joy and George MacKay. Charlize Theron, patroness of the Trophée Chopard, presented the trophées to the two promising young actors at an intimate ceremony. The Oscar-winning actress stunned the crowds in her floor-length Prada gown, adorned with a trio of intricate Chopard silver necklaces and a pair of statement drop earrings.