Creative Space Art Gallery & Studio Hosts EMERGE 9: CULTURAL RESET Art Exhibition
The Creative Space Art Gallery & Studio adds another notch to their belt with yet another eye-opening exhibition, this time featuring artworks from sixteen artists around Brunei. Since its inception in 2016, the EMERGE Project has not slowed down in its efforts to provide a physical and online platform showcasing the artworks of young and emerging artists while inviting them to further develop their talents—and if the ninth instalment of the EMERGE series is anything to go by, they're going full speed ahead. With the theme "Cultural Reset", the exhibition was held for three weeks from 19 December until 10 January 2021 focusing on creating conversation and commentary on Brunei's contemporary culture and its influence on forms of artistic expression. Curated by Ana Metussin and Nina Yahya, the sixteen artists featured included Aainaa Bakir, Abyadh Othman, Adriana Audady, Azim Kadri, Bunga Daisy, Elroy Ramantan, Emi Kashikoi, Faiq Airudin, Hafizah Nor, Khaisnaps, Khairul Sharbini, Nazurah Usop, Ryan Chua, Senja, Lu Shir Mao and Wryck Ret. Out of all the pieces on display, we were particularly enamoured by how the artists weaved relevant current themes throughout each art piece.
"Tiang Putih" by Faiq Airudin, for instance, is a 25-part installation consisting of flags bearing simplified graphics of Bruneian symbols, icons and landscapes gathered from historical and contemporary sources—a concept which explores the potential of symbology without conventional national representations.
"She Said Consume" by Wryck Ret is a literal centrepiece that stands demurely on its own but is absolutely unmissable when you finally spot it. Best viewed when it catches you by surprise, "She Said Consume" is a glorified take on every Bruneian kitchen's staple, the instant noodle.
"So why instant noodles?"

"I was inspired by Andy Warhol. He glamorized everyday items like soup cans and Brillo boxes and so I was inspired by his pop art and what it would look like if it was in Brunei. He's my cultural reset."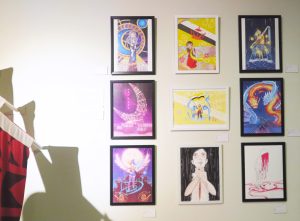 Emi Kashikoi's (@emikashikoi) digital art is a contemporary blend of Western cartoons and Japanese animation, sometimes thrown in with an unmistakeably Bruneian background. When asked if she would ever venture into a making a comic, she reveals that she already has one in the works—a web comic in its early stages "so that way it can be read by anyone". Exciting and accessible, we love it already!
Throughout the three weeks of the exhibition, art talks and live art performances were also conducted at the Creative Space Art Gallery in Sengkurong involving participating artists. An art workshop teaching the basic understanding of abstract art headed by EMERGE 9 artist Nazurah Usop (@doodlesandcolors) was also held on 30 December. For more information about the exhibition and future events by Creative Space Art Gallery & Studio, visit their Instagram @creative.space.brunei, Facebook page 'Creative Space Brunei' and website.