Adventure, Passion and Living the Dream with Secret Signal
by Intan Abu Daniel
When I first had the pleasure of seeing Secret Signal perform, it was in a dark space crammed full of people, with a small space at the front reserved for the different bands that performed that evening. It was a little bit seedy, felt a little bit rebellious, very much like a well-known underground secret, and for that it was perfect.
Music was performed by bands whose members ranged in age groups from Gen X to Z (the same could be said of the audience), and by the time Secret Signal took to the stage, everyone was already energetic from a nightlong head-banging frenzy. There was a flurry of excitement; Secret Signal have their fans, and they are a boisterous lot. The band bantered with each other, spoke like they were hanging out in their garage rather than standing in front of a frothing audience on a music-high. The guys were funny, charming, and edgy but relatable cool.
They are, in fact, the perfect poster band for their genre. They profess themselves Melodic Pop Punk; an interesting genre that is a somewhat contradictory meld of hardcore underground and mainstream pop, which tends to lean toward either direction: relatable or rebellious. Look at their rock-loving fans, head bang along to their rhythm, whistle to their lyrics, and you'll quickly learn that Secret Signal is a little bit of both.
The band has cited such influences on their music, ranging from punk to heavier pop punk bands such as Neck Deep, New Found Glory, Blink 182, Sum 41, Simple Plan and Green Day. "We all grew up within the punk community and music, so it only feels right to play what we really love," Bryant explains.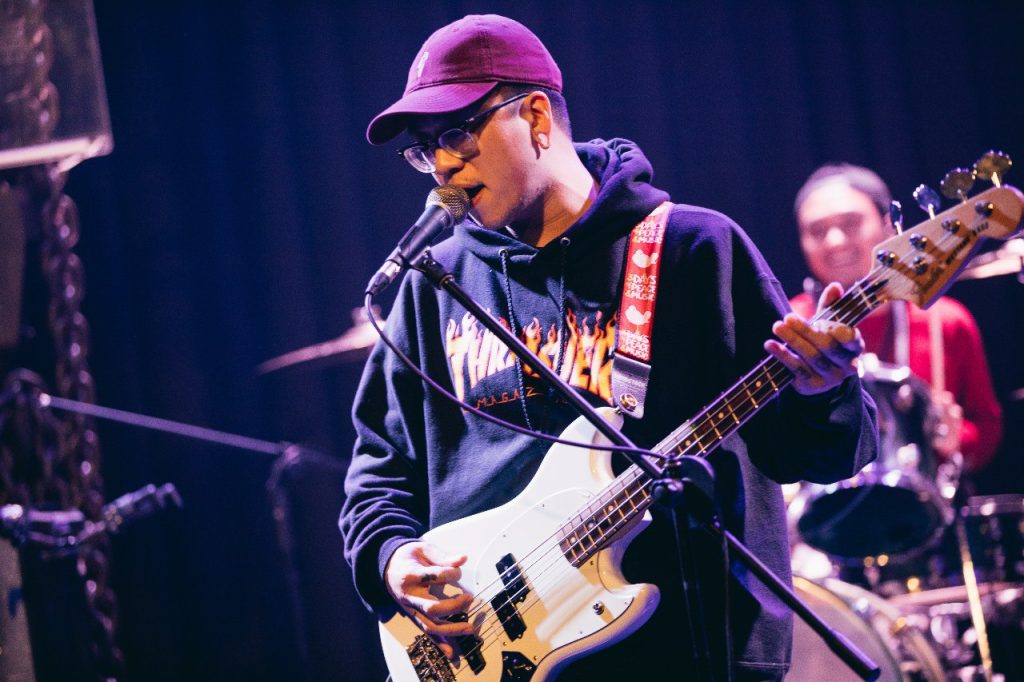 While catching Secret Signal perform in Brunei is a rare treat, for the past three years, you would have had a better chance of catching them outside of the Sultanate. Secret Signal has been aggressive in the promotion of their band by touring around Asia. They've been on stage in Malaysia multitude times, from Sarawak to Sabah and Kuala Lumpur to Johor Bahru, performed in Singapore twice, completed a Central Java tour (which had them performing in five states in one week), Vietnam, Bangkok and Taiwan.
"We've played with many bands and headlined many home-grown festivals in their respected countries," Bryant said of their touring experience, vast for a band from Brunei. "But the highlight of the band's career has been to tour with one of our favourite bands, Tiny Moving Parts, on their Southeast Asian lake of their Asia tour."
The band began as a passion project which became, as Bryant quotes, "One of the coolest decisions made." They started off with two (Wady and Putera, guitarists), which became three (Bryant, bass guitarist), and months later then became four (Jiji, drummer).  They released their first EP 'Punk Kid Movement' back in 2017.
Song-writing, for the band, is admittedly quick, starting with making the music and then building the message on top of their tunes, striving to keep the song melodic with a singalong quality.
Unfortunately a debut album, while in the works, won't be released until 2021, its delay caused by the pandemic. And that's not the only thing that has the band hitting pause: touring, inevitably had to end. A difficult situation for most bands, Bryant explains, as touring is the only form of income they make.
However, they are planning on dropping two singles off their debut album at the end of the year, and once the pandemic is clear, they're planning to release the album and make plans to go on more tours and continue doing what they love: performing.
"We're doing this for the love of music and the passion of adventure," Bryant says. "Life isn't all about getting paid. It's about living life to the fullest and experiencing the real thrill in having an adventure and in always pushing your limits."
This article first appeared in the July-September 2020 issue of Borneo Insider's Guide magazine.
Get updates from Secret Signal by connecting them on:
 IG: @secretsignalbn
FB: Secretsignalbn
Soundcloud: https://soundcloud.com/survivingmonday/sets/secret-signal-single
Email: ozozodoes@gmail.com