Key Ingredients for a Winning Team
Talking to Chef Sandi and Team Radisson Hotel – winner of the BIMP Eaga Culinary Challenge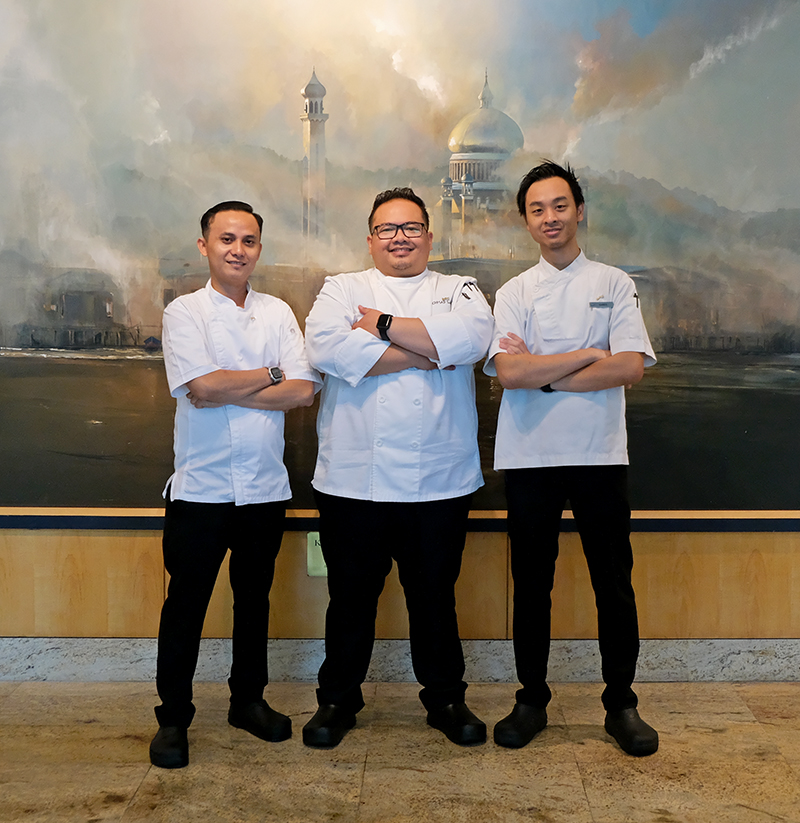 A lot was learned about our budding and professional local chefs during the BIMP Eaga Culinary Challenge, held from 10-12 November 2019 at the International Convention Center. We learned that when it came right down to it, our local chefs thrived, able to come up with innovative dishes at the drop of a hat, all within the challenging restraints of cooking with mysterious ingredients within an allotted cooking time and in a different kitchen, to serve to a panel of celebrity chef judges.
Arguably everyone emerged winners here, but there was only one champion. Senior Sous Chef Achmad Sandi Jauhari, or Chef Sandi as he's more casually known, and his experienced team of three, emerged victorious after two days of slaving away in a makeshift kitchen coming up with dishes to beat them all.
On a cloudy day in the elegant confines of Tasek Brasserie of the Radisson Hotel, where Chef Sandi and his winning team are employed, we had a conversation with Chef Sandi after his team's win at the BIMP Eaga Culinary Championship. And that win was on the heels of a victorious turn at another culinary competition, held earlier in the year in Jakarta, where his team came through with one gold, one silver and two bronze wins.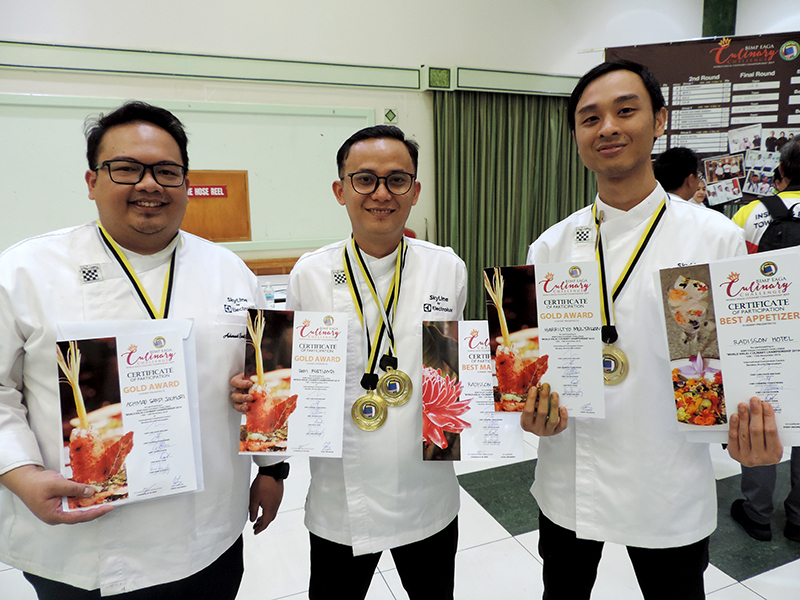 "Before the competition even started, we told ourselves not to underestimate our competitors," Chef Sandi said about the BIMP Eaga Culinary Championship. "Everybody is equal here, we each don't know the other's talents. So you need to think and you need to deliver – that's the main focus. A lot of our fellow competitors are trying to see what the other is doing and worrying about it. This is what you don't do in a competition like this."
Sound advice from a chef who has experience in this kind of thing, and who didn't even have time to practice before the event. "We're too busy at the hotel," he explained. "We were lucky that we didn't compete on the first day, so we were able to watch the competition process. We were able to ascertain what type of ingredients would be given, and think about how to play around with it. There is no practical practice – we write everything down the night before, and make the decision during the competition."
This seemed to be a winning tactic, even at the last minute information that they had to come up with an Asian Fusion dish. Together with Haris and Dani, his team who also works with him at the Radisson Hotel, they came up with the winning dishes.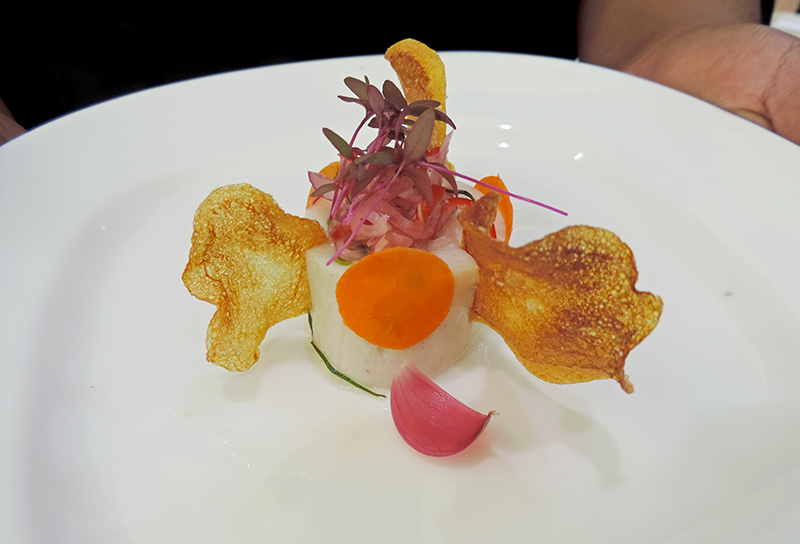 For the Appetizer, the teams were given the secret ingredients of lobster and scallops, which Chef Sandi and his team made into a mousse using a slow cook, low heat method with a soufflé machine, and then served with a lemongrass relish, potato chips and pickled vegetables. For the main course, the ingredients of beef tenderloin and tiger prawn were sous vide with Asian herbs, and served with an aglio olio kolo mee. For dessert, they turned a simple cheesecake into a visual masterpiece. With a coconut biscuit base and an exotic fruit filling, the cake was also peppered with coffee jelly cubes and drizzled with jackfruit sauce, and also featured sumac chocolate pieces (a type of Arabic chocolate).
"We were informed of the Asian Fusion factor at the last minute, so we took some time to brainstorm. Other teams had started cooking already, but we took ten minutes out to prepare the menu, make sure that we had everything ready. We were given one hour and a half to finish cooking and plating, and in the end, we finished fifteen minutes before the competition time was done. With me and my team, this is important: to not get into our heads, and keep focus. Focus, and do our best in creating these dishes together."
As in all competitions of every nature, experience does help, especially when it comes to concocting a complicated Asian Fusion dish. The culinary fusion of two cultures can be done, but in understanding the elements of different cuisines and successfully marrying the two often disparate tastes harmoniously requires a lot more culinary experience and know-how.
"The other competitors in the competition, fellow local chefs, they're good at what they do but unfortunately they lack the experience of having an international culinary mind set. They're not trying out new ingredients and they haven't experimented with different cooking techniques. They're not creating anything new. But in some groups, watching the students, some of which have worked part-time with us at Radisson Hotel, some of them used cooking techniques I taught to them when they worked here, and they did a really good job."
"And when I met the students of the competition, they focused a lot on what we were doing, the new techniques and equipment and utensils we used. They were very interested, asking us about this and that, what kind of technique we used. Of course, you need to have the right kinds of tools and utensils to come up with these kinds of dishes, but learning about it encourages them to be more innovative."
Chef Sandi's own journey as a chef had its own humble beginnings – he joined the culinary world as a part-timer in Shangri-La Hotel in Jakarta, 14 years ago.
"Within a few months of that, I was offered a position in the Dubai Creek Golf and Yacht Club in Dubai, and that's when my true culinary journey began. I moved through Dubai, learning a lot about cooking techniques, methods and skills. After the Dubai Creek Golf and Yacht Club, I was promoted to one of the steakhouses within that same property of Dubai Golf. Later on I was promoted to a seafood restaurant there as well. Then I thought to challenge myself, and joined Jumeirah, and then worked at one of the best seafood restaurants in the world at that time, the Al Mahara in the famous seven-star hotel, the Burj Al Arab. It was here that I really started learning about new techniques, cooking methods and skills."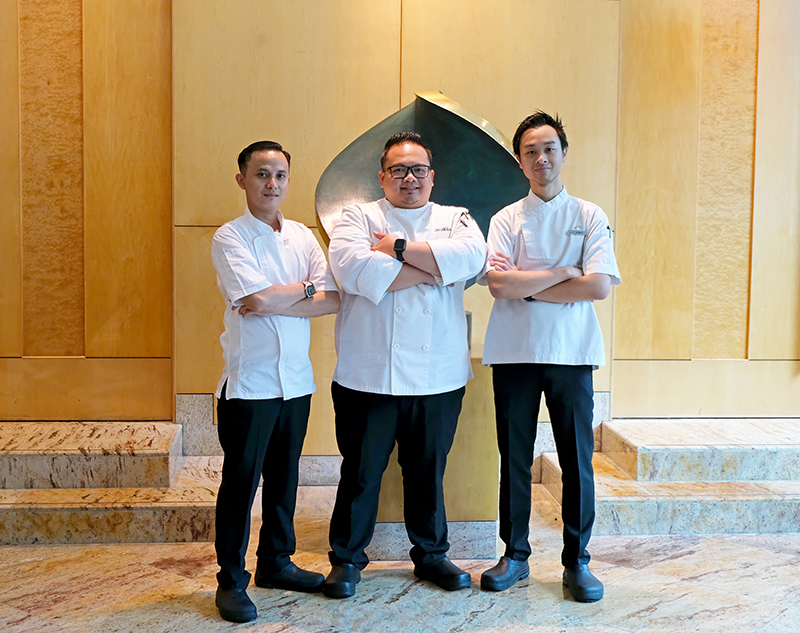 After six years in Dubai, Chef Sandi returned back to his home country of Indonesia, working at the Sofitel Bali before moving to Bandung. He began another journey abroad to Brunei when he contacted Chef Devesh and then came to Brunei to work with his team at the Radisson Hotel.
"I'm truly happy here," he said. "Brunei is so peaceful, and at Radisson Hotel, the owner really supports what we do and we receive a lot of recognition from them. We've been serving important people like the Royal family – it's like a new chapter in my CV! It's very challenging, really challenging, but also really very fun."