Baiduri Credit Cardholders In For Another Sweet Deal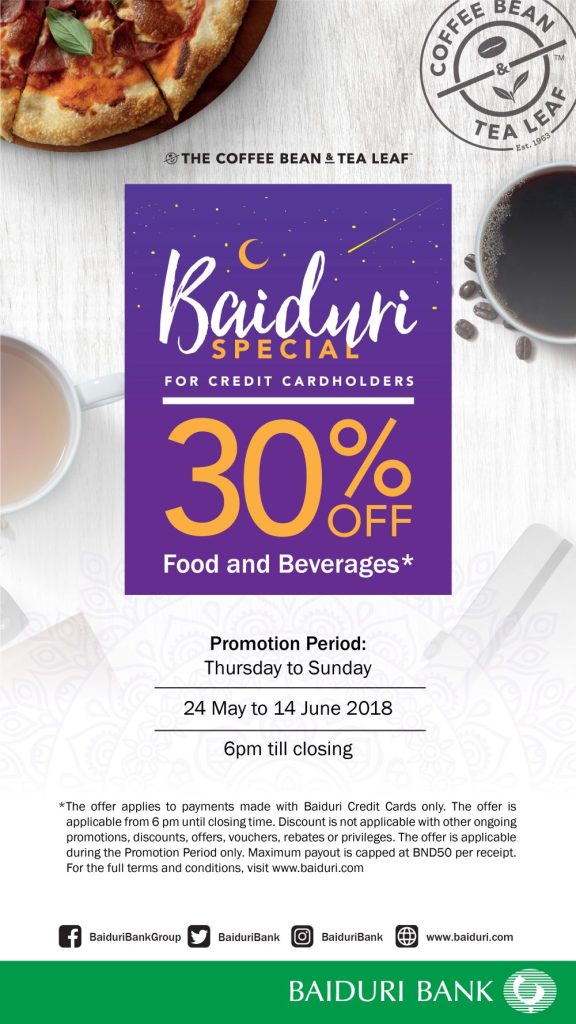 In collaboration with The Coffee Bean and Tea Leaf, Baiduri Bank has come up with yet another sweet deal (have you Sungkai with Baiduri yet?) for their customers this Ramadhan. Credit Cardholders are entitled to a 30% discount when dining in or ordering out at the popular coffee franchise when swiping with their Baiduri Credit Cards.
Applicable to all Coffee Bean and Tea Leaf outlets including the Airport Departure Hall, Bandar Mayapuri, Centrepoint Gadong, Kuala Belait's Seaview Hotel, Supa Save Beribi and Panaga, The Mall and Times Square, the Sahur special can be enjoyed every Thursday, Friday, Saturday and Sunday throughout the fasting month from 6:00pm till closing time.
With no minimum spending required and discounts of up to BND50 off the total bill, Baiduri Credit Cardholders are welcome to indulge their caffeine needs and gourmet cravings at The Coffee Bean and Tea Leaf, thanks to the Sahur with Baiduri promotion.
For more updates on exclusive promotions by Baiduri Bank, be sure to follow the Baiduri Bank Group on their social media handles on Facebook and Instagram.