The Wonders of Perak
by Amal Kadir
Cited as one of the top shopping destinations in the world, shopaholics know that Malaysia is a shopping haven, thanks to their ever famous "golden triangle" (Bukit Bintang) in Kuala Lumpur and the old-town charms found in heritage sites in Penang and Melaka. However, Perak is often overlooked by international tourists, a fact that is changing with "Visit Perak Year 2017" – Tourism Malaysia's efforts in promoting Perak as their new must-visit destination.
On 25 August 2017, Tourism Malaysia held a product briefing of Visit Perak 2017 at Orchid Garden Hotel in Berakas, which was presented by Yang Berhormat Dato' Nolee Ashilin bte Dato' Mohd Radzi. The presentation showcased the plentiful sights and attractions at Perak, with much to offer visitors in terms of culture, history, food and nature.
Being the second largest state in Peninsular Malaysia and with its prime location, Perak – which translates to Darul Ridzuan in Arabic (Abode of Grace) – is the perfect stopover for urbanites or travellers for a short but satisfying getaway. Perak is approximately 200km (3 hour drive) away from Kuala Lumpur and 130km (2 hour drive) away from Penang on the North-South Expressway.
Voted 6th in Lonely Planet's Best Cities in Asia in 2016 and 9th as the Best Region in The World To Visit in 2017, Perak offers a little of everything to everyone. Here are some of the must-see places in Perak: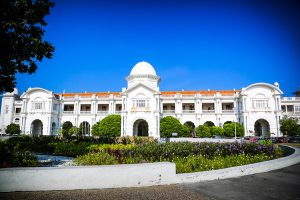 Old architectural wonders from the era of British colonisation of Malaya can still be found along Ipoh, the capital of Perak, as they are well preserved and repurposed to fit the modern lifestyle.  Ipoh's heritage trail plays the role as one of the main attractions for visitors to bask in the history of Perak.
Visitors who plan to walk through Ipoh's heritage trail will be welcomed by a notable all-white, late-Edwardian Baroque style building that is also the city's railway station. Along the trail you will find more buildings with similar architectural designs – each with their own story to tell.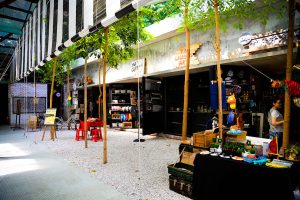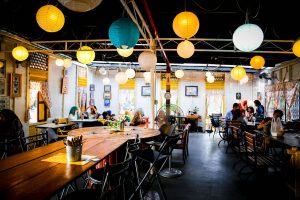 The Perak state government is making Ipoh city a "Hipster Town" by reviving the city's old shop houses, which are over 50 years old, and transforming it into coffee joints, complementing the vintage heritage buildings with contemporary designs – a transformation that has put Ipoh on the international map.
Take a stroll along the streets of Ipoh to see art murals painted on walls of old buildings, or spend the day café hopping around town with your friends, taking Instagram-worthy pictures to mark your visit because let's face it: you're not really there if you don't take pictures, right?
Some of the popular hipster picks include Plan B, Thumbs Cafe, Burps & Giggles, Memory Lane Morning Market (every Sunday). These cafés, among many others, are located within the area of Old Town Ipoh.
Beyond the city, Perak houses a number of spectacular natural landmarks that are hard to miss. The limestone cave called Gua Tempurung is the largest one in Peninsular Malaysia. Feast your eyes on the vastness of the cave, estimated to be 400 million years old, with its stalactite drips that can be seen as you walk along the trails.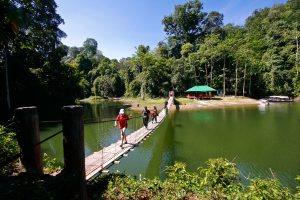 Sun-seekers can pay a visit to Royal Belum State Park and take a nature boat tour to spot animals in its natural habitat.
The park also offers endless things to see and do, including taking a look at the Rafflesia – the largest flower in the world, splashing around in the Pulau Tujuh Waterfalls, enjoying the views at the Pulau Tali Kail Lookout Tower, checking out the Temenggor Dam, venturing to the White Rocks, and paying a visit to an authentic Orang Asli village in Kampung Chuweh, all within the vicinity of the park.
Other places worth mentioning are:
Kellie's Castle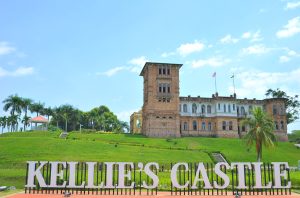 An English castle built to replicate the great British Raj palaces in India. The castle is built atop of a hill, and looks surreal as it is located amongst the wild plantations of Perak.
Leaning tower of Teluk Intan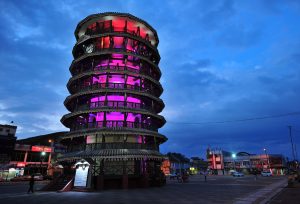 It's no leaning tower of Pisa but it comes close. This pagoda-style, 25-metre tall structure is greatly inspired by Chinese architecture. The tower became the official national monument in 1957 and is one of the more popular attractions in Perak.
Pangkor Island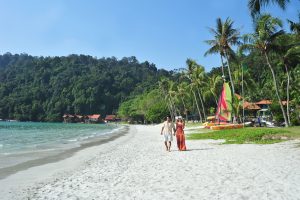 What has white sandy beaches, glistening blue water, and hornbills flying freely around the island? Pangkor Island! A perfect destination for those who seek a peaceful island escape, away from the hustle and bustle of the city.
Freme Travel Brunei is offering Ipoh Holiday Package starting from B$95 for a 2 days 1 night trip. For more details, please contact 223 4874, 223 4875, 223 4876 or email holidays@freme.com.
Images by Tourism Malaysia and Tourism Perak Malaysia