Fun Activities Lined Up in the Month-Long Brunei December Festival
If you haven't made any vacation plans this December yet, then maybe this is the year you'd want to consider a 'staycation'. With so much going on all over Brunei at the end of this year, there's no need to worry about keeping yourself or your kids occupied during the holiday month.
At a press conference held on 31 August, Deputy Permanent Secretary of the Ministry of Primary Resources and Tourism cum Secretary of the Brunei Tourism Board, Yang Mulia Awang Wardi bin Haji Mohammad Ali, along with Yang Mulia Haji Mohd Sunadi bin Haji Buntar, Deputy Permanent Secretary of Ministry of Home Affairs and Yang Mulia Awang Haji Harun bin Haji Junid, Deputy Permanent Secretary of Religious Affairs, briefed the media on what exciting things are in store for the end of this year.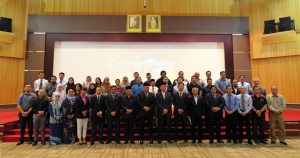 The Brunei December Festival is the first ever festival initiated by the Brunei Tourism Board in collaboration with several stakeholders, with the aim of bringing together a variety of events and activities suitable for people of all ages, throughout the month-long school holiday season of December.
These activities and events include The International Food Fair; School Camping Specials; Creative Arts Festivals – which will include street art demos and live mural paintings; The Nyirik – offering a taste of Brunei's unique food in all four districts; Karnival Semarak Seni dan Budaya – exhibitions promoting local products; and The AutoFest – an interactive automotive show.
There will also be the Brunei E-Sports Tournament – for the local gaming community; the Alpha Race – a challenge on participants' endurance, ability and intelligence; 4-Wheel Drive Jamboree; Spotlight Talent Competition – a platform that celebrates local talents in the quest for a new artist; Motorcross Challenge – an off-road motorcycle race held at off-road circuits; Pesta Santai at Pantai Muara and Pantai Seri Kenangan Tutong; Mahligai Impian – for all your wedding needs; and The Brunei Film Blitz – for talented future filmmakers to showcase their skills and talents by creating short films in different genres.
For more details on the events available this month of December, visit the Brunei Tourism website or follow them on Facebook or Instagram.