Local Talents in the Spotlight in "Shrek the Musical"
by Amal Kadir
From the people that brought Musical Mania, Belle, and Poppins the Musical on the stage, Relentless Entertainment Brunei is coming up with another fantastic musical production titled Shrek the Musical, with show times on Saturday, September 16th at 7:30 in the evening and again on Sunday, September 17th at 1:30pm and 7:30pm. The play will be held at the Jerudong International School (JIS) Arts Centre Theatre.
Based on the first Shrek movie, the stage adaptation tells the story of a giant green ogre named Shrek who lives a happily isolated life in his swamp, away from everyone. But his contented life of loneliness takes a turn for the worst when fairy-tale characters start fleeing to his swamp for shelter, ousted from Duloc by the order of their ruler, the fairy-tale-hating and vertically-challenged Lord Farquaad. With the help of a (non-stop) talking Donkey, Shrek sets a deal with Lord Farquaad: he will go on a dangerous journey to rescue the lovely Princess Fiona from the clutches of a dragon and deliver her to Lord Farquaad – in exchange for his swamp, and his lonely life.
Shrek the Musical marks Relentless' fifth musical production, and the play will be brought to life with a cast and crew comprised completely of local Brunei talents.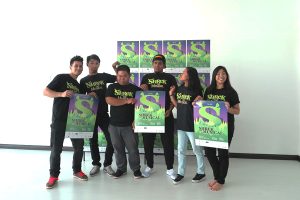 The four main characters is a powerhouse cast: Shrek is portrayed by Md Mustaqim Hj Hariah Mohamed (3rd R), Princess Fiona is played by Aqilah Ali (2nd R), Muhammad Jefri bin Ismail (2nd L) as the Donkey and Safwan Haji Mohamad as Lord Farquaad (3rd L). Shrek has cast a total of 50 talented performers from different age groups who will be transformed into magical creatures.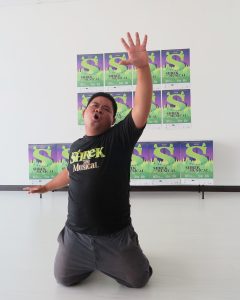 The team has dedicated their resources, space and artistic energy towards this piece, and with the support of professionals from YippyTune Music School as their official vocal coach, The Faceshop as the official make up sponsor, Dragons and Pixie Dust and Karen Then Make Up as the official Special Effects Make Up Artists, the Relentless Entertainment crew is excited to bring the mythical world of Shrek to the stage.
The musical is also supported by the Ministry of Primary Resources and Tourism, Brunei Tourism Board, Progresif Cellular Sdn Bhd, Offset Printing House, R&C Café, and The Coffee Bean and Tea Leaf.
Priced at $25 and $35, the tickets are based on seating zone and they can be purchased at multiple venues including Relentless Studios which is located at B21, 2nd Floor, Gadong Central, YippyTune Music School at B19, 2nd Floor, Gadong Central, R&C Café  in UBD library, The Coffee Bean and Tea Leaf Times Square, Supa Save Mata Mata Branch and The Coffee Bean and Tea Leaf Supa Save Seria branch in the Belait district.
Relentless Entertainment is an event management company that focuses on producing and providing a platform for Brunei youths to uncover and showcase their talents to a large audience; be it as a performer, musician or as the behind-the-scenes crew, and to let the world know that Brunei is capable of producing musical shows of international standards.
For more information on Shrek 'The Musical' or upcoming Relentless Entertainment events please contact 8243222 or 7186225 and follow @relentlessbrunei on Instagram.