For the Love of Art, Music and Business
by Intan Abu Daniel
Carved from a single bole of wood, the sape is a traditional instrument of the Orang Ulu tribe. Once played exclusively by men, it was taboo for women to even touch the sape. Alena Murang, who is part-Kelabit, learned to play the sape at a young age and continues to play it today. Besides being a visual artist, Alena also has a background in business and this talented woman is set to promote art and traditional music to the world.
Alena Murang (Photo courtesy of Alena Murang)
I'm an artist, a musician, a management consultant, a project manager, a strategist, a social entrepreneur and a teacher. For the past year, I've been working two full-time jobs: one concentrating on my art and music – either teaching, creating or consulting with clients, and the other working as a strategist with a non-profit organization called Teach for Malaysia Foundation. We're part of a global movement that's trying to bridge education inequality and last year we opened an office in Miri. I don't think of these things as jobs, because they're things I enjoy and things that I'm good at.
I think it's normal for any artist, be in musician or fine artist or dancer, to take a bit of themselves and put it into their art. I grew up around Borneo culture. As a child, I sang traditional songs and performed traditional dances. My mother is an anthropologist and studied basket designs when I was young, so I was always involved in a lot of cultural stuff in Kuching. So I think it's only normal that when I'm working on a piece that I'm inspired by, I try to put my own perspective into the work. And since Borneo is a part of who I am, most of my pieces have a Bornean theme.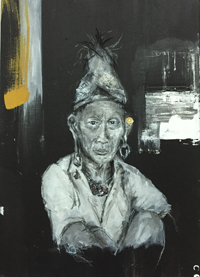 Artwork by Alena Murang
(Photo courtesy of Alena Murang)
Artwork by Alena Murang
(Photo courtesy of Alena Murang)
I started Kelabit dancing when I was six and learning traditional Kelabit songs when I was about 10. One day someone asked me, why don't you learn how to play the sape? So I did! Actually it used to be taboo for girls to even touch the sape, my music teacher back then told me he was questioning himself whether he should even teach me!
The sape is a very unique instrument. It's an old, sacred instrument that you modify to your own style – you can tune it to any key and use whatever strings you want, you can move the frets around – so every sape player has his or her own style of playing it. It's a very personal instrument. These days there's actually an overwhelming demand for sape classes. It's becoming very relevant to this generation.
Alena on the sape (Photo by Edmund Wong)
I think Sarawakians take pride in the traditional music that we have. There's definitely awareness and appreciation, we need action to learn more about the instruments and money to support the industry. Corporations or the government can give grants to learn traditional music or maybe sponsor a person's class for a few months. Conduct more workshops and more talks to people can learn. It has to be more of a ground-up, community-building movement.
I've play the sape in the UK and most recently, in the US. I went on a music tour of the Midwest with my band, Diplomats of Drum, where I played the sape with 11 guys who play mostly percussion instruments. We used bamboo flute, saxophone, union pipes, bass and electric guitar, didgeridoo and Latin-American drums too – we're a world music band. Once the tour ends, the boys went home but I continued on to Gettysburg College with my sape and conducted a talk for the anthropology majors. After that I went to New York, where I did a short sape-sharing session with the music majors of the Manhattan School of Music. The purpose of this tour was to show that Malaysia is full of different races, religions and instruments. The members of Diplomats of Drum come from five different religions and eight different races, but we're all Malaysians and we can all get along and make music. We had a lot of great feedback from the American audience, I think we managed to open minds about our different religions and how we can all work together to create something beautiful.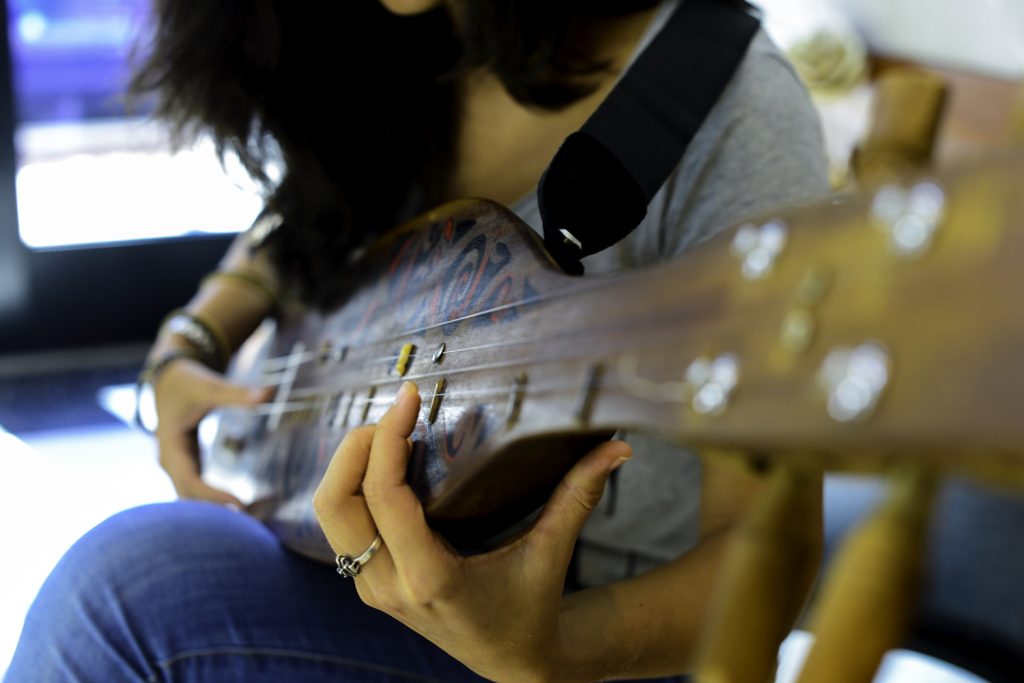 Photo by Edmund Wong
In my tours, I find that a lot of people are curious about the sape. To musicians it's a very interesting instrument because not a lot about it is fixed. It's unique. It's gotten a lot of interest and I really hope that we can push the sape overseas and have more opportunities to share it with other people.
What I also find interesting about the sape is that people enjoy it, but they don't understand it. For me, that is successfully communicating with the language of music, rather than just words.
---
Alena Murang will be taking part in the upcoming Rainforest Fringe Festival (RFF) – a 10-day event that serves as a prelude to the Rainforest World Music Festival (RWMF). Her art will be displayed at the Art Exhibition from 7-16 July 2017 at The Old Court House, Sarawak Tourism Complex, and she will also be performing with her sape at the Sada Kamek: Music of Sarawak at the Kuching Amphitheatre on 9 July 2017. For more information, visit the RFF website here.
She will also be performing at the Rainforest World Music Festival (RWMF) as a part of the band Ilu Leto – an all-ladies' band comprising six female sape players from Sarawak. For more information, visit the RWMF website here.
To learn more about Alena Murang, visit her website here or you can follow her on Instagram.
This article first appeared in the April-June 2016 issue of Borneo Insider's Guide magazine.