The Fabric Of A Society
By Pauline Chan
At 65 years old, Hj Zainal Abidin bin Hj Ibrahim is an artist who doesn't rest. A love for fabrics and patterns turned Hj Zainal from a graphic designer to a motif designer.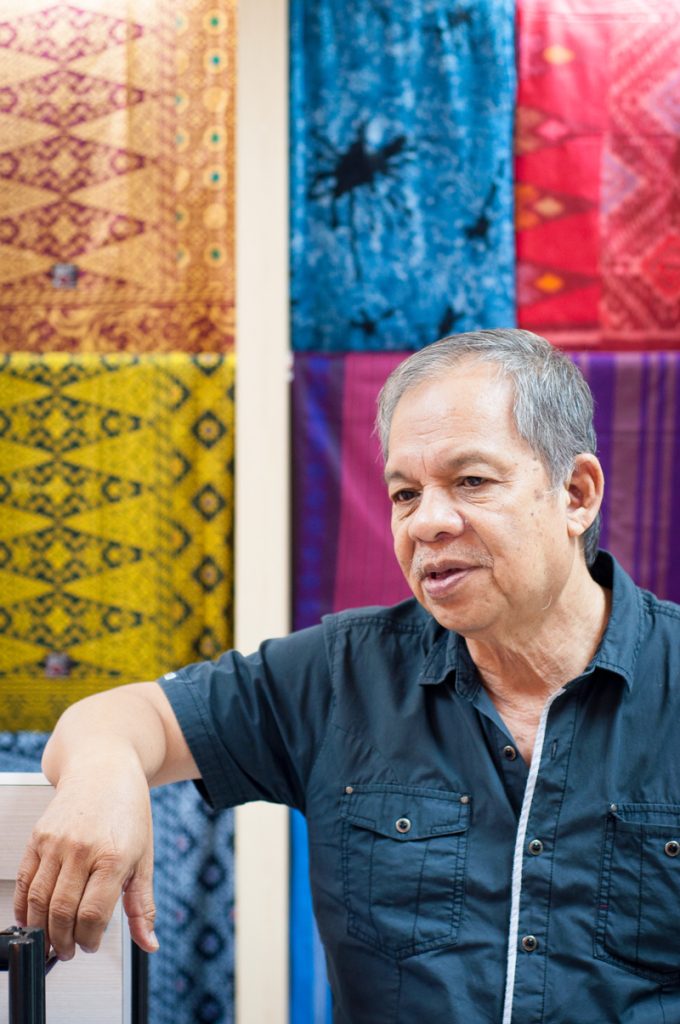 Hj Zainal Abidin, batik designer and owner of Batik Desamas
Hj Zainal used to have a workshop when he started his batik textile business in 2000. After multiple struggles with workers, materials and costs, he gave up trying to make batik locally. Disheartened by this failure, he closed his workshop. His friends didn't want him to give up and pushed him to continue. When he chanced upon the Leap Programme by BEDB and received a grant, he decided to rekindle his batik business.
Maintaining his shop, he worked on designing batik motifs and looked around the Asean countries for weavers and batik printers, scouting the large pool of artisans around Asean to find the best among them to create his intricate ideas. Wherever the artisans may be, he goes to them. Now his shop is filled with batik textiles made with his designs. Hj Zainal has been criticized for not using local labour for production but he explained that there is much to be learnt from other countries that have been producing batik for a long time. The knowledge and skills that can be learnt from outsourced talents can only be seen as progress. He believes that we cannot be stuck in our own mindsets and set barriers on our own creativity. We need to be open-minded and seek knowledge from outside.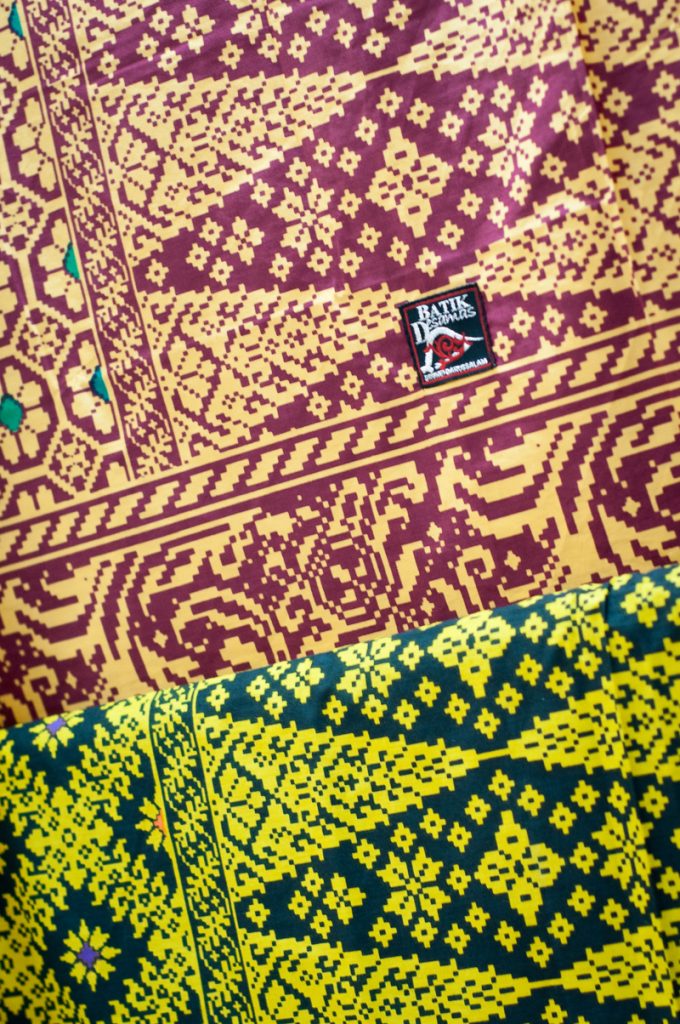 Batik designs at Batik Desamas
Working with foreign talents is a process that requires personal involvement. With no special software, just Photoshop, he fills squares with colours, each tiny square holds about ten threads. When he gives his patterns to the artisans, he sits with them and instructs them, overseeing every detail. But after they have collaborated for some time, they know full well how he wants his ideas to materialize.  Now, he can just send the designs to them and communicate with phone calls or messages, confident of their understanding to produce the quality he wants.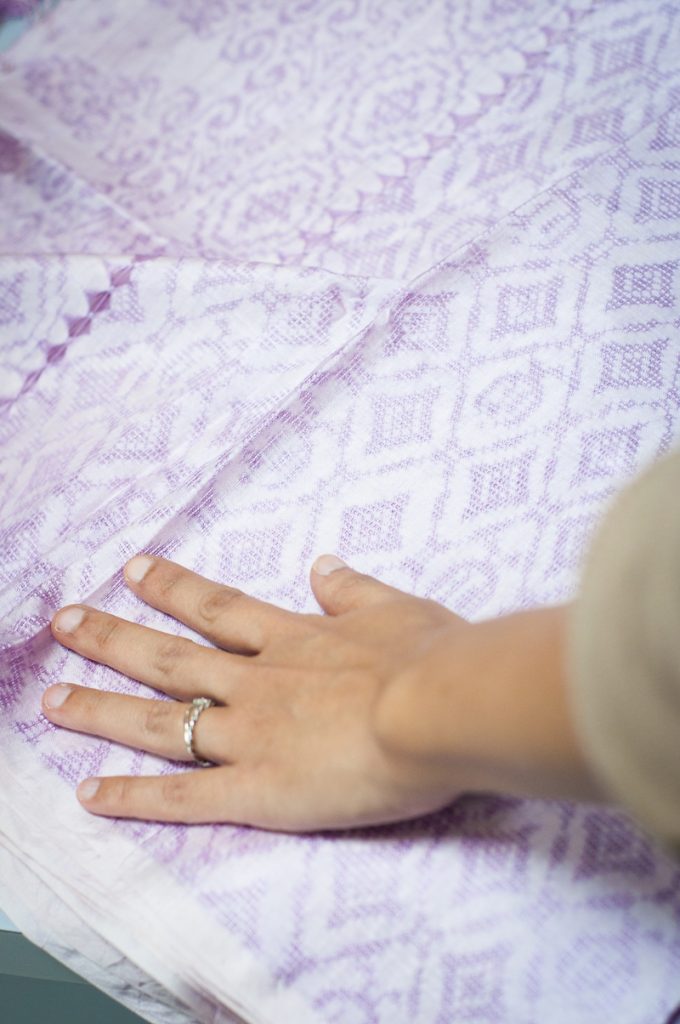 Textiles are created both digitally and via traditional hand techniques
Hj Zainal employs both digital and traditional hand techniques to create his textiles. Digitally printed textiles can be produced quickly, some take about a week, some just two or three days. The beauty with digital printing is that you can follow the patterns exactly as if it's hand drawn, according to Hj Zainal, it's generally hard to tell the difference between hand-drawn or digitally printed batik.
Hj Zainal likes to experiment with different threads.  Working with feedback from customers and their requirements, Hj Zainal has created batik on Egyptian cotton, polyester mix, silk, and even chiffon, the softness of which adds femininity and elegance. He makes a standard size of two and a quarter metres and uses a special natural dye from a kind of seed.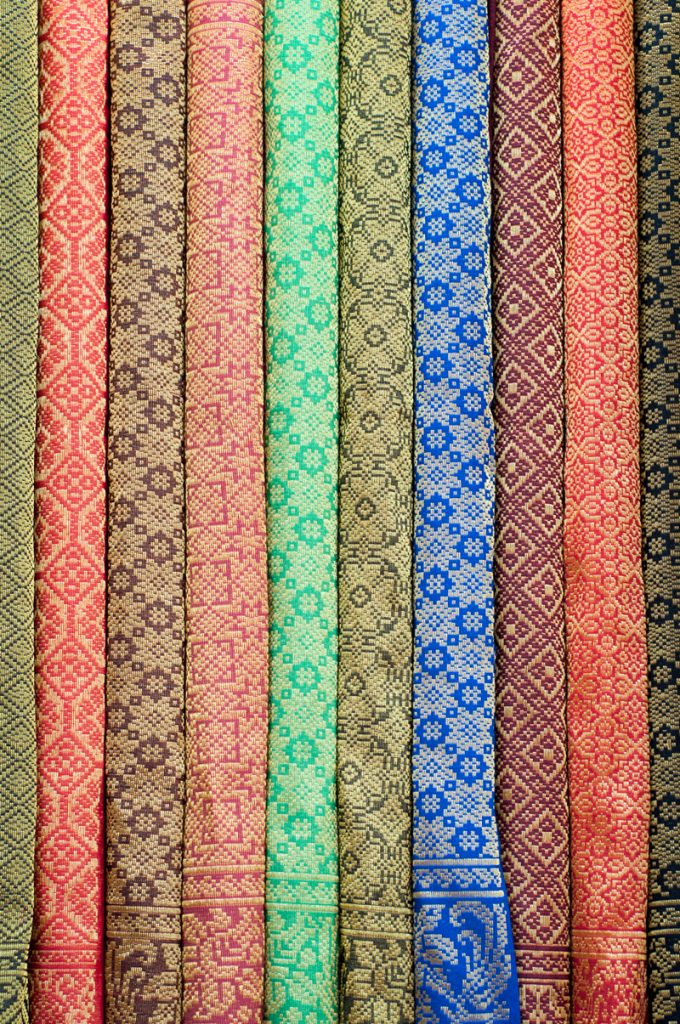 A range of kain tenunan available at Batik Desamas
Although his core product is batik but he also sells traditional kain tenunan. Hj Zainal has a range of kain tenunan woven with a very light cotton thread that renders the final fabric soft and flowing. It has been well received by customers who like the soft fabric for informal occasions and men have found it a more comfortable and affordable alternative for sinjang compared to the usual stiff fabric.
Classic kain tenunan and batik designs at Batik Desamas
Hj Zainal makes custom designs for occasions such as weddings. He creates new designs every month but will reprint the popular designs. Some local designers have commissioned custom textiles that they recreate into their own designs.
His vision is not as sharp as before but Hj Zainal is confident the people he has groomed will be able to carry on his batik work. He hopes to continue to bring something new to the textile industry and keep the interest in these traditional textiles alive.
Batik Desamas is located at
No 3, 1st Flr, Bangunan Sumbangsih Mulia
Kompleks Perindustrian Beribi, Jalan Gadong, BSB
Tel: 673-8896463
This article first appeared in the April-June 2017 issue of Borneo Insider's Guide magazine.
Images by Novri Rinaldi