Everything at Your Fingertips with the MyDST App
 Earlier this year, DST officially launched their very own mobile app called the MyDST app, which was introduced for the convenience of DST subscribers in managing all their DST accounts – Easi, Mobi, Freedom and Infinity – within one easy-to-use app.
The app provides an all-in-one access for subscribers to have all their accounts within reach of their fingertips. Both postpaid and prepaid services will have their own key features which will help each subscriber to access their accounts much more easily.
Mobi, Freedom and Infinity subscribers are able to check their current and previous bill statements, pay their monthly bills directly using their debit or credit card, keep track of their bundled package balance, subscribe to an add-on data package and also monitor their add-on data balance and usage. There's even a 'Pay for a Friend' feature which allows the subscribers to pay for their family and friends.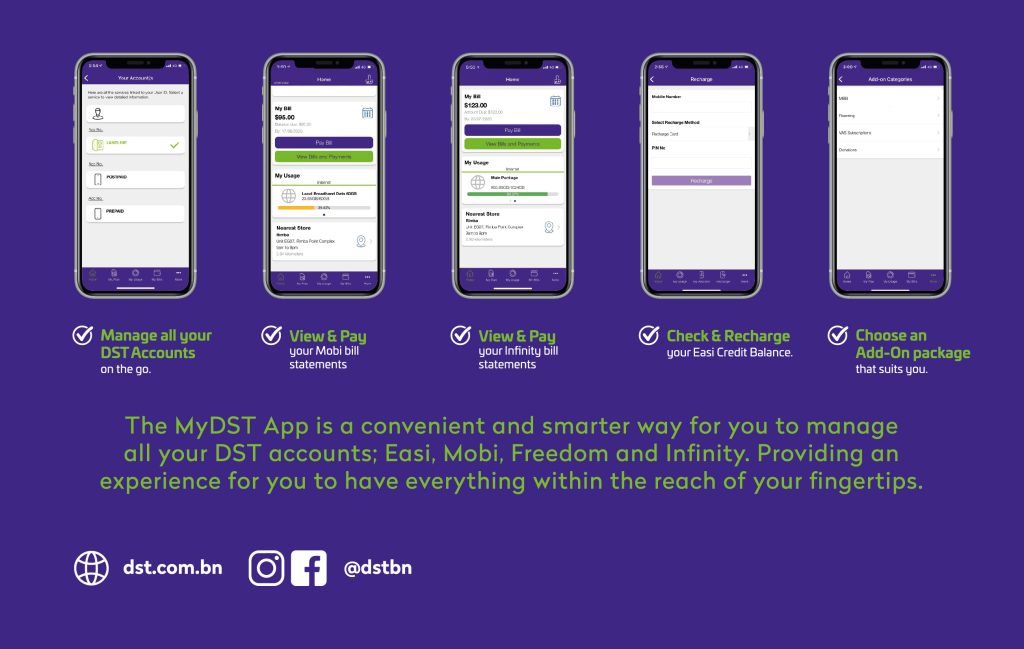 Easi subscribers are able to monitor and check their credit and bonus credit balance, purchase and recharge their credit and bonus credit balance using their debit/credit card or an Easi recharge card, transfer credit to other Easi subscribers, purchase and subscribe to add-on data packages and also keep track of their add-on data balance and usage. Easi subscribers can also purchase the newly released $25 Easi recharge denomination, which is only available on the MyDST app.
Another incredibly convenient feature on the MyDST app is the linking of multiple DST services and numbers in one MyDST account. With this feature, it will make it much easier for subscribers who have more than one service or number with DST to manage their accounts.
The MyDST app is available on the App Store for IOS users and Google Play Store for Android users. Follow DST on Instagram and Facebook for more updates.