Go BiG & Stay Home!
BiG x Firoz Jaya Baju Raya Design Competition
Congratulations! You are one step closer to winning the BiG x Firoz Jaya Baju Raya Design Competition!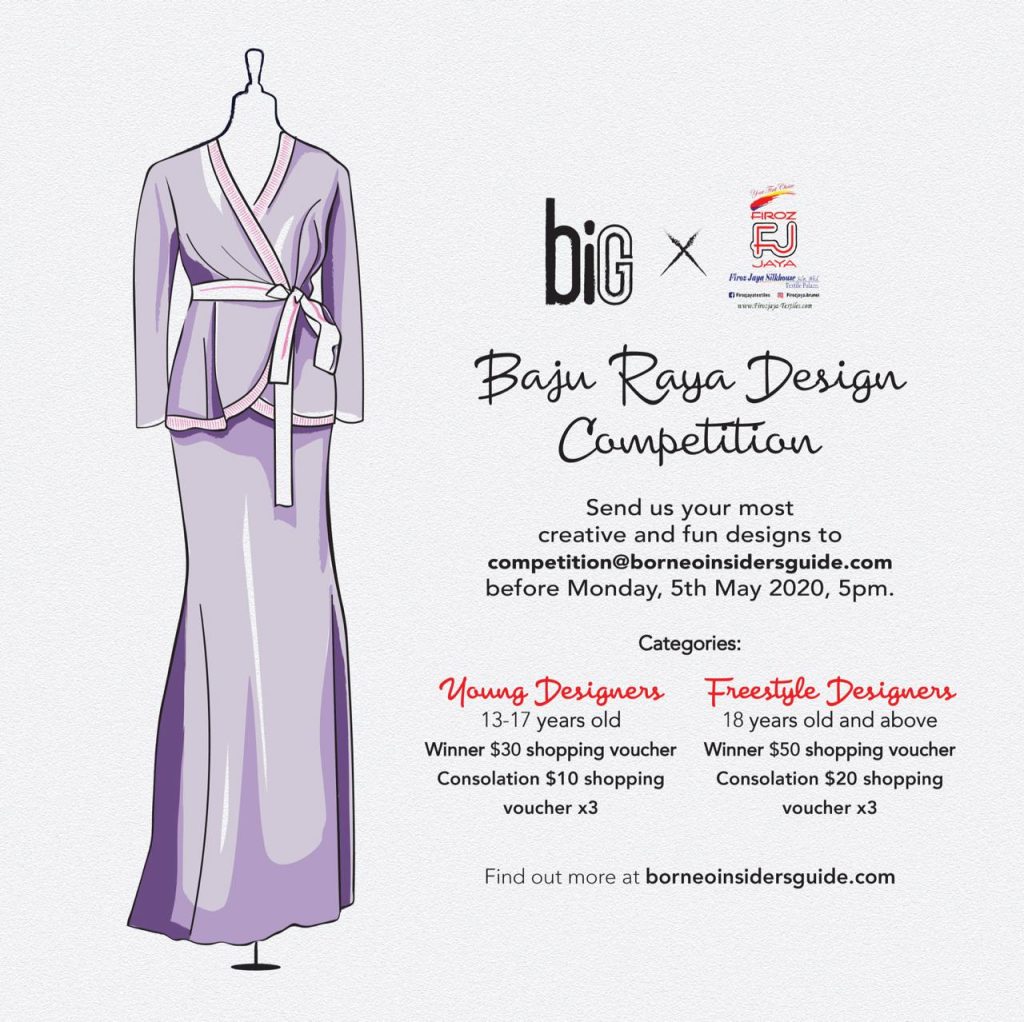 There are just a few more things you need to do to enter:
Follow @b.i.g.magazine and @firozjaya.brunei on Instagram.
Get creative and come up with a sketch of your own original baju raya design, which can be for men or women.
Once you've done that, email that over to competition@borneoinsidersguide.com, and please make sure that you include:
– Your Instagram handle
– Your full name, address and a scanned copy of your IC/NRIC
– A .jpeg/.pdf image of your entry (or entries)
Competition Rules & Regulations:
We will only accept entries submitted from 20 April 2020 (midnight) to 5 May 2020 (5pm) and emailed to competition@borneoinsidersguide.com.
We are expecting only original Baju Raya designs for either men or women. By submitting your design, you are confirming that this is your own original design and not a copy. CHMP Enterprise (BiG Magazine) and Firoz Jaya will not be held responsible for consequences arising from the use of a stolen design.
By submitting your entries, you have read and agreed to these rules and regulations and the terms and conditions listed below.
Competition is open to residents and citizens of Brunei Darussalam and Borneo. The prize is only redeemable in Brunei Darussalam.
The competition is split into two categories:
– Young Designers (for those 13-17 years of age)
– Freestyle Designers (for those aged 18 years and above)
Prizes as sponsored by Firoz Jaya include a variety of shopping vouchers at Firoz Jaya for consolation prizes, a BND30 shopping voucher at Firoz Jaya for the winner of the Young Designers category, and a BND50 shopping voucher at Firoz Jaya for the winner of the Freestyle Designers.
Entries must be given in the form of freehand design.
All entries should come with a short description of the overall look of the design, and any details that are important to the overall outcome. For example, indicate what type of material (e.g. French lace, satin, silk) is used for the outfit.
You may submit as many original designs as you wish to increase your chances for a win.
Winners will be chosen at the discretion of BiG Magazine and Firoz Jaya. The overall decision made will not be contested.
Winners will be informed via telephone, email or Whatsapp text on Wednesday, 7 May 2020.
Terms & Conditions:
Borneo Insider's Guide (BiG) Magazine and its publishing company CHMP Enterprise reserve the right to use submitted designs as a promotion on its social media platforms and printed copies.
All participants understand that all rights (including reproduction rights) of designs submitted to this competition will be given to CHMP Enterprise (BiG Magazine) and Firoz Jaya, with due credit and exposure given to the designer through our print and social media channels.
Per Instagram rules, we must mention that this competition is in no way sponsored, administered or associated with Instagram, Inc. By entering, entrants are confirming they are 13+ years of age, release Instagram of responsibility, and agree to Instagram's term of use.
And lastly, get creative, have some fun with it, and happy designing!