The Launch of a Coconutty Brunei Gastronomy Week 2020 Promises Tasty and Innovative Takes on Local Cuisine
by Intan Abu Daniel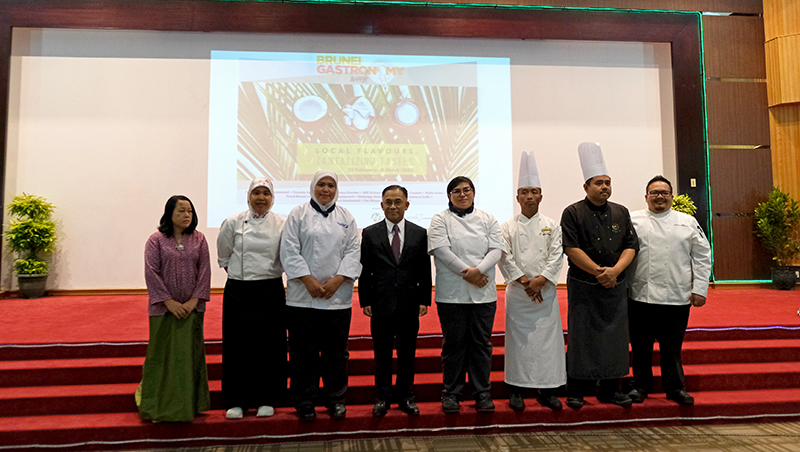 Over the past four years, February has become one of our favourite months of the year. With all the preparations leading up to the annual action-packed celebration of Brunei's National Day, the foodie in us can't help but be excited for the other annual event that pops up every February. Namely, The Brunei Gastronomy Week.
Held in conjunction with the 36th National Day celebrations, Brunei Gastronomy Week 2020 was launched on 19 February at the Dewan Setia Pahlawan Hall of the Ministry of Primary Resources and Tourism. In a room packed full of mouth-watering sweet and savoury treats just waiting to be eaten up, the Minister of Primary Resources and Tourism, Yang Berhormat Dato Seri Setia Awang Haji Ali bin Apong, officiated the launch of the Brunei Gastronomy Week in the presence of Foreign Dignitaries, Brunei Tourism Board members, Permanent Secretaries and Deputy Permanent Secretaries of Ministry of Primary Resources and Tourism, restauranteurs, hoteliers and travel agency representatives.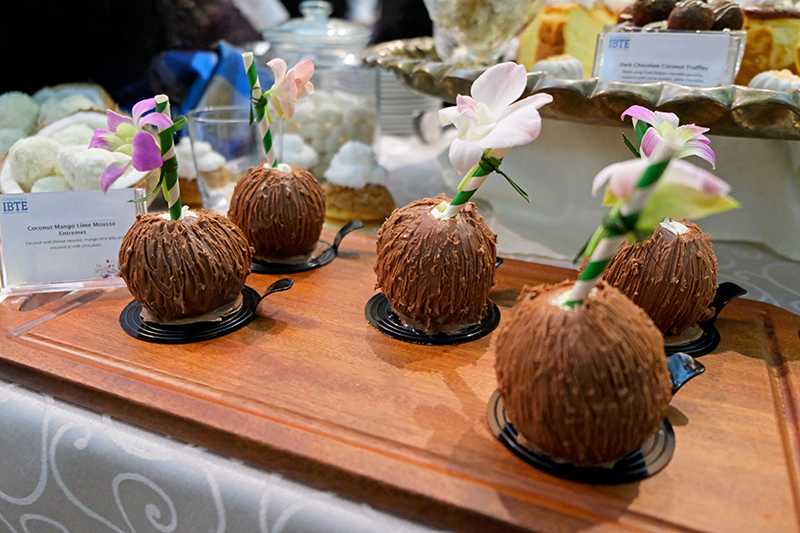 In his welcoming speech, Yang Berhormat Dato Awang Haji Ali lauded the positive changes seen in the food and beverage industry in Brunei: "Restaurant businesses are quickly adapting to a rapidly changing world because the food culture must always be alert to new things. Uniqueness is an important selling point to food tourists using good herbs and fresh ingredients to create menus of traditional flavours."
"Gastronomy is a major driver for tourists when choosing a destination. In this regard, ASEAN has also drafted the ASEAN Gastronomy Tourism Masterplan which is designed to give a major boost to the combined appeal of the wonderful culinary delights of all the 10 ASEAN countries."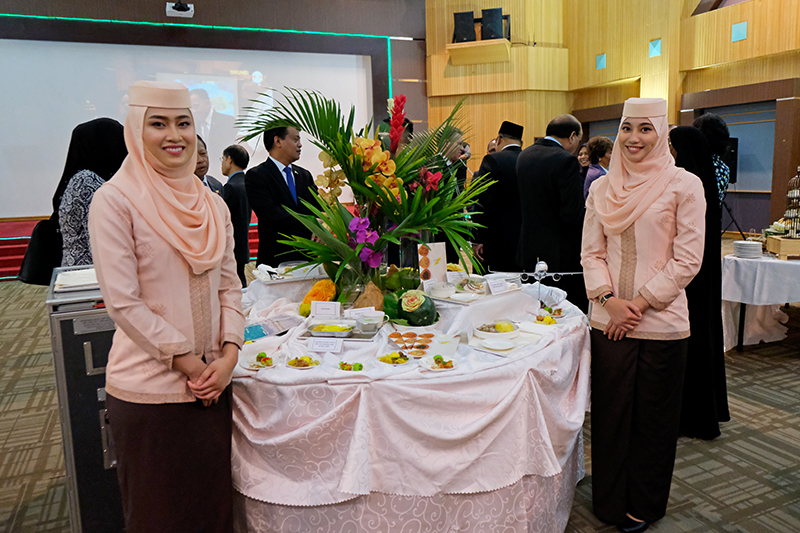 This year's Brunei Gastronomy Week will have 13 hotels and restaurants, including national carrier Royal Brunei Airlines, participating. Each establishment will be promoting their own signature dishes and unique twist to the theme of this year's Brunei Gastronomy Week: 'All About Coconuts'. Like the past three years, the point of participating in Brunei Gastronomy Week is to celebrate the Sultanate and create an awareness on our local cuisine, while encouraging food and beverage establishments to experiment on improving taste and elevating presentation of our beloved local dishes to be served as part of a fine dining experience, all the while providing a uniquely Bruneian gastronomical experience to both locals and visitors.
In providing further encouragement and initiative to the participants of this year's Brunei Gastronomy Week, there will be a judging program based on the participant's course of choice during the event. The winners of this year's Brunei Gastronomy Week will be announced at next year's event.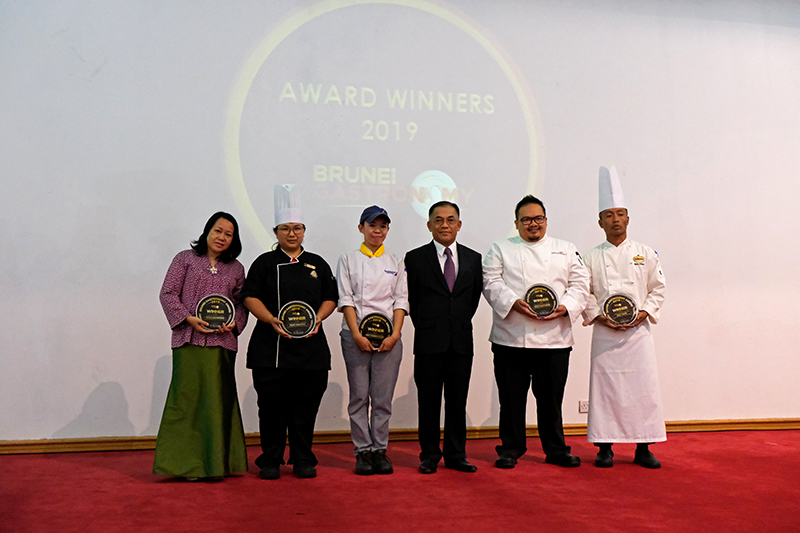 Which meant that it was time to announce the winners of last year's Brunei Gastronomy Week. With Yang Berhormat Dato Awang Haji Ali presenting awards to the winners, five representatives of the winning establishments took to the stage to receive their well-deserved prize: Eco Ponies Garden for Most Wholesome, The Brunei Hotel for Most Creative, Radisson Hotel Brunei Darussalam for Most Innovative, The Horizon Seafood Restaurant for Best Presentation, and The Rizqun International Hotel for Best Taste.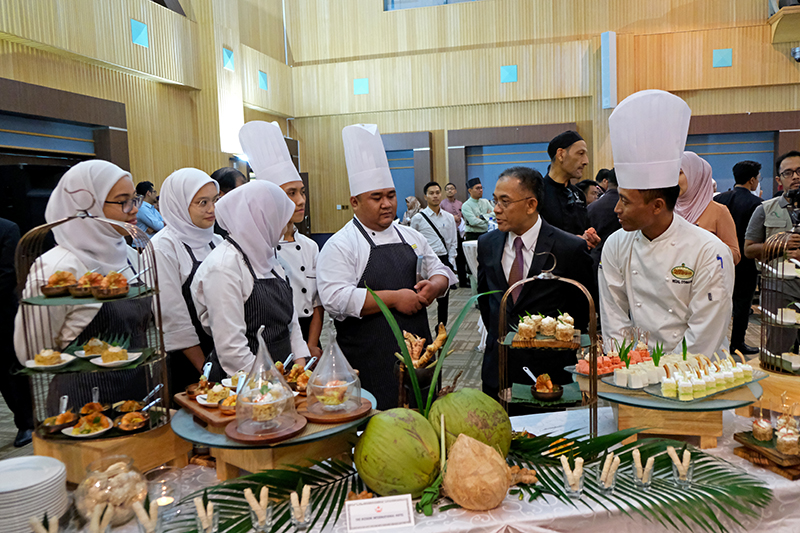 On winning the coveted award for Best Taste, Chef Rizal from The Rizqun International Hotel commented, "Brunei Gastronomy Week is a great opportunity for chefs to produce new menus and use ingredients and methods which may not be known to diners. For a young chef, it is also a learning experience to understand traditional recipes and ways of cooking. It allows them to innovate and create new dishes from traditional cuisines and present them in a different manner."
Hardly a stranger to winning awards, Chef Sandi from the Radisson Hotel Brunei Darussalam – he and his team won two culinary competitions last year, including the BIMP Eaga Culinary Challenge held in November last year (read our interview with Chef Sandi here) – was humble in receiving the award for Most Innovative. "I'm just trying to do the best I can," he said to us. "We didn't expect any award, and it's a bonus for us. Our main priority is to do the best for our guests and our customers."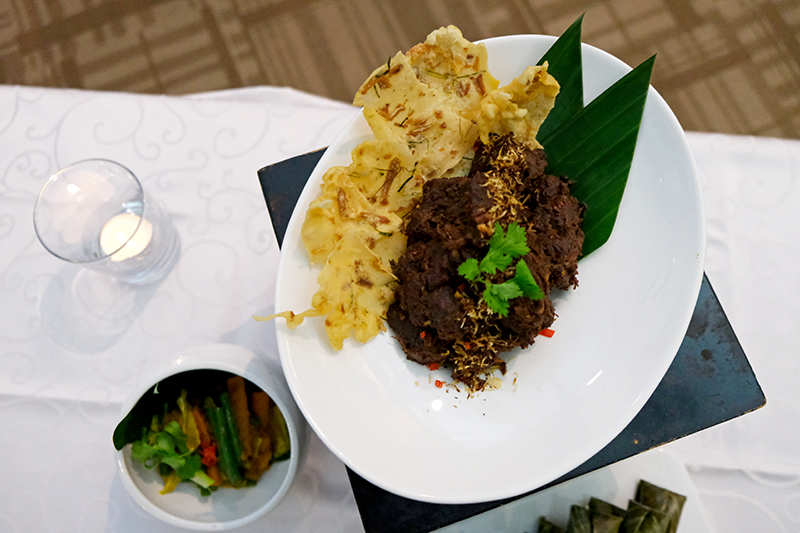 Already known for their excellent food and stellar presentation, Chef Sandi along with the Radisson Hotel Brunei team is all about quality for this year's Brunei Gastronomy Week, exemplified in this year's signature dish, their Slow Cooked Beef, and their coconut-infused Tahai Soup.
"This is the fourth year that we're participating in the Brunei Gastronomy Week, and this year we're focusing on taste. Using fresh ingredients, we'll be presenting traditional Bruneian dishes with a modern presentation, but we want to concentrate on the original taste of these dishes."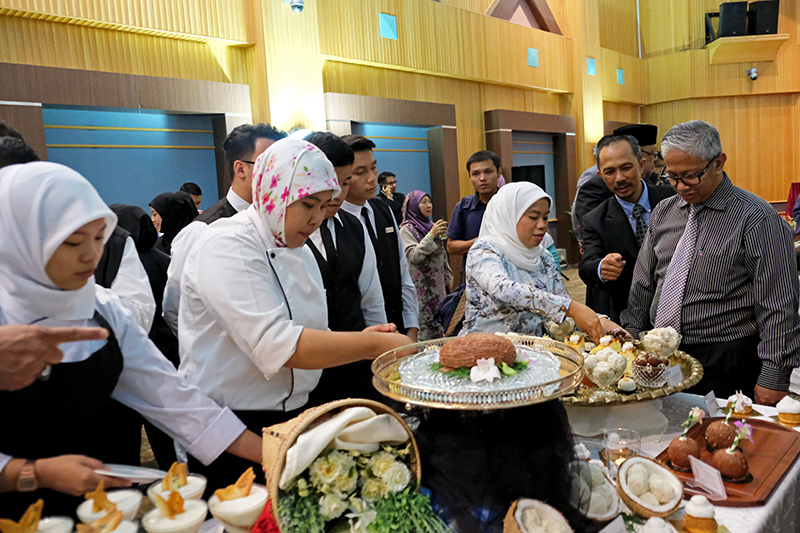 A table laden with mouth-watering coconut-based sweet treats was presented by the Institute of Brunei Technical Education (IBTE), in their School of Hospitality and Tourism. It's a great show of presentation and taste prepared by the nation's future generation of culinary leaders. The experience is valuable for the students, and one of the faculty members, Cikgu Fakhriah, commented, "This is a good experience for them. It opens their eyes as to what they can do in the future. It's certainly an eye-opening experience, something new and very different for them."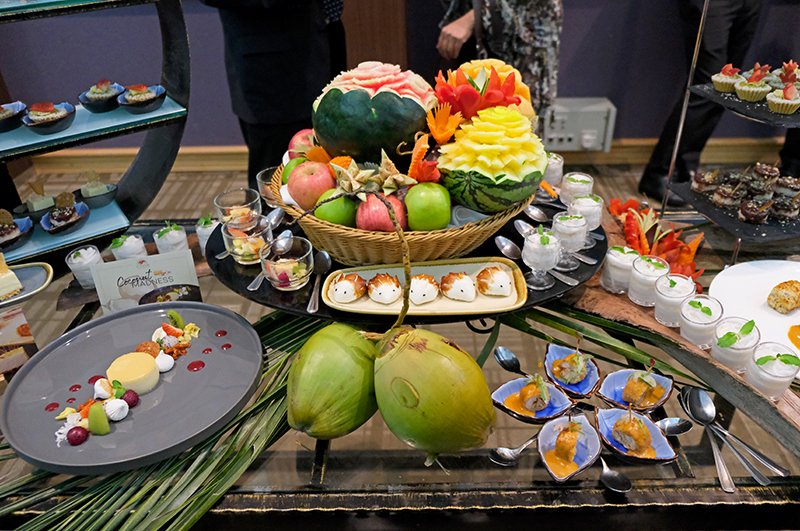 Royal Brunei Catering has four of their restaurants participating this year, namely: Seasons Restaurant, The Horizons Seafood Restaurant, Anjung Saujana Restaurant and Dynasty Restaurant. Chefs Fina and Amirah spoke about the fusion direction of each direction, with Dynasty leaning toward fusing local with Chinese cuisine, while Anjung Saujana is promoting Chinese with an Iranian modern touch to their local signature dishes. Seasons Restaurant's Coconut Breaded Chicken Roll with Thai Coconut Red Curry Sauce will be fusing local tastes with Thai cuisine elements, while The Horizons Seafood Restaurant keeps things classy with a more Westernised touch.
"We're hoping that the Brunei Gastronomy Week is an event that helps with the tourism industry in Brunei," Chef Fina said. "Hopefully it'll encourage people to give it a go and try the food. This is a different style on our local cuisine, so give it a try!"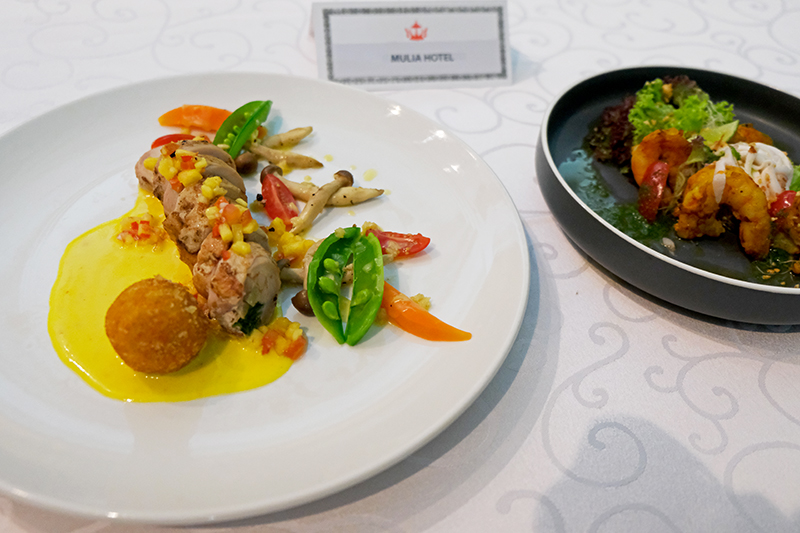 National carrier Royal Brunei have shown their support to the Brunei Gastronomy Week since its inception in 2017, serving local cuisine options on flights departing from Bandar Seri Begawan (except RB Link services) on both Economy and Business classes. Available from 23rd to 25th February, expect to find dishes like Grilled Chicken Breast with Coconut Curry Hummus and Crispy Fried Chicken with Desiccated Coconut served with Turmeric Rice in Business class, and Lightly Fragrant Braised Coconut Chicken Stew with Tasty Turmeric Rice and Kerabu Timun Kelapa in Economy class.
On their staunch support of the Brunei Gastronomy Week, Mahyuddin Zulkipli from Royal Brunei said, "It's a great way to give visitors exposure of our local cuisine and delicacies on board our flights before they even arrive in Brunei. Seeing as we bring visitors in and out of Brunei, we provide a good platform to promote Bruneian food."
Along with the many delicious activities that went down at the Brunei Gastronomy Week launch, this year also saw the soft launch of the 'Brunei Gastronomic Cuisine – Unique Bruneian Flavours' – a compilation. of recipes and memories collected from the annual Brunei Gastronomy Week since 2017. The book pays homage to the unique and beautiful fare that has been prepared and served over the years in the nation's quest to define and elevate the art of Bruneian cuisine.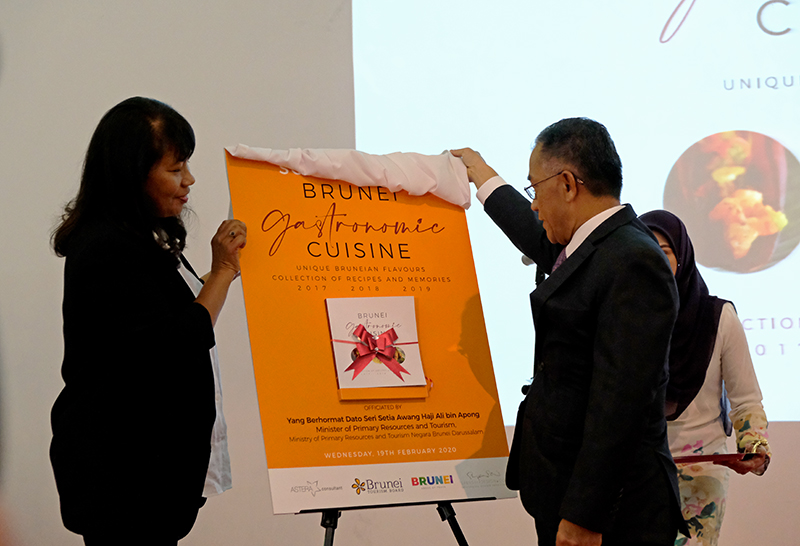 The book is produced by Astera Consultant and Syensai Design & Co, and supported by the Tourism Development Department. The book will be available for purchase in June at BND25 per copy, and is currently accepting pre-orders. For further details, contract 673-2341713 or visit their Instagram account for more details (@bruneigastronomy).
The Brunei Gastronomy Week will run from 23rd February to 8th March 2020, at the following participating restaurants and establishments: Eco Ponies Garden; The Longhouse Training Restaurant, School of Hospitality and Tourism, IBTE; Mulia Hotel; Radisson Hotel Brunei Darussalam; Royal Brunei Airlines; Anjung Saujana Restaurant, Dynasty Restaurant, Seasons Restaurant and The Horizons Seafood Restaurant of Royal Brunei Catering; StarLodge; The Capital Residence Suites; and The Rizqun International Hotel.
The Brunei Gastronomy Week is supported by the Brunei Tourism Board, Brunei Association of Hotels, Association of Travel Agents Brunei, Astera Consultant, Syensai Design & Co, Royal Brunei Airlines, Radio Television Brunei (RTC) and local media.
For more details about the Brunei Gastronomy Week, visit bruneitourism.com/bgw2020