Seoul Sojourn at The Four Seasons Hotel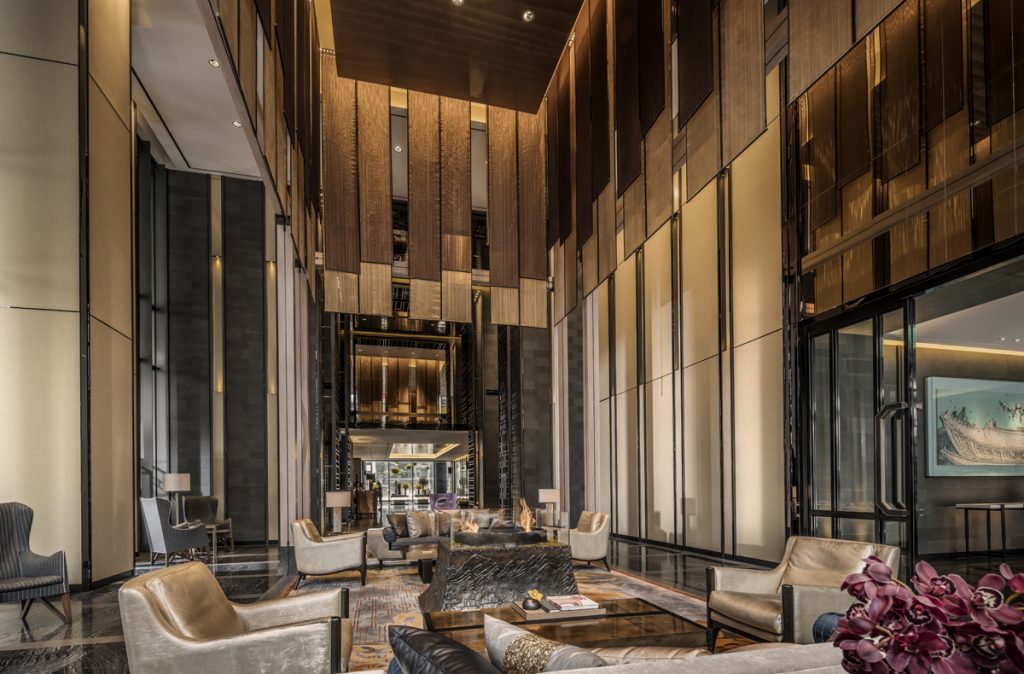 by Wan Zainal Abidin
Helped in no small part by the convenience of direct flights to Seoul via Royal Brunei Airlines, the South Korean capital is a favourite getaway for Bruneian travelers. With offerings ranging from fiery cuisine to trend-setting cosmetics set in a vibrant city that merges world-trending pop culture and deeply traditional roots, it's no surprise that anyone who visits Seoul tends to leave a bit of their soul behind. At a recent trip to Seoul, Wan Zainal Abidin checks into Four Seasons Hotel Seoul, a hotel that embraces the city's vast history and trend-setting culture, amidst the interior's fabulous designs and sweeping picturesque views.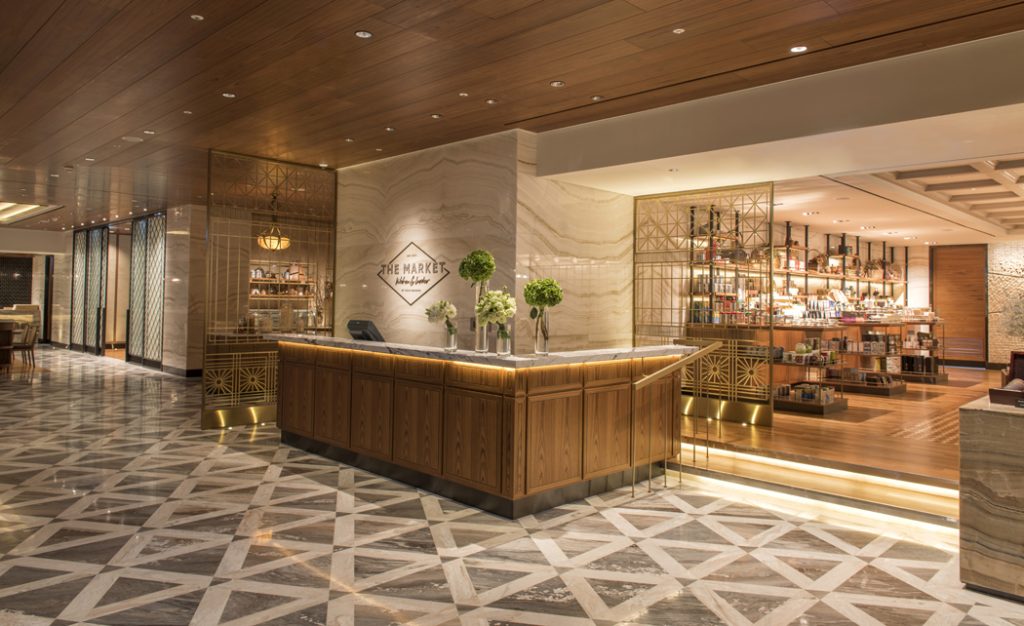 Opened in late 2015, Four Seasons Hotel Seoul is one of the more recent additions to the hotel scene in the capital city. The 29-storey glass and steel building is located in Gwanghwamun district in the heart of the city and offers easy access to all there is to see and do in this captivating metropolis.
Celebrated Tokyo-based flora designer Nicolai Bergmann opened his first shop in Seoul within Four Seasons, and his beautiful creations are on display throughout the hotel, complemented by an expertly curated art collection featuring over 130 Korean artists peppered throughout the building, including a stunning three-dimensional Korean ship made out of ivory-coloured buttons by artist Ran Hwang.
Each of the 317 rooms (including 43 suites) feature full height windows offering stunning views of the Gwanghwamun district, and the stark contrast of old Korea and new Korea is in full display here. Selected suites show a view of the enormous Gyeongbokgung Palace surrounded by modern skyscrapers and international commerce buildings that include the N Seoul Tower. The views are extended throughout the building, including the gym areas, where I enjoyed hours of working out while soaking in views of the bustling district below.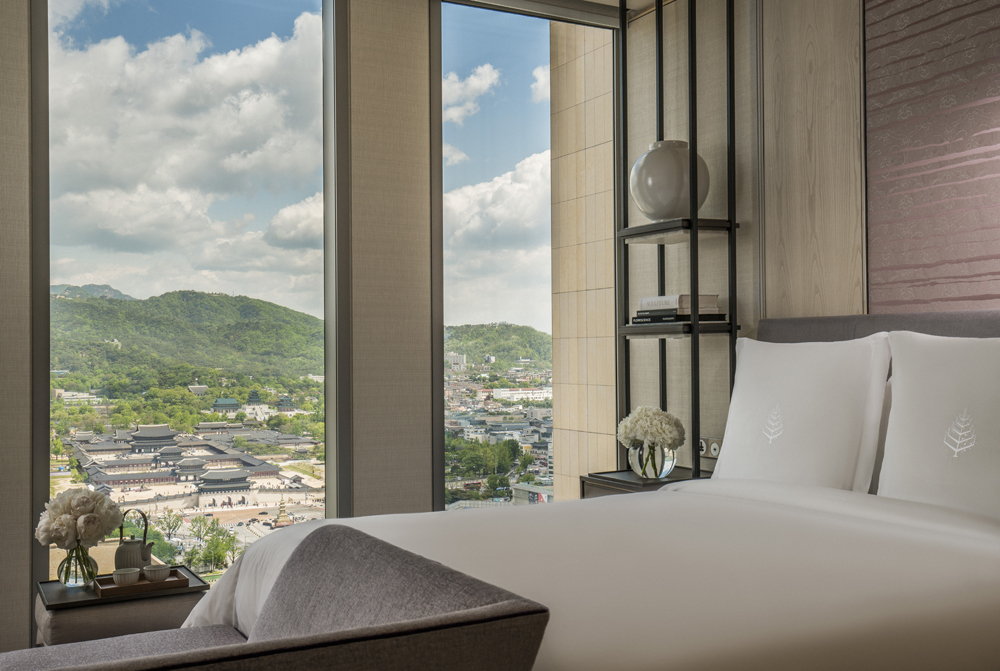 The luxuriously appointed rooms combine classic Korean design motifs with a clean modern aesthetic. Completing the modish interiors of the rooms are all the usual mod cons you would expect of a hotel in the 21st century, including a bedside personalised iPad that acts as your concierge for all your needs and wants during your stay.
A hotel of this size and magnitude comes with plenty of dining and imbibing options, as it is designed to be a lifestyle getaway for locals as well as visitors. A lavish breakfast buffet that caters to local and Western palates is served at the Market Kitchen, which is located below the lobby level, and breakfast is prepared in full view in the show kitchen – leaving no doubt of the quality of the food served. I can't decide if the showstopper at this restaurant is the DIY bibimbap counter or the display of actual ancient Korean ruins preserved in the glass flooring of the restaurant, which was uncovered during the construction of the hotel.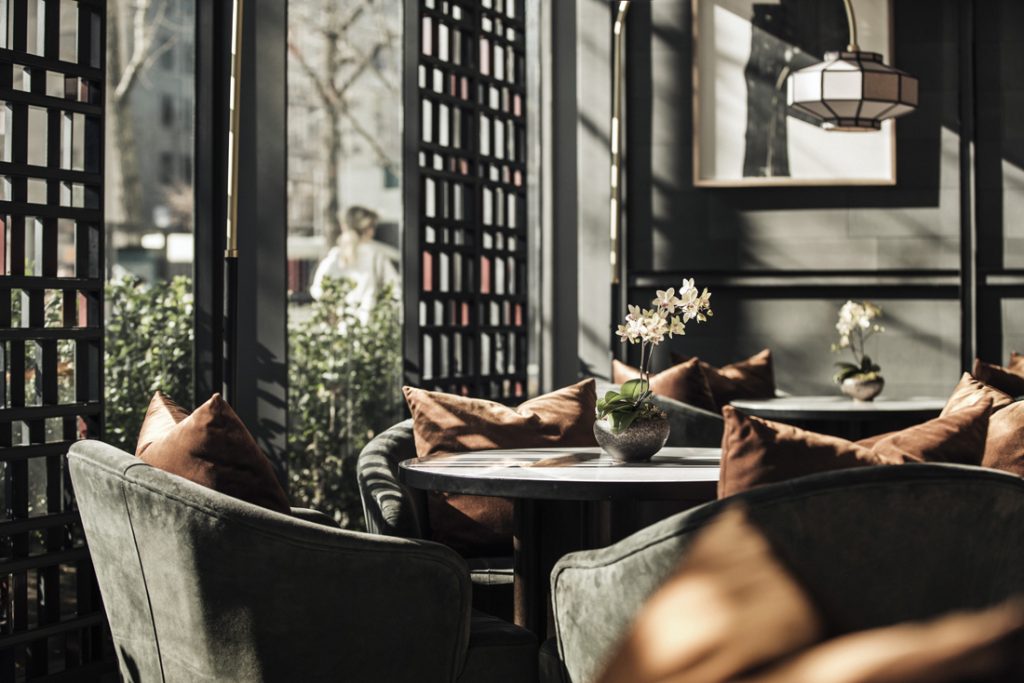 Two other dining stand-outs in the hotel include Maru, located at the lobby level, and the Italian restaurant Boccalino. The tastefully decorated Maru takes up a bright and airy space which makes it a great spot to catch up on news while sipping on a cup of coffee and watching the world go by, while Boccalino, with its adjoining bar, serves up Chef Ciro Petrone's interpretation of Italian classics in refined and modern settings. Of course, food options within the hotel are limitless – ranging from Akira Back's creative Japanese fare with a Korean twist to Michelin-starred Chinese cuisine at Yu Yuan to sweet creations by Alexandre Chersouly at Confections, guests would be spoilt for choice.
The hotel's Four Seasons Club comes perfect quipped to satiate a city with a wellness and beauty-obsessed culture and the visitors looking to experiment with Korea's world-renowned wellness, fitness and beauty trends. This is a 5,800 square metre stylish space that spans across three floors dedicated to health, fitness, beauty and socialising. The club offers spa treatments, a full service nail bar, gym, juice bar, lounges, three pools, and an indoor golf experience.
A hotel at the height of luxury and sophistication with impressive facilities and impeccable service, it's no wonder that Four Seasons has won numerous accolades that firmly position it as the city's latest hotel of choice. It's also situated in one of the best locations for culture vultures or business jetsetters (Including a great grilled chicken shop just next door that fully satisfied my late night snack attacks).
The Four Seasons Hotel Seoul
97 Saemunan-Ro, Jongno-Gu, Seoul, 03183 Korea
Tel: 82 (2) 6388-5000
Website: www.fourseasons.com/seoul/
Instagram: @fsseoul