KACA Brunei To Host Fearless Run 2019 in October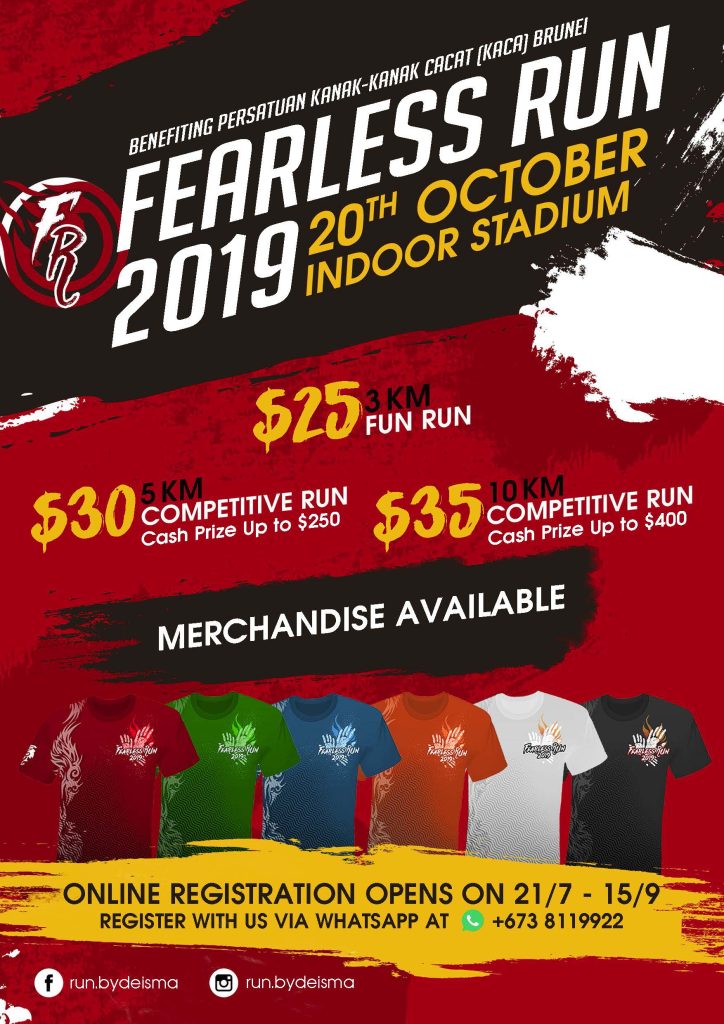 The Fearless Run 2019 is coming your way this October, thanks to a dynamic collaboration between Pusat Kanak-kanak Cacat (KACA) and De'Isma Event Management. Set to flag off from the Indoor Stadium starting from 6.30am on 20 October 2019, members of the public are invited to register under the three categories: 10KM Competitive Run, 5KM Competitive Run and 3KM Fun Run.  With a registration fee of $35, $30 and $25 respectively, the race kit includes:
1 Fearless Run Shirt
1 Fearless Run Medal
1 Fearless Run Bib and
1 Donation Card
With over 6 years of experience organizing expos under their belt, the charity run will be De'Isma Event Management's first sport run event. Aspiring to raise awareness on the importance of inclusivity among people with different abilities, the run also aims to engage the public in actively raising funds for children with special needs by donating a generous portion of the proceeds to the organization. The donation cards provided to registered runners will also act as an additional platform for the general public to donate to KACA Brunei which has been a key organization since 2006, highlighting the needs of children with different abilities in Brunei and encouraging them to reach optimal functionality.
There will also be a fun run category around the stadium grounds for an expectation of 200 KACA children who will be accompanied by at least one parent or guardian.
For more information and updates, contact +673 811 9922 or email run.bydeisma@gmail.com. Be sure to follow them on Instagram at @run.bydeisma and Facebook at FearlessRun2019.