BiG Feature: Sweet On Sarawak
Sarawak has long enjoyed an eclectic array of culinary influences from both East and West. In this issue of BiG we take you on a journey to experience a few must-try dessert destinations and explore the stories behind these delights. From Mediterranean classics to traditional Punjabi treats, humble childhood favourites to haute cuisine confectionery, who knew there was such diverse range of sweetmeats to be savoured here in Sarawak?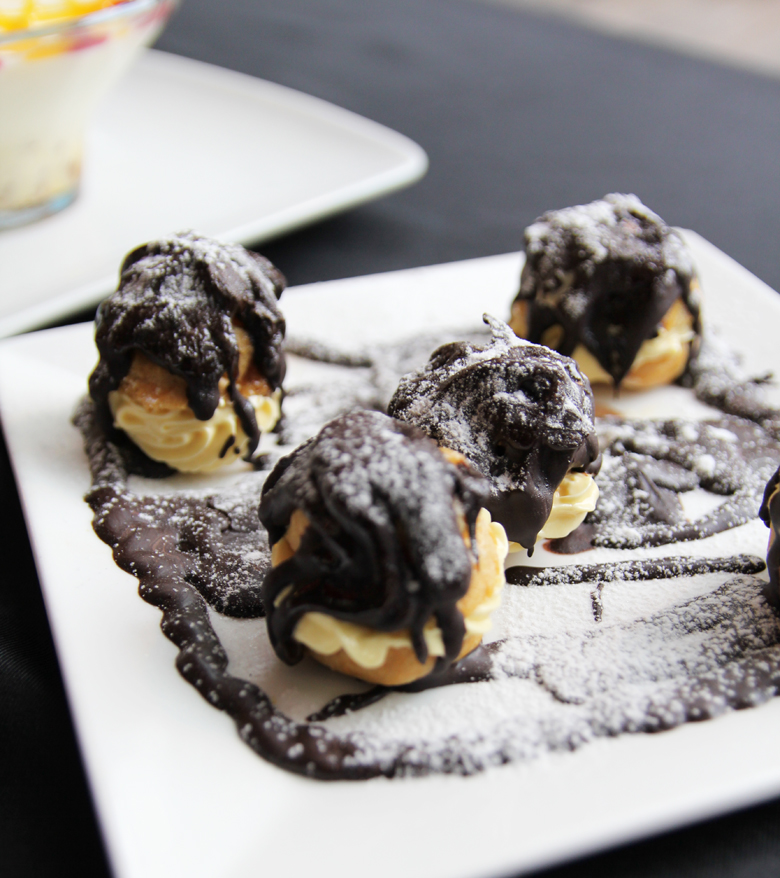 ZINC
ZINC has a solid reputation for the quality of its cuisine – lovingly curated dishes that marry Mediterranean favourites with an Asian influence. The superb starters and main courses aside, ZINC is a highly underrated destination for divine desserts.
The establishment offers a selection of sweet treats that are in turn decadent, whimsical and unexpected – a result of the collaboration between Catalonian chef, Chef Jordi, and Servane Lo, the French co-founder and designer of the restaurant. The resulting dessert menu incorporates sophistication into traditional Mediterranean desserts, in keeping with the restaurant's playfully chic vibes.
Unassuming in appearance, the crowd-pleaser is indubitably the French Profiteroles. The delicate choux pastry comes filled with a luxurious Chantilly cream and a drizzle of a ganache of dark chocolate – a marriage of flavours that balances the light, airy sweetness of the cream-filled pastry with the earthier, darker flavours of premium cocoa.
For those who enjoy a touch of whimsy and contrariety, ZINC's Tiramisu offers a playful take on the classic Italian cake. Prepared with traditional Mascarpone cheese, coffee and Amaretto, it still manages to surprise – I burst out in laughter as it came in the unexpected form of a pot plant with chocolate "soil", garnished with a sprig of fresh mint.
My personal favourite was the Crema Catalana, which is Catalonian in origin. Similar to the crème brulee, this dessert came served in a cazuela (a terracotta cooking dish). From the brittle caramel crust to the creamy insides, lighter in mouthfeel than that of the crème brulee, it differs distinctively from the latter with the addition of the spicy warmth of cinnamon.
For those who prefer a fruity take on dessert, there is the citrusy Crêpes Suzette, a French favourite of thin pancakes served with a slice of fresh orange and smothered with a flambéd orange liqueur sauce. To round off the selection, lovers of tart flavours will favour the Passionfruit Cheesecake, a Spanish-styled soft cheesecake topped with passionfruit puree – a tangy flavour very much the favourite of Servane, who would add it to everything if the chef would permit!
ZINC opens daily from 6pm to 1am except for Mondays.
Tel: 6011-36906675
FB: @ZincKuching
IG: @zinckuching
THAALI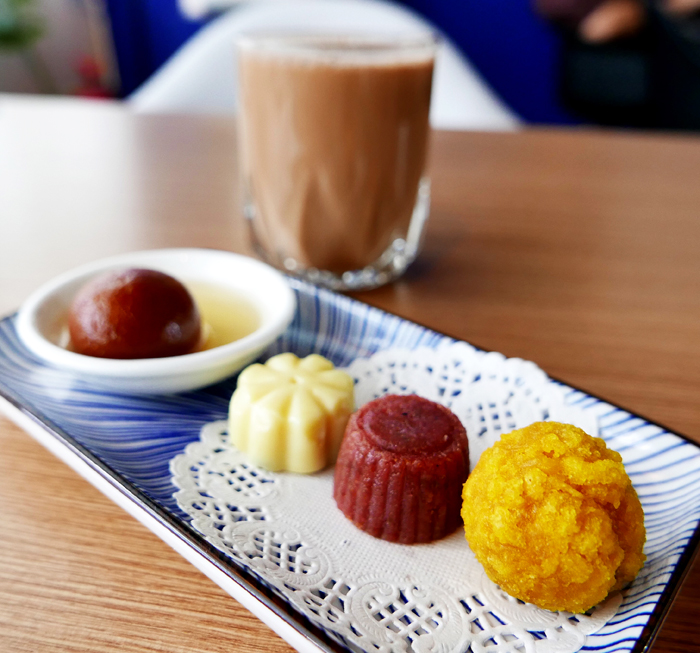 Helmed by MasterChef Asia 2015 finalist Jasbir Kaur, Thaali serves an assortment of well-loved Punjabi fare. Aside from the more savoury offerings, there are a number of traditional sweetmeats on the menu.
Punjabi sweets are usually rare treats traditionally only served on special occasions. However, after her move to Sarawak, Jasbir began craving these traditional sweets reminiscent of her childhood. Undaunted by the non-existent local supply, she called up her mother for the family recipes, and then set about recreating these old favourites.
For customers keen on trying a taster menu of traditional Punjabi desserts, Thaali offers a Mithai Set which contains gulab jamun, barfi, ladoo, and coconut candy. "Mithai" is the Punjabi word for "sweets", which succinctly sums up this collection of traditional candy.
The Gulab Jamun, deep-fried balls of milk solids which are then soaked in rose syrup, is an ancient dessert with roots in Persian history and is Thaali's most sought after confectionery. Also part of the set is another milk-based morsel, the Barfi, which is made from full-cream milk and spices.
Every Punjabi family has their own rendition of traditional confections, and Jasbir's was no different. Ladoos are made with chickpea flour, sugar, and spices, often with dried fruit mixed in. Jasbir's father enjoyed black peppercorns in his, and the version served at Thaali is a loving tribute to their family recipe. These unassuming-looking balls of sweetness offer up a tantalising experience – my tastebuds were thrilled by the unexpected sensation of spiciness as I bit into one.
Completing the set is the Coconut Candy which are a childhood favourite of Jasbir's. With an appearance almost reminiscent of unpolished rubies, they are made from simple ingredients that come together in an indulgent representation of flavours beloved to South Asia.
Batches of desserts at Thaali are rolled out on a weekly basis. Although these desserts can keep much longer than that, Jasbir prefers to maintain a very high standard of freshness for all the items served at her restaurant. As a result, her desserts are often only available in limited quantities to avoid spoilage, so do place a pre-order with the restaurant to guarantee a taste of your favourite Punjabi confections.
Thaali opens daily from 10am to 10pm.
Telephone: 6082-532653
Facebook: @thaali.kch
Instagram: @thaali.kch
MADELEINE CAFE
Many Kuching residents experienced a gustatory epiphany upon the opening of Madeleine Cafe. Chef Liew's buttery French pastries and intricate confectionery wonders were eye-opening – for the first time many realised that this was how quality pastries and cakes were supposed to taste like.
Taking a haute cuisine approach with his baked goods, Chef Liew's work is predominantly Western-inspired, so impeccably presented that it feels almost sacrilegious to tuck into. Most would never guess that he began his career making simple traditional Chinese pastries. Indeed, he started off with running a humble home business producing mooncakes and siew paos, a vastly different direction from the elaborate French confections he meticulously crafts today.
Working twelve years overseas as a pastry chef, Chef Liew came back to Malaysia equipped with the technical know-how acquired from his experience abroad, hoping to change the way people experienced desserts. Combining that with a sensitivity to local tastes, he has formulated an approach tailored for the Sarawakian market.
The highly popular Praline is a testament to this. A chocolate creation sumptuously topped with shavings of premium chocolate and decadent gold praline, it is indulgent yet never too cloying. Traditional French pastries tend to be sweeter and richer than what local palates are used to, and Chef Liew has taken cues from the Japanese approach to dessert-making, toning down the flavours of his creations so as not to be too overwhelming.
For those who prefer lighter flavours but still want to enjoy the velvety-smooth luxury of melt-in-mouth chocolate will appreciate the regal all-white Ivory Raspberry. A favourite flavour combination of the chef, a bite into it yields the sumptuous texture of white chocolate, to which the acidity of raspberry comes into play as the perfect foil, balancing out the buttery decadence with a robust burst of fruit.
Finally there is Red Berries, a vision of delight in pink, cream and gold. Here, the tart sweetness of strawberries and raspberries are combined with the tangy creaminess of yogurt. This trio of ingredients serves as an invigorating departure from some of the richer offerings, but is as wonderfully complex as all of the items on Madeleine's menu.
Madeleine Cafe is open from 8am to 10pm daily, except Tuesdays.
Tel: 6082-529295
FB: @madeleinecafegreenheights
IG: @madeleine.greenheights