Spilling the Beans
Brunei's coffee culture has transformed a lot from its days of inception, when all we knew about good coffee were iced mochacinnos with whipped cream on top. Not that we're complaining (we love our iced mochacinnos), but the coffee scene has seen a revolution since those days. These days the coffee culture caters for every kind of coffee drinker – and we're all the better for it.
We set our sights on some of the movers and shakers of the local coffee scene, and ask them to share some personal insights about, what else, coffee!
BREW Café & Bakery
Serving premium coffee with baked goods
Artisan pastries, cakes, breads and sandwiches, paired up with a cup of premium coffee – welcome to BREW Café & Bakery! Starting out as Mr. Baker's Cafeteria – a dine-in option for the well-known local franchise Mr Baker's Bakehsop – the venue saw a renovation in 2015 and emerged a trendier version of its former self.
The values remained the same: Mr Baker's Bakeshops are well-known for serving quality pastries for the health conscious, and BREW continued that tradition, with the added plus of contributing to Brunei's coffee culture by serving premium-grade coffee.
Mr. Baker's Bakeshop also recently opened Bloom Café, where they will continue offering specialty coffee and cakes. Keep up to date with BREW Café by following them on Instagram (@brewcafebakery) or call them at 673-2427554.
Caffé Bene
Bringing Korean coffee and values to Brunei
Hj Mohammad Zulkifli and his wife, Hjh Aminah, chose to open Caffé Bene due to their own passion for coffee, but the famous Korean coffee house franchise has always been more than just coffee. Their slogan "More than Coffee" means they also offer a wide variety of desserts, waffles, pastries and pies, all of which will be paired perfectly with their fresh, good quality coffee.
Officially opened in Brunei on March 2017 and officially Halal Certified, there are many ways how Caffé Bene's coffee is different from other coffee franchises: different raw coffee beans are all separately roasted before blending; coffee beans used are roasted using a medium air-roasting technique that helps preserve the richness in coffee flavor and aroma; a signed contract with the Ipanema Brazil farm means all coffee beans used here are grown through particular quality management; and fresh milk is always used. Whatever the tools of their trade, the coffee at Caffé Bene never disappoints.
Caffé Bene launches a seasonal menu quarterly, and has a host of events lined up. Keep up with them for updates on Instagram (@caffebenebn) and Facebook (Caffe Bene Brunei) or call them at 673-2340836.
The Coffee Bean and Tea Leaf
The first franchise to discover the Original Ice Blended
Brewing in Brunei for over 17 years and with 12 outlets, two kiosks and a food truck across the sultanate – The Coffee Bean and Tea Leaf were one of the first to introduce the idea of coffee beyond a cup of black coffee from your nearby coffee shop to Brunei, and most certainly the first to introduce the Original Ice Blended to the world. This beloved Southern Californian franchise is passionate about coffee, and continues their relentless search for the finest and rarest premium coffees to serve to their many customers.
At The Coffee Bean, nothing is done halfway. Flavours are handcrafted, coffees are roasted in small batches in their facility in California, where diligent work is put into finding the roast that best suits the beans and captures what makes each country's coffee unique. Their coffee master, Jay Isais, travels around the world selecting the top 1% of Arabica beans from the world's best growing regions.
Their artisan pizzas taste pretty good too! Follow them on Instagram (@coffeebean_brunei), Facebook (@thecoffeebeanbrunei), Twitter (@coffeebean_bn) or their website for updates.
Coffee by Dil
Coffee Connoisseur to Entrepreneur
Coffee appreciation had always been a hobby for Shaikh Fadilah, and the leap from coffee connoisseur to entrepreneur was just a matter of time. Coffee curios had always turned to him for information, thanks to his home barista skills and his detailed coffee trails on his Instagram account (@dilcoffeetrail), documenting his coffee travels, conversations with baristas, and knowledge and tips on coffee brewing and other techniques.
Aside from offering his brews and baked goods at pop-up events, he also dedicates time to conduct classes at home to introduce coffee brewing appreciation, and teach his group of local coffee students skills and knowledge on coffee brewing.
Shaikh Fadilah enjoys a Cold Brew and recommends you the same from his menu! He also bakes amazing desserts that goes great with coffee. Follow him on Instagram (@dilcoffeetrail) and DM him for inquiries.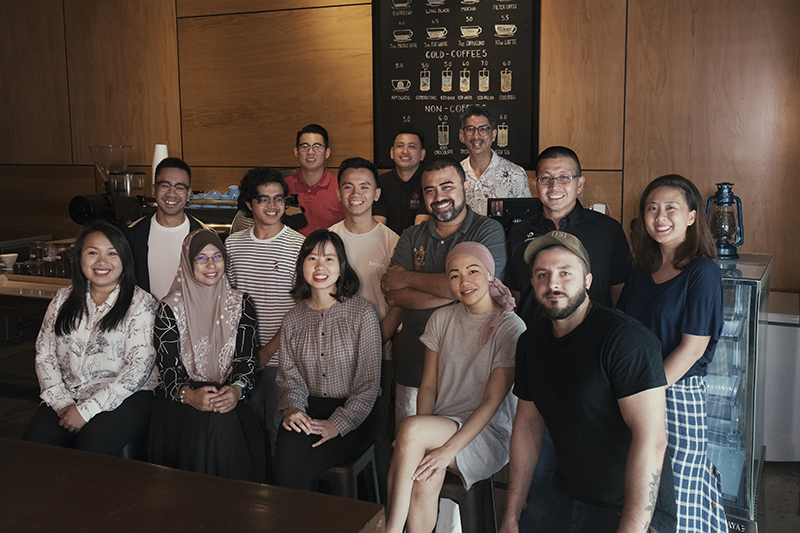 The Collective Wildflower
A community of creatives and coffee lovers
Shinny Chia and her team at the Collective Art Events needs no introduction, and they were actually the first to introduce the concept of the pop-up dinner and grazing tables to the local food and beverage industry. An obsession with flowers and a desire to one day own a café (from her experience working in café in Australia) brought about The Collective Wildflower, which Shinny sees as more than just a place that sells flowers, food and coffee. To her, her café is also about building a community of people with shared interests and values about food ethic, creativity in food, design, presentation, and even kindness.
The creativity is evident from their menu to their superfood lattes, but the coffee is pretty good too! At this time, the café is the only place in Brunei that owns a commercial Slayer machine, which became a geek-out moment for many local coffee fans.
Shinny travels frequently, which means she's always bringing home some unique coffee beans for people to try. The Collective Wildflower also has some great collection of filter coffees for you to sip on (which we suggest you pair up with their banana bread). Follow them on Instagram (@thecollectivewildflower) for updates.
Kapra Coffee
The first coffee roaster in Brunei
The step-up in Brunei's coffee culture from purchasing roasted coffee beans from other countries to being able to purchase freshly roasted coffee beans from their own country was due to the two friends behind Kapra Coffee, who saw the gap in the market and worked toward providing freshly roasted beans for local cafés and restaurants.
The coffee roaster and café opened in 2016 and have been continually providing freshly roasted beans to coffee players across the sultanate and serving their own unique house blends. They are also strong supporters of the local coffee culture, doing their part in fostering relations with others in the hopes that an industry will develop more positively.
Kapra Coffee will serve you a selection of delicious coffee (and they even have a secret menu!). Follow them for updates on Instagram (@kapracoffee) or contact them at info@kapracoffee.com or 673-2342850.
TwentyFive Brunei
Encouraging a community of coffee retailers
When the coffee culture in Brunei was beginning to boom, Firdaus Omar was already foreseeing the kind of hard work it would entail to build a local industry from it. A qualified barista himself, Firdaus has been working behind the bar for almost seven years now, and it was a question now of moving away from that bar and becoming a coffee professional.
A café – no matter what kind of coffee and how delicious their desserts – needs support, and Firdaus stepped up to the plate with TwentyFive to fill that gap by providing secondary support to local coffee players and supplying raw material, equipment and training. A man with vast experience in the coffee industry, what he wants for our local coffee culture is to take steps to build it into a local coffee industry.
Firdaus hosts coffee talks and coffee conventions to educate local coffee players, and has premium coffee beans and blends for sale. He also offers a variety of coffee beverages at Noice. Follow him on Instagram (@twentyfive.bn and @noicebn) for updates.
Two Sons Coffee
From Birmingham to Brunei
Husband and wife team Alex and Sal did the local coffee aficionados a favour when they decided to move back to Sal's hometown of Brunei, bringing with them their vast experience of working in a number of Birmingham's specialty coffee shops and working with many amazing coffee roasters in the UK. They started off as a home business in Kuala Belait in March 2018, took part in their first pop-up in April, and their business has escalated non-stop since then. They moved to Bandar, worked again from home until the opportunity arose to move their business to a brick and mortar shop. In August, a few short months from when they began their business, Two Sons Coffee opened in Kiulap.
The pair also take time to introduce the roasters they worked with in the UK to the Brunei coffee scene and to educate and compare techniques on different ways of making coffee. They would highly recommend their filter coffee, as they use numerous types of coffee beans from different roasters from around the world.
Keep up to date with what Two Sons Coffee has available on their menu (they also have amazing cakes, pastries and donuts) by following them on Instagram (@twosonscoffee) and Facebook (Two Sons Coffee).
---
An excerpt of this article was first published in the Borneo Insider's Guide April-June 2019 issue.