Enjoy A Charity Gala Evening With Soul Sensation Joss Stone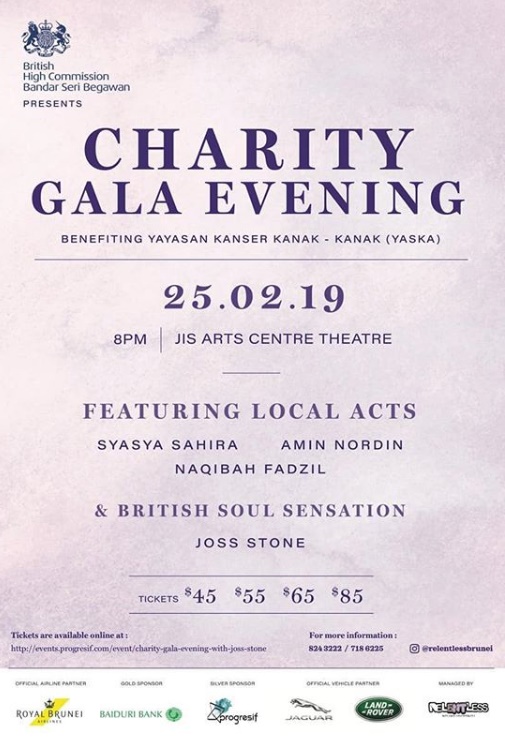 The British High Commission of Brunei Darussalam invites the public to enjoy an evening of musical entertainment with the likes of local talents such as Syasya Sahira, Amir Nordin and Naqibah Fadzil as well as a very special performance by internationally acclaimed soul singer, Joss Stone!
The Charity Gala Evening which will take place on Monday, 25th February 2019 at the JIS Arts Centre Theatre will benefit the Children's Cancer Foundation (YASKA). A non-governmental organization, YASKA focuses on raising awareness and supportive communities for children diagnosed with cancer as well as their families by fostering understanding and providing funding for childhood cancer advocacy and outreach programmes.
Joss Stone's performance in Brunei will be a part of her "Total World Tour" which began in 2013. As part of her #TotalWorldTour mission, the renowned singer aims to be the first to perform in all 193 UN registered countries. She will also be visiting YASKA and other iconic landmarks in Brunei, such as Kampung Ayer, during her stay.
As an independent British artist, Stone has released 7 studio albums and sold over 14 million records during her decade-long career in which she has performed at highly-prestigious events and ceremonies throughout the world, including Her Majesty The Queen's Diamond Jubilee concert, The Superbowl, The Grammys, Live Aid, The Brit Awards and other reputable music festivals.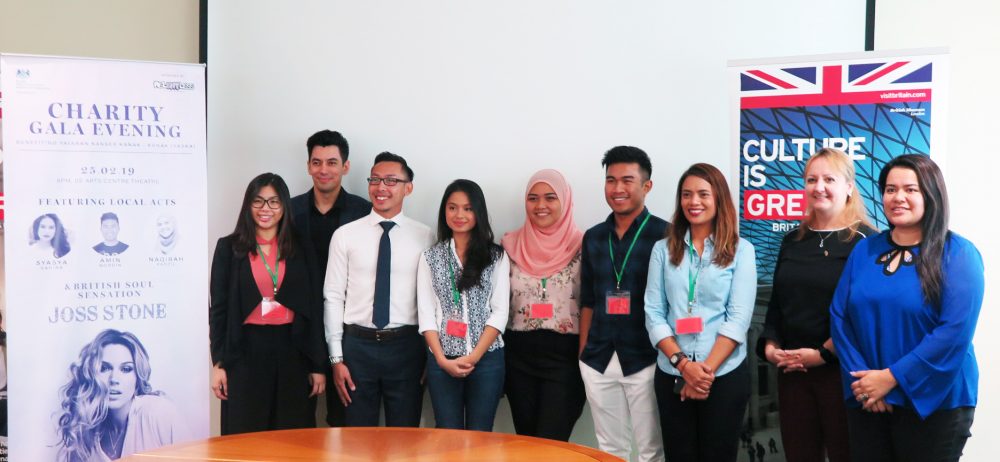 The local talents were specifically chosen by Joss Stone and her management team with a special interest in producing a collaborative video with Syasya Sahira while performing the local singer's hit single "Ingkar". All three of the local talents will be performing their own sets of two songs each and Joss Stone will perform an hour long acoustic set of fifteen songs.
Tickets for the evening range from $45 to $85 and can be purchased online through Progresif Cellular's freshly launched e-ticketing platform here: https://progresif.sajilni.com/event/charity-gala-evening-with-joss-stone-Brunei.
The event is supported by Royal Brunei Airlines as the official airline partner, Indera Motor Sdn. Bhd (Jaguar & Land Rover) as the official vehicle partner, Baiduri Bank Berhad as the Gold Sponsor, Progresif Cellular Sdn. Bhd. as the Silver Sponsor and last but not least, The Coffee Bean and Tea Leaf as the ticket distribution partner.
Baiduri Bank's Smart Executive Program cardholders are entitled to an exclusive 20% discount on tickets in all zones with a maximum purchase of 4 tickets per card. Limited to 150 tickets, these exclusive tickets are only available for purchase at The Coffee Bean and Tea Leaf Times Square branch.
For more information, please contact Relentless Entertainment at +673 824 3222 or +673 718 6225.