Enjoy A Smarter Way of Living With Baiduri Bank's Smart Executive Programme

Are you a young executive between the ages of 21 and 45 hoping to pave your way up the career ladder? Are you looking for a financial partner to support you along the way? If so, Baiduri Bank wants to be a part of your journey with their new and improved Smart Executive Programme!
During the press conference on 12 October 2018 at the Dilmah T-Lounge, Pg Azaleen Pg Dato Hj Mustapha, Head of Retail Banking and Branch Network, explained that the launching signified "an overhauling of the current programme with a fresh new look and improved benefits to better complement a young professional's lifestyle. For this, the programme is created on the principles of the four pillars: Smart Financial Privileges, Smart Wallet, Smart Lifestyle and Smart Digital Bank."
 SMART WALLET
As part of the revamped Smart Executive Programme, special Baiduri Smart Executive branded cards are awarded to members who can then enjoy a slew of travel and lifestyle benefits locally and globally. Accepted worldwide, the Baiduri Smart Executive Visa Platinum Debit Card unveils all kinds of rewards for cardholders such as VIP treatment privileges, up to 6 complimentary visits to over 850 airport lounges worldwide, as well as discounts of up to 50% at over 900 dining outlets in airports all around the world, thanks to the Airport Companion Programme by DragonPass.
SMART LIFESTYLE
Another perk of the Smart Executive Programme includes exclusive invitations to special events and insightful seminars which are specially tailored to boost the financial growth and success of members. Additionally, the list of Smart Partners has now grown to include impressive discounts ranging from health and fitness, travel and dining overseas, automobile dealerships as well as tech and gadgets, covering an even broader spectrum of needs for every individual.
SMART FINANCIAL PRIVILEGES
To further accommodate the financially savvy demographic, a range of tailored solutions covering preferential rates on loans to fantastic investment packages are available to help encourage and guide members closer to their life goals. Be it achieving their ambitions of buying their dream home, purchasing their first luxury car or saving up for their children's future, the Smart Executive Programme is always there to provide a helping hand or stepping stone.
SMART DIGITAL BANK
In the day and age of all-round convenience, Baiduri Bank understands the need for accessibility. With digital banking options, keep track of finances, settle bills, purchase top-ups or transfer funds locally and abroad from any mobile device using Baiduri Personal i-Banking. In addition, a 24-hour customer helpline and an extensive network of ATMs encourages members of the programme to manage their finances with ease.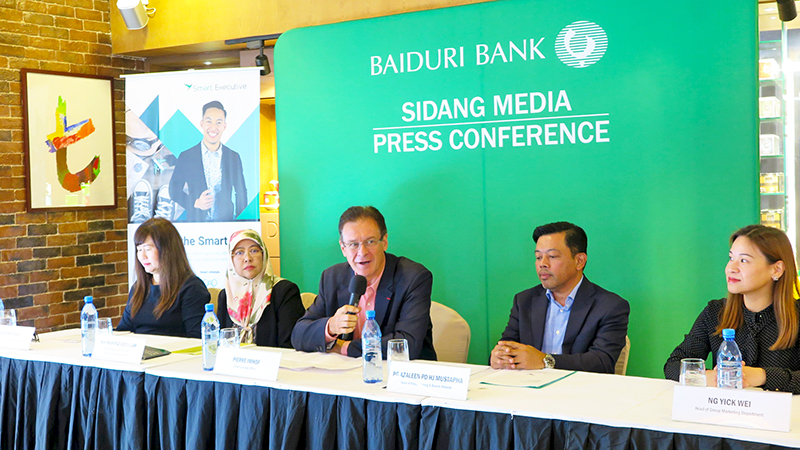 The CEO of Baiduri Bank, Mr Pierre Imhof, divulged the reason for their targeting of young executives being that, "They are an inquisitive generation of customers with an evolving and dynamic set of needs that changes with the ebb and flow of trends. As they become more financially discerning, we want them to know that Baiduri Bank is their financial partner, ready to help them successfully navigate different life stages".
To be eligible for the Baiduri Smart Executive Programme individuals have to be between 21 to 45 years old, earning a monthly gross income of at least BND$2000 which is assigned to Baiduri Bank or Baiduri Finance. Customers with an existing Hire Purchase account with Baiduri Finance are also eligible to be a part of the Baiduri Smart Executive Programme.
For more information on the new Baiduri Smart Executive Programme, visit our website at www.baiduri.com, contact our 24-hour Customer Care Helpline at 244 9666, or drop by any of our branches during office hours and speak to our sales staff. You can also follow Baiduri Bank Group on their social media handles on Facebook and Instagram for more updates on exclusive promotions by Baiduri Bank.