Hey Mercedes! Safety, Class, and All the Fun Stuff in the New A-Class
The A-Class was always a major contributor to changing the public's perception of the Mercedes Benz as "your parent's car" or "your grandparent's car", with its youthful look balancing itself perfectly with the classy aesthetic Mercedes Benz is known worldwide for. Its latest model retains this dynamic and will certainly remain attractive to the younger generation of Mercedes drivers and admirers, but upgrades in interior design and modern luxury is telling us that this A-Class boy has turned into an A-Class man.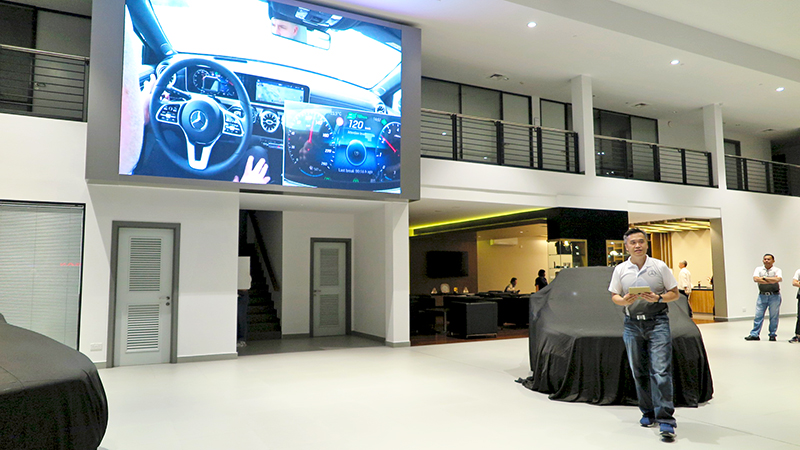 The A-Class was unveiled exclusively for the local media at a dinner event last Friday (12 October 2018) held at the Mercedes-Autohaus showroom, where we were treated to fine dining in which the freshest local seafood was the star ingredient in each course, courtesy of Hooked by the Golden Corporation.
Later on this week, Jati Transport will be launching an exclusive Edition 1 A-Class model, which features numerous colour highlights in Edition green for both the exterior and interior. Additionally, this special model will feature LED High Performance headlamps, sport seats and ambience lighting as a standard, and will be available with all engine variants.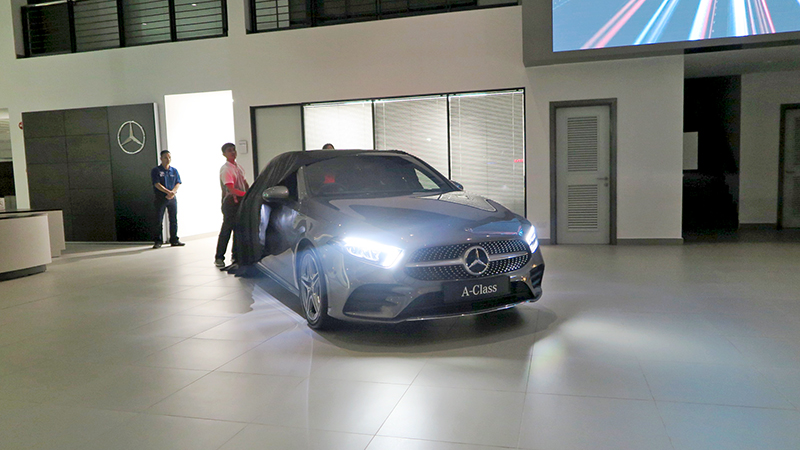 This is a car for all generations, and when it's the case of a parent handing over the steering wheel to their young adult, measures have been taken as an extra precaution to keep their mind at ease. Safety features in the A-Class have been amped up with the optionally available MULTIBEAM LED headlamps that electronically adjust headlamps to suit current traffic conditions while emitting a daylight-like colour that is easy on the eyes, along with lower energy consumption and a wider light distribution in comparison to standard halogen headlamps.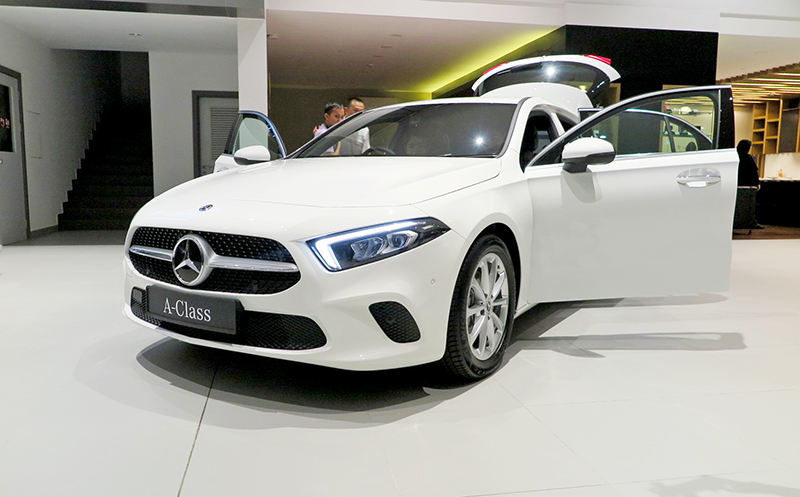 A-Class drivers are also given driver cooperative support with the latest driving assistance systems – meaning this little beauty has the highest level of active safety in its segment. For the first time, the A-Class is able to drive semi-autonomously in certain driving conditions. Active Distance Assist DISTRONIC and Active Steering Assist further supports the driver in maintaining safe distances and steering, automatically adjusting vehicle speed on bends, road junctions and roundabouts.
Available as an option to further ease your mind when driving is the battery of safety features offered in the Driving Assistance package. These include: Active Distance Control DISTRONIC with route-based speed adjustment; Active Steering Assist with Active Lane Change Assist and Active Emergency Stop Assist; Active Speed Limit Assist; Active Brake Assist with cross-traffic function; Evasive Steering Assist; Active Blind Spot Assist; PRE-SAFE® PLUS – a system that can lock the brakes of a stationary vehicle before a rear-end collision to prevent it from being shunted forward by the impact, minimising the risk of injury.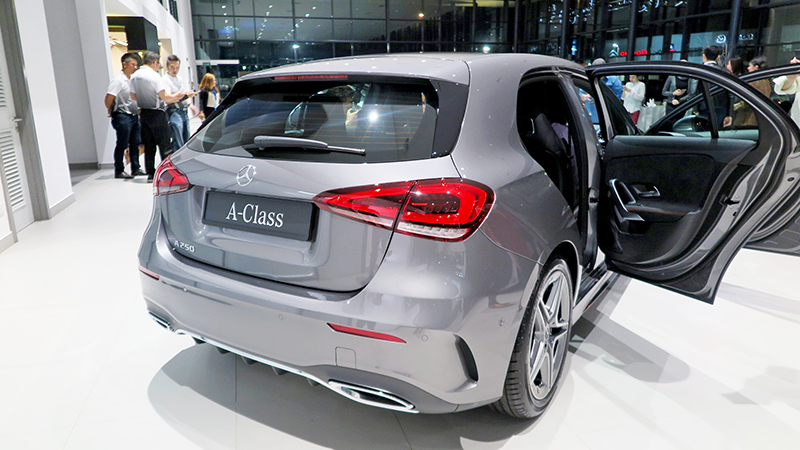 More PRE-SAFE® functions are also available separately for that added precaution to prevent injury before an impending accident, which includes a nifty sound system that prepares the human hearing for the expected noise of an impact at the risk of collision by simply emitting a short rushing sound that activates a muscle in the human ear, contracting a reflex before the loud noise can occur.
Another new feature in the A-Class is the optional head-up display that projects important information into the windscreen, reducing distraction from traffic and giving less eye fatigue for the driver.
So the safety features have been accounted for – what about the fun stuff? First off, you'll never miss the dash. It looks like a glass cockpit, with no dials, the Knight Rider of 2018. In further realising your Knight Rider dreams is the intelligent voice control, activated by the key phrase "Hey Mercedes", not quite a KITT like feature but the closest we've come to one in this day and age.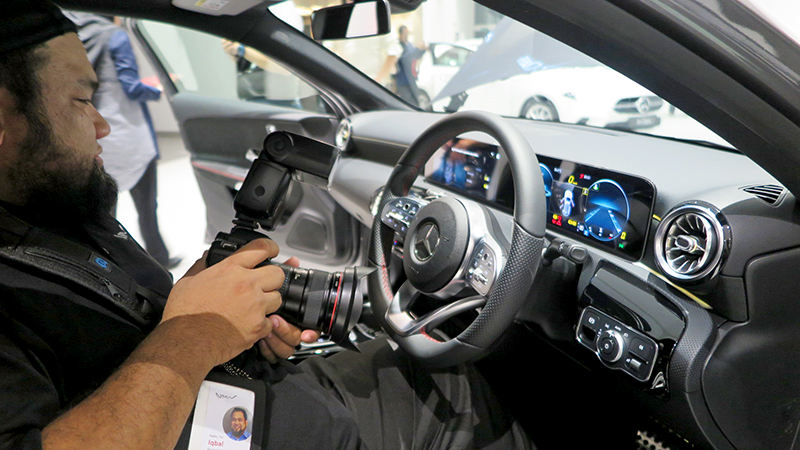 This is a part of the MBUX multimedia system, and the A-Class is the first Mercedes-Benz model to feature this completely new system. It's individualisable, and comes with two 10.25-inch displays for the instrument cluster and media display with touchscreen, a multifunction sport steering wheel with touch control buttons, a USB interface (type C), and a Bluetooth connection for telephone and audio sources.
And whatever mood it is you're in when you're behind the wheel, you can bet that they'll have the colour for it. In fact, 64 colours are available in the ambience lighting in both the Progressive or AMG line. Just sit in the car, say the colour out loud, and you'll get your wish – just make sure you say, "Hey Mercedes" first.
---
Jati Transport will be launching the Mercedes-Benz A-Class to the public on 21 October 2018 at the Mercedes-Benz Autohaus. Call them at 2441763 or 2441777 for more queries.
Connect with Mercedes-Benz Brunei on Instagram and Facebook, or check out their website.