Turning Traditional Trendy with Zakiyah Zaini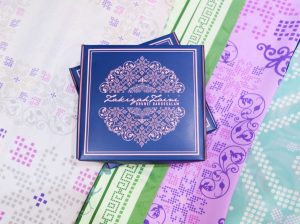 In a small room equipped with a large printer and presser, Zakiyah Zaini sits behind her desk at work with her latest creation. The petite young lady is already making waves in Brunei for her brand of headscarves, ZZ Scarves, which features the unique blend of traditional Bruneian motifs with contemporary geometric designs. A graphic designer by day, Zakiyah utilises her skills by designing her own patterns onto textiles, and sees her prints as a way of promoting Bruneian culture by turning it into a modern look.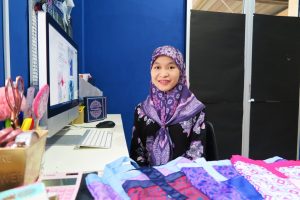 Her inspiration begins with the intricacy of kain tenunan and the craft that goes into it. "I'm always amazed by the designs of our kain tenunan – that process of making it from scratch, making motif patterns on a graph paper and into a woven textile," she explains. Zakiyah designs the motifs on a grid on her computer, and modernises the traditional motif by adding up modern elements in vibrant or pastel colours.
Zakiyah puts a lot of thought and hard work into the design of her prints. Her creations feature a unique blend of bold colours or soft hues on geometric shapes or delicate floral designs set against the backdrop of traditional patterns. The result is a fusion of modern and traditional, and is casual enough to wear at the office but dressy enough to use on special occasions.
But designing is not her only role in ZZ Scarves – she also runs the business side of things. Juggling a day job and a booming side business isn't for the faint-hearted, but Zakiyah never sees her brand as 'work'.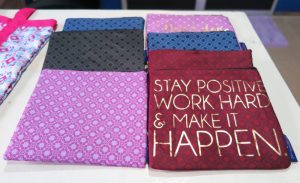 "If it's something that you love to do, no matter how hard or complicated it gets, you will always have the spirit to run the business. I love doing what I do and I also love designing, so I don't mind the sleepless nights that come with it because this is my passion. And luckily I don't have to do all the work; Md Farhan Iskandar, my partner and fiancé, helps with the logistics and production of my headscarves."
As for the future of her brand, Zakiyah is not afraid to dream big. "InsyaAllah, there will be a Zakiyah Zaini clothes line as well with blouses and casual attire. And I don't plan to limit my brand to the local market – I hope to bring my products outside of the country and promote our local products not just regionally, or even just in Asia, but on a global scale. Maybe one day it'll be in Harrods!"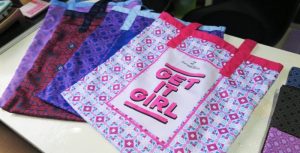 World domination aside, Zakiyah intends to keep the local spirit in her designs. "I just want to create something that can be appreciated by everyone," she says. "And maybe inspire the feeling of pride and patriotism when wearing my prints. After all, my brand is 100% made in Brunei!"
You can find Zakiyah Zaini Scarves at Arabesque Showroom located on the 1st Floor of the Airport Mall in Kg Jaya Setia. You can also check out her designs on her website: www.bit.ly/ZakiyahZaini.
Zakiyah also accepts custom orders. Contact her at 673-8810667 or email her at zzscarves.bn@gmail.com for your own unique design.
This article first appeared in the April-June 2018 issue of Borneo Insider's Guide magazine.