Traditional Beauty at Kajal Beauty House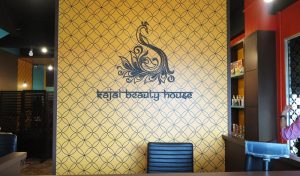 In Brunei, 70-year old Hajah Mehrun could not find the kind of natural products made with natural oils and spices that she was used to, so she decided that it was high time these products were available here. So she opened Kajal Beauty House, a beauty salon providing traditional beauty services such as threading, waxing, waxing, henna, manicure and pedicure, and herbal facials, using natural hair and skin care products from India made with natural ingredients that are good for you.
Kajal is the first beauty salon in Brunei to offer nail beautification using Maya nail polish – a wudhu-friendly premium brand renowned for its breathability, animal-free and vegan properties. All their products are imported and approved by the Cosmetic Unit of the Department of Pharmaceutical Services of Brunei, and are now available for sale at their salon.
Kajal opens from 7am – 9pm, offering many women with busy schedules the chance to beautify themselves when most other salons in town are closed for the day. Follow them on Facebook here and on Instagram @kajalbeautyhouse. For a full day of pampering yourself, visit them at:
17, Grd Flr, Blk B, Muhibbah Complex II, Kg Menglait, Bandar Seri Begawan
Tel:242 5782 / 714 8876
This article first appeared in the April-June 2018 issue of Borneo Insider's Guide magazine.