Eco-Friendly Fashion Brand UPSYKL Debuts ECOEID'18 Line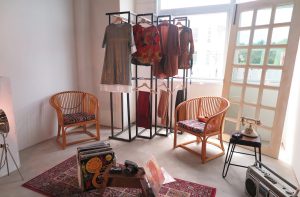 In the four fast months since its inception, the girls behind UPSYKL have been slowly but steadily cementing their reputation for creating colourful narratives out of old clothes turned new. What started out with little placards in front of minimalistic clothing displays in March has evolved into a full-blown nostalgia trap which invites guests to step into their Eid-themed exhibits and travel back to a sepia-toned time of good cheer and old-school festivities.
The upcycling enthusiasts officially launched their ECOEID'18 collection on the 1st of June in a three-day event which saw a positive turnout from the brand's supporters, members of the media and returning clients.
With 21 pairs of clothing with fittingly intriguing names such as "Raja Wakanda" for a regal songket-based car coat called or "Lela Menchanai" for the blush-toned pièce de résistance, there was no shortage of interesting things for the eye to feast on during an introduction tour headed by Nina Saiful, creative director of UPSYKL.
A common prop running through all the exhibition sets (titled "Zaman Lama" "Millennial Zone", "Rumahku" and "Eco-Century") were the scattering of doors in every corner, nailing home the feeling that each of the displays was a separate house that guests were invited to enter, successfully mirroring Raya vibes to a T as mentioned by Nabilah Jeffrey, founder of UPSYKL (and donator of doors).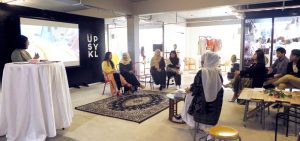 With over 70kgs worth of donated clothes in their inventory thus far, it is clear that the upcycling enthusiasts have worked their magic again with their ECOEID'18 collection, this time with the help of fashion-school graduate Aisyah Azlan as their new lead and resident designer, alongside "fashion futurist" Humaira Zakaria. With her vocal appreciation of songket heritage prints and designs, Aisyah's influence and unique flair for dramatic twists on clothing are apparent throughout the collection.
A timely collaboration with local online e-commerce platform, BruVera Enterprise, saw a sizable donation of a complete set of songket bridal and groom attire added to UPSYKL's inventory just in time for the designing of the Eid collection. The traditional Bruneian bridal garments, initially rented out by BruVera for weddings, resurfaced during the pop-up sale as outerwear coats, cardigans, skirts and baby doll dresses which were sold out almost immediately.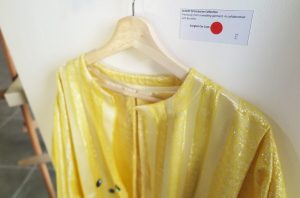 Another highlight of the event was the unveiling of the winner of the Eco-Designer 101 Competition. Five students who were enrolled in a four-week Eco-Designer course at BenchLab.co were tasked with producing their very first pieces of upcycled garments. The winning garment, an "Eco & Nursing Friendly" blouse caters to mothers with a maternity pocket for easy nursing.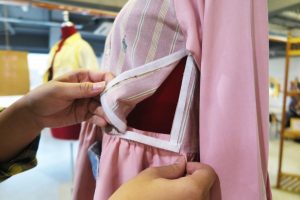 One participant, Ayumi, mentioned that she was pleasantly surprised at how much she had learned from the course, "I'm surprised at how much I gained from the workshop, from not knowing how to sew to creating my very own 'eco-friendly overwear'. I joined so I could get to know more about how clothes are made but I ended up learning much more than that".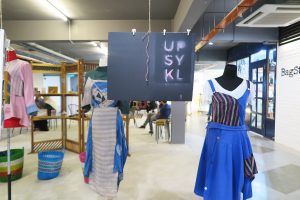 While this is only their second collection launch, it is clear that the girl bosses in UPSYKL have much more up their sleeve. Keep on the lookout for what's in the works by following their highly-curated Instagram feed @Upsyklbn. To book a consultation on how to upcycle what you already have in your wardrobe, contact them at +6738869946 or upsykl@gmail.com.
Check out the gallery below for more pictures from the ECOEID'18 launch!