In Theaters In June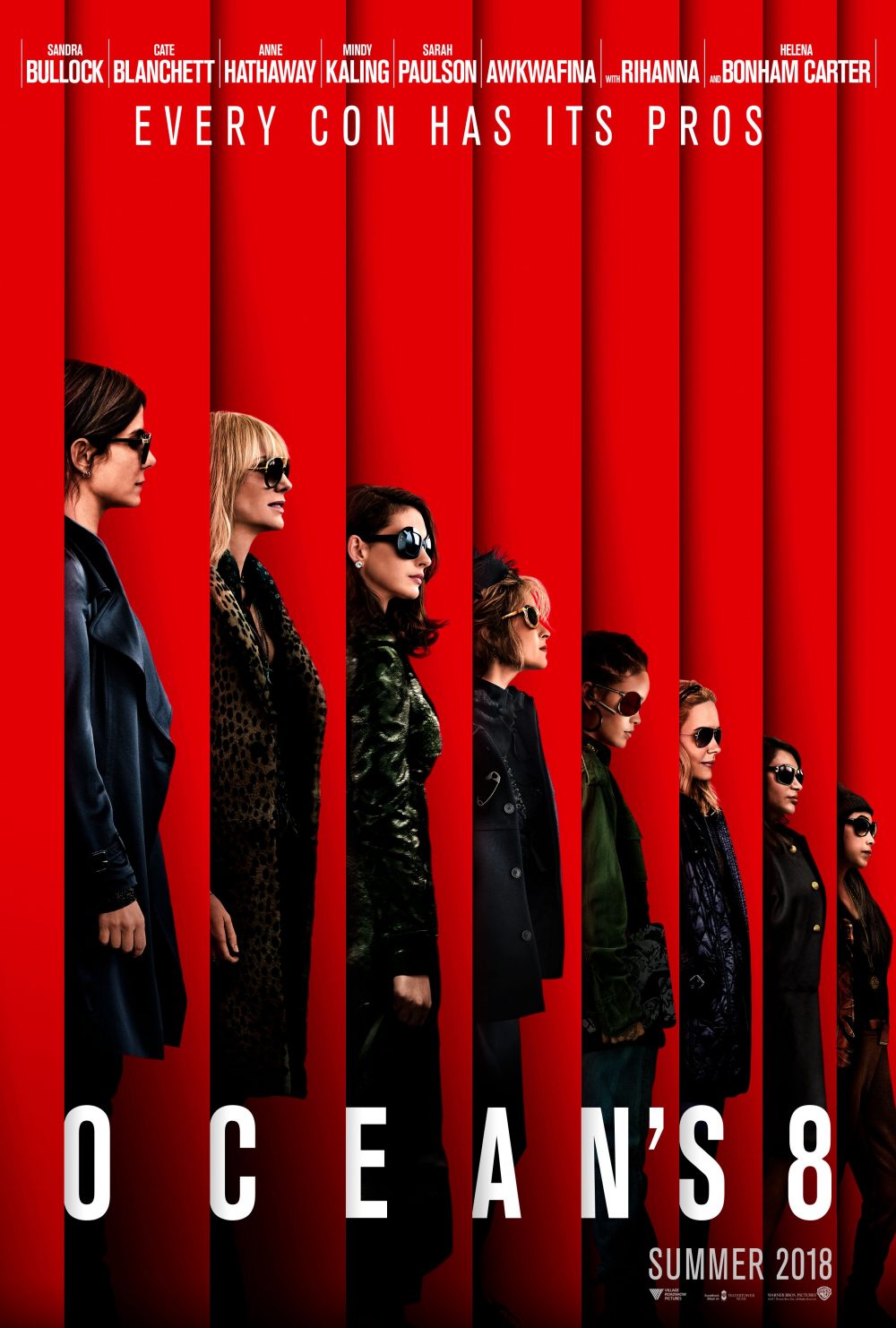 Ocean's 8 (June 7)
Directed by Gary Ross
Starring Sandra Bullock, Cate Blanchett, Mindy Kaling, Sarah Paulson, Awkwafina, Rihanna, and Helena Bonham Carter
Estranged sibling of the infamous Danny Ocean (from the previous Ocean's series) Debbie Ocean (played by Sandra Bullock) has had her eyes on the prize for a long time coming– the prize being a necklace worth $150 million dollars. Armed with a foolproof plan that has been in the works for the past five years, she's about to pull off the biggest heist of her life. But she won't be going at it alone, handpicking her very own crew of gal crooks who are professionals in their own fields as they prepare to pick the pockets of the rich, at New York's annual Met Gala, no less. Featuring an all-star cast and some of the biggest names in Hollywood, this female-dominated heist flick is one that shouldn't be missed.
---
Jurassic World: Fallen Kingdom (June 6)
Directed by J. A. Bayona
Starring Chris Pratt, Bryce Dallas Howard, B. D. Wong, and Jeff Goldblum
In the three years since the Jurassic World theme park folded, Isla Nublar has been abandoned by its tenants and the dinosaurs have been left free to roam the land and the jungles. However, when a dormant volcano shows sudden signs of erupting, Owen and Claire (played by Chris Pratt and Bryce Dallas Howard) create the Dinosaur Protection Group in order to safely relocate the remaining dinosaurs to a sanctuary in America. But when they uncover a profit-hungry conspiracy which has been taking place on the island itself, further turmoil ensues. Things take a terrible turn for the worse when the Indoraptor, a highly intelligent but ferocious hybrid dinosaur escapes, unleashing fear and terror within all on the island.
---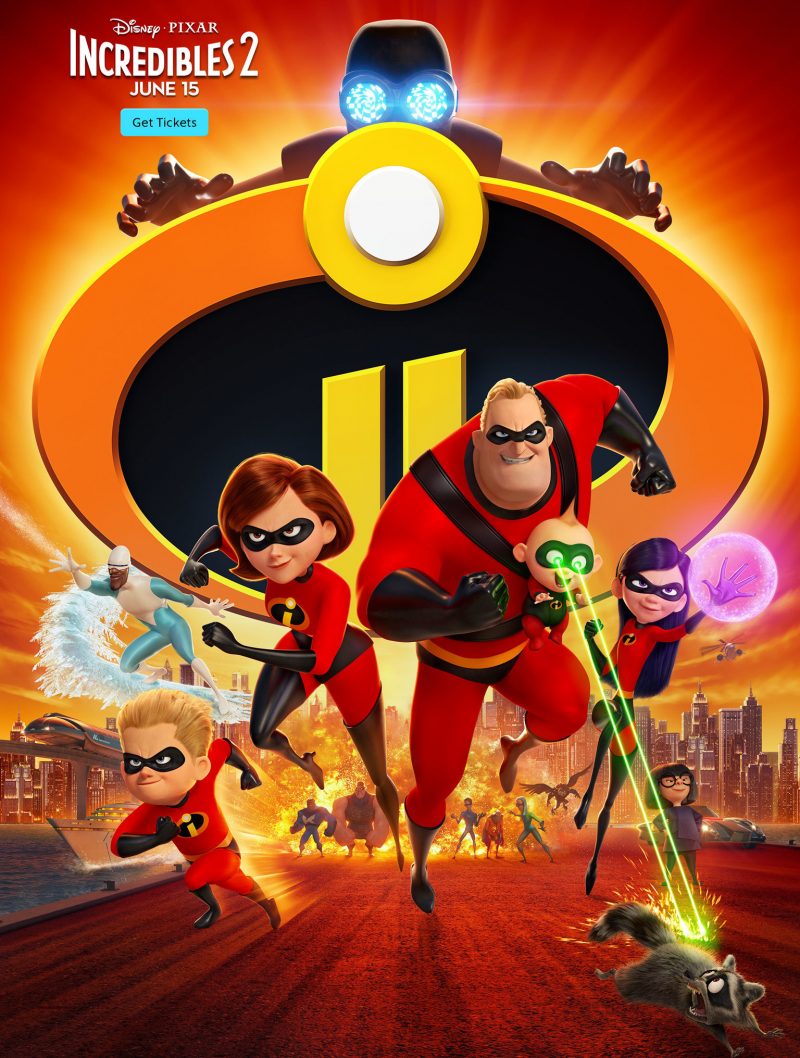 Incredibles 2 (June 14)
Directed by Brad Bird
 Starring Holly Hunter, Craig T. Nelson, Sarah Vowell, Huck Milner and Samuel L. Jackson.
With Helen/Elastigirl as the latest face of the city's campaign advocating for the return of The Supers, Bob a.k.a. Mr. Incredible is left to fend for himself in the household. In this long-awaited sequel which picks up right where it left off albeit fourteen years later, we get a better glimpse of Jack-Jack's superpowers as he voraciously spews his super abilities at random, much to Bob's distress. However, when new villain Screenslaver makes his presence known, the Parrs team up once again with their longtime ally and family friend Frozone (voiced by Samuel L. Jackson) to come up with a new plan and do what they do best as a unit– kicking the bad guys to the curb.
---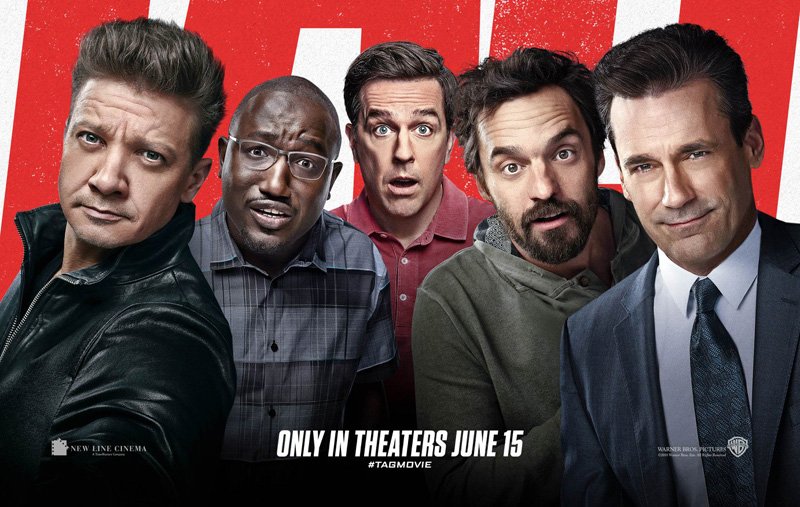 Tag (14 June)
Directed by Jeff Tomsic
Starring Jeremy Renner, Jon Hamm, Jake Johnson, Ed Helms and Hannibal Buress
May is the month of tag– at least it is for this group of five friends (played by Jeremy Renner, Jon Hamm, Jake Johnson, Ed Helms and Hannibal Buress) who have been playing the same game for the past three decades. Extending far beyond its innocent beginnings in high school, the game has relentlessly evolved with the men as they witness each other's weddings, funerals and births while never taking their eyes off each other's backs. When Jerry, who is practically unbeatable and has been on the longest winning streak, tells the guys that he's ready to call it quits, they vow to make his last year a memorable one as they plot to finally take him down for good. All in the name of tag!
---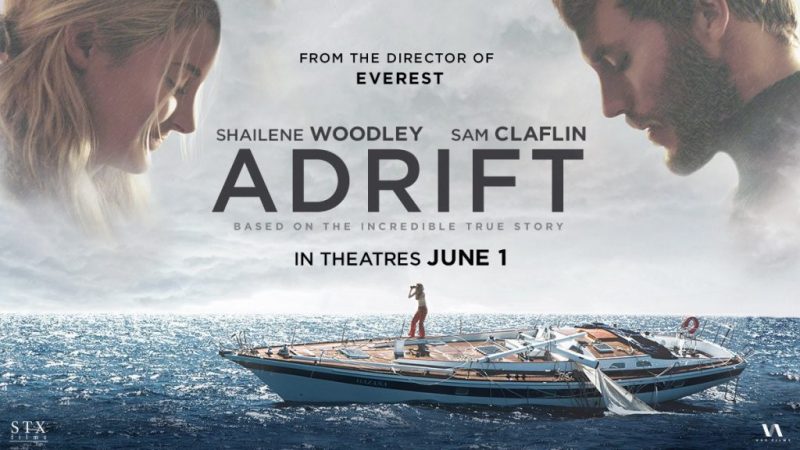 Adrift (14 June)
Directed by Baltasar Kormákur
Starring Shailene Woodley and Sam Claflin
Based on actual events from 1983, Tami Oldham and Richard Sharp are a couple of avid sailors who embark on a sailing journey from Tahiti to San Diego as they bask in their love for each other and the open blue sea. What neither predicts is the calamity that hits them in the form of one of the deadliest hurricanes in recorded history, leaving Richard grievously wounded and Tami to find a way to get the both of them back to safety in what is left of their boat.
---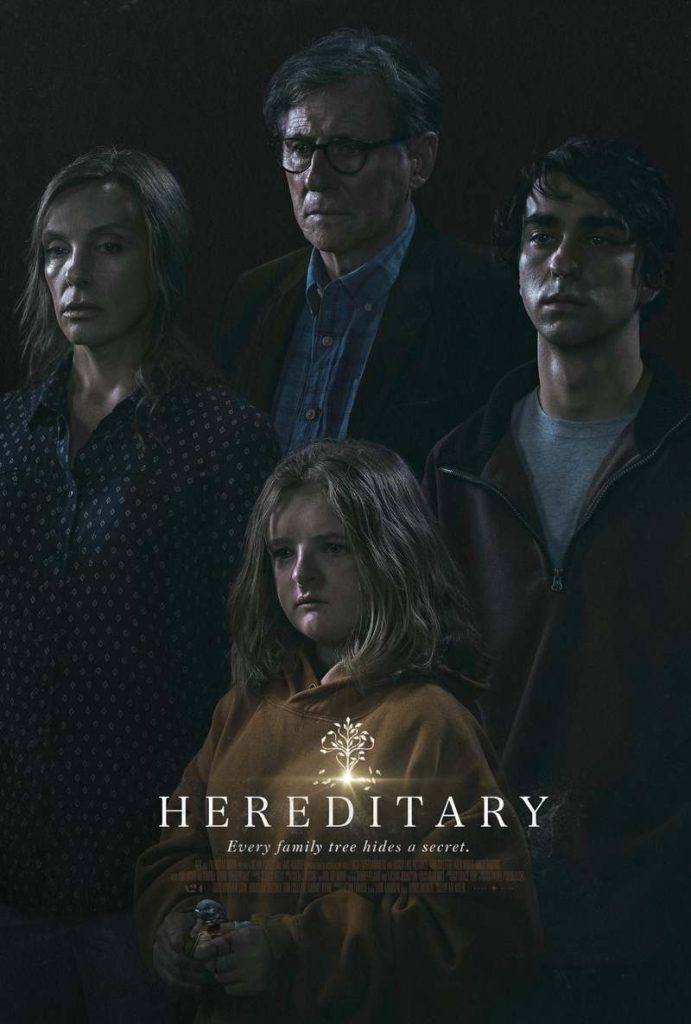 Hereditary (21 June)
Directed by Ari Aster
Starring Toni Collette, Alex Wolff and Milly Shapiro
What do you do when you inherit a horror tragedy waiting to happen? That's what the Grahams find themselves dealing with after the passing of their family's matriarch Ellen, aloof mother to Annie (played by Toni Collette) and protective grandmother to Peter (played by Alex Wolff) and Charlie (played by Milly Shapiro). Her funeral cues the beginning of what is to be a downward spiral of demonic terror after demonic terror as the disturbed family individually comes to the realization that their grandmother's secrets are what nightmares are made of.
---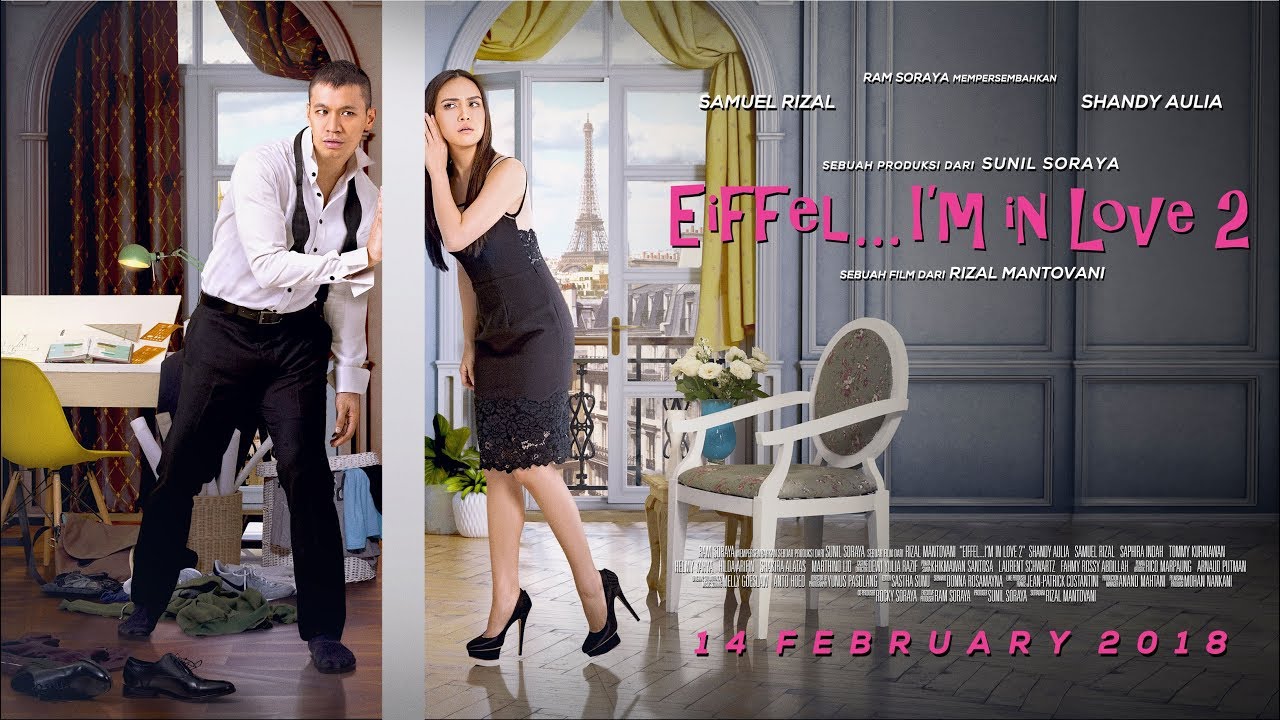 Eiffel I'm In Love 2 (28 June)
Directed by Rizal Mantovani
Starring Shandy Aulia and Samuel Rizal
Fourteen years have passed since the iconic "Eiffel I'm in Love" sold the idea of dreamy long-distance romances to pining teenage girls all around Asia. And now Tita and Adit are set to steal the hearts of romance buffs once again as adults who are still living out the successful long-distance dream. But there's trouble in paradise as Tita, envious of her best friends Nanda and Uni who are already happily married, starts getting restless and begins to doubt that Adit will ever propose to her and take their relationship to the next level.
---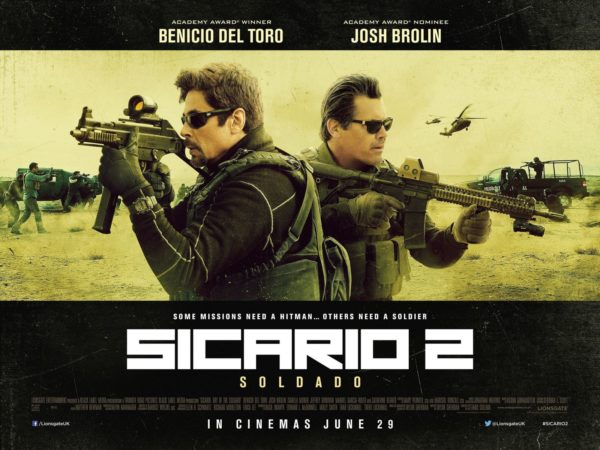 Sicario 2: Soldado (28 June)
Directed by Stefano Sollima
Starring Josh Brolin, Benicio Del Toro and Catherine Keener
Smuggling is the name of the game and in this game, there are no rules. When Mexican drug cartels begin transporting jihadi terrorists across the U.S. border, federal agent Matt Graver (played by Josh Brolin) teams up with undercover operative Alejandro Gillick (played Benicio del Toro). Together they kidnap Isabela Reyes (played by Isabela Moner) the daughter of a famed drug lord in an attempt to frame a rival cartel and spawn a hellish drug war which will lead to the elimination of each other. But when the Mexican government discovers the ruse, all hell breaks loose as both men fight to understand where each of their loyalties lie.