Royal Brunei Enduro 2017
by Intan Abu Daniel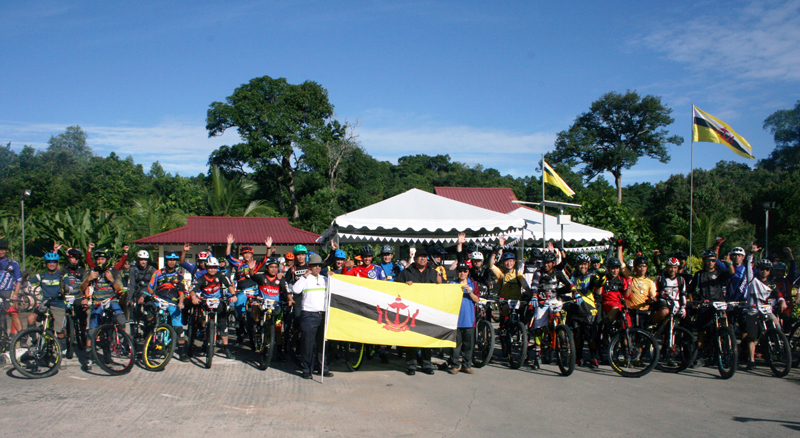 The Royal Brunei Enduro Race took place over a weekend that looked at times as if the weather would emerge the overall winner. Thankfully, rain didn't amount to anything more than a pitter-patter of drops, and the participants that came to partake in some extreme downhill racing was able to blaze through the downhill trails in bright and sunny conditions.
The four-day race was held from 27 September to 1 October 2017, with the first two days being practice sessions and the last two being the actual race. Close to 100 participants – with over 30 of those riders hailing from countries around the region along with Australia, France and Canada – raced down eight trails in Tasek Sarubing and Subok for the third series of the Asian Enduro Series 2017, organised by Kingdom Rides + Adventures with support from the Ministry of Primary Resources and Tourism, and with Royal Brunei Airlines as its title sponsor.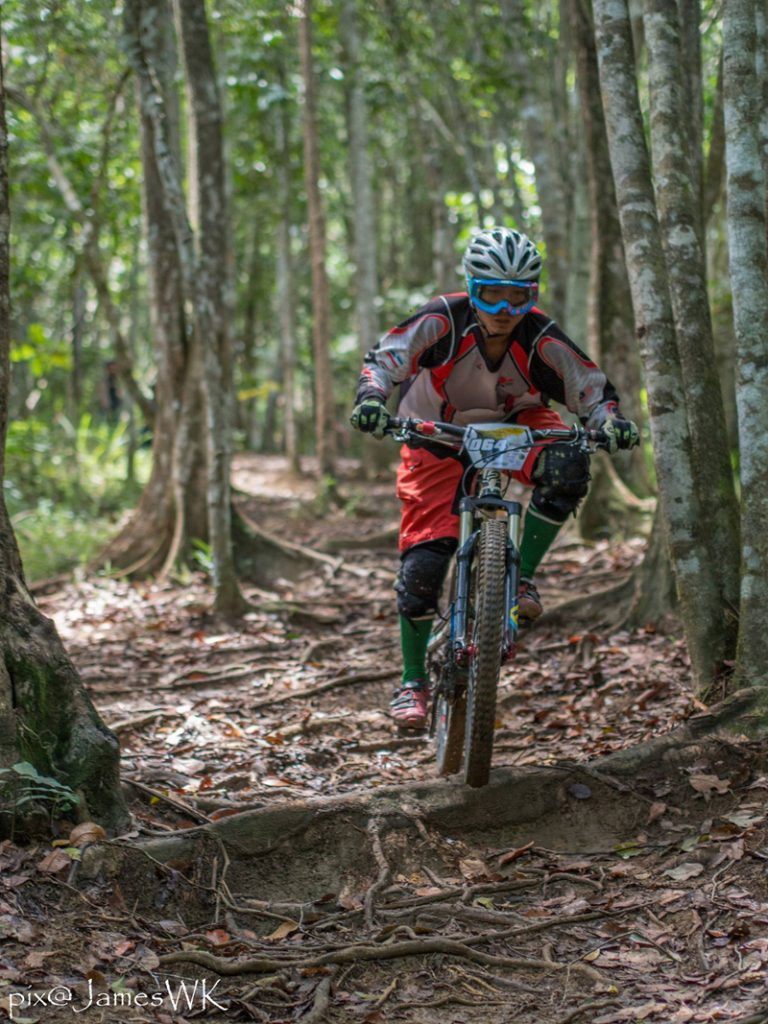 "Enduro" is an evolving form of mountain biking sport that is a mixture of downhill and cross-country biking, and this event marked the first time that Brunei has hosted this famous series of mountain bike racing. Participants were divided into five different categories: Elite (experienced riders), Legends (for those aged 45 and above), Femenino (female riders), Aficionado (hobby cyclists) and Prodigy (for teenagers aged 14 to 18 years), with a maximum of eight grueling stages for Elite riders. The winner of each category is decided on the fastest combined time of downhill racing for all stages.
The first day of the actual race had riders from the categories grouped together at Tasek Sarubing for a flag-off by the guest of honour, Yang Mulia Awang Wardi bin Hj Mohammad Ali, Deputy Permanent Secretary (Tourism) of Ministry of Primary Resources and Tourism. The award-giving ceremony took place on the second day of the race at the same venue, which saw the attendance of guest of honour Yang Mulia Awang Wardi presenting trophies and gifts to the winners along with official representatives of Royal Brunei Airlines and Jason Pickett, Managing Director of Kingdom Rides + Adventures. Royal Brunei Airlines also presented airline tickets as prizes to the fastest local riders participating in the race: Jamri Johari (Elite), Aimir Jamin (Legends), Mardi Hj Matassim (Aficionado), Liyana Zakaria (Femenino) and Azza Zainal (Prodigy).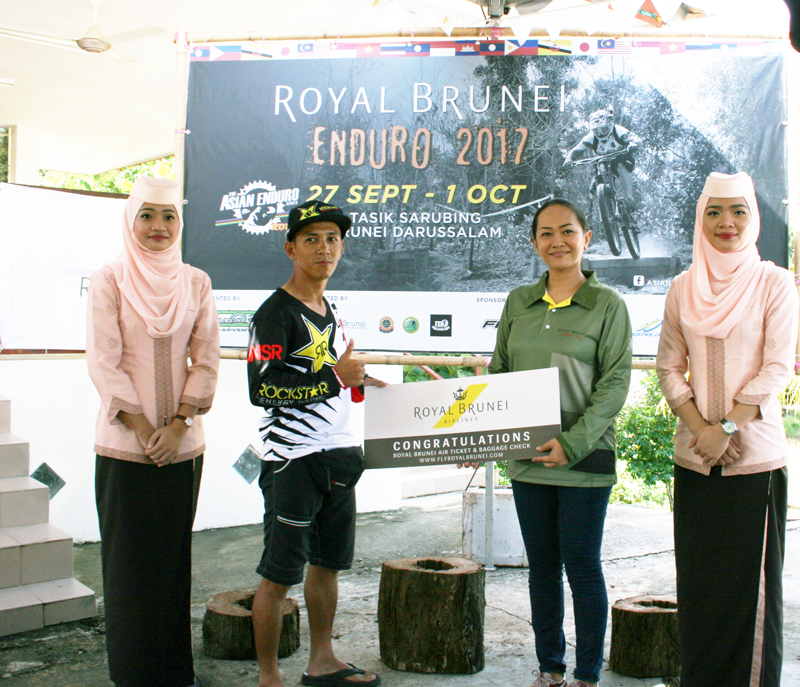 Brunei national rider for mountain biking Jamri Johari had a few more mountain biking races around the region coming up for the remainder of 2017. This is the second Enduro race that he has participated in. "I'll definitely be participating in other Enduro competitions, and I'm very happy that I have a free ticket to join Enduro next year! I hope this event will encourage other Bruneians to come and join the Enduro in Brunei next year."
Mohammad Ammirul Adli, a member of the Rock Pedal Addicts cycling group (also known as the Payau Bikers), only just started mountain bike racing in March 2017, and had been enthusiastic about joining the race since he first heard of it. "We've been preparing for the Enduro since it was announced! Training started one week before the race, and we already started sleeping early and eating a proper diet."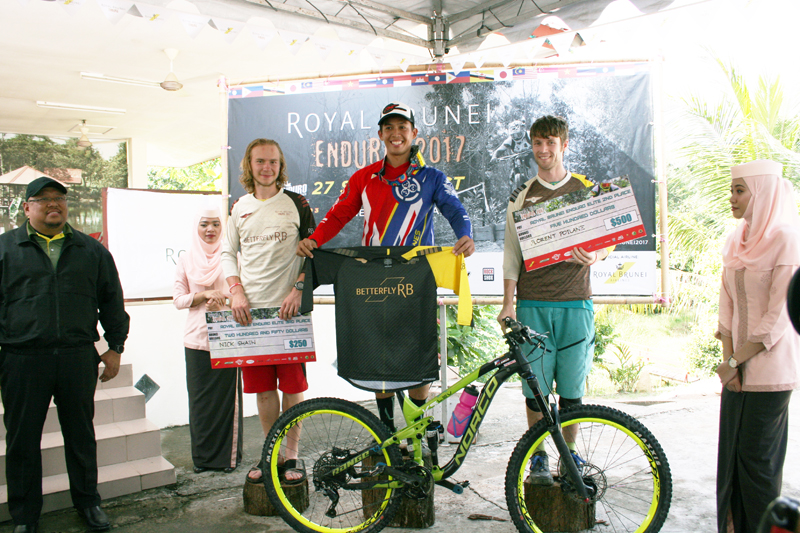 For the Elite category, the first place prize was given to Gabriel Amigo III from the Philippines, while second place went to veteran rider Florent Poilane from France, with Nick Shaine from Canada taking third place.
Only three participants took part in the Femenino and Prodigy categories: Raquel Joyce Socorro from the Philippines won the Femenino category while Nathaniel Acain from the Philippines took the gold medal for Prodigy. Terence Rinusin from Malaysia took first place in the Aficionado category, and Nu Weehow from Malaysia won for the Legends category.
Local extreme sport enthusiast Liyana Zakaria, who won second place in the Femenino category, had this to say about the lack of females participating in the race: "I hope after this event, after other female riders see this race and know there's a female category, I hope they're inspired and encouraged to join. With more females, there's more competition, and we can train together!" She added, "Today is my one-year anniversary with mountain biking. And if I can do it in one year and already achieve a few podiums, then other girls can too. So why not?"
While this is the first time that Brunei has taken part in the Asian Enduro Series, the response was overwhelming. Known as one of the most prestigious mountain bike competitions in the region, this year's success will hopefully encourage more local riders to take part in next year's event, and will attract more international riders to participate.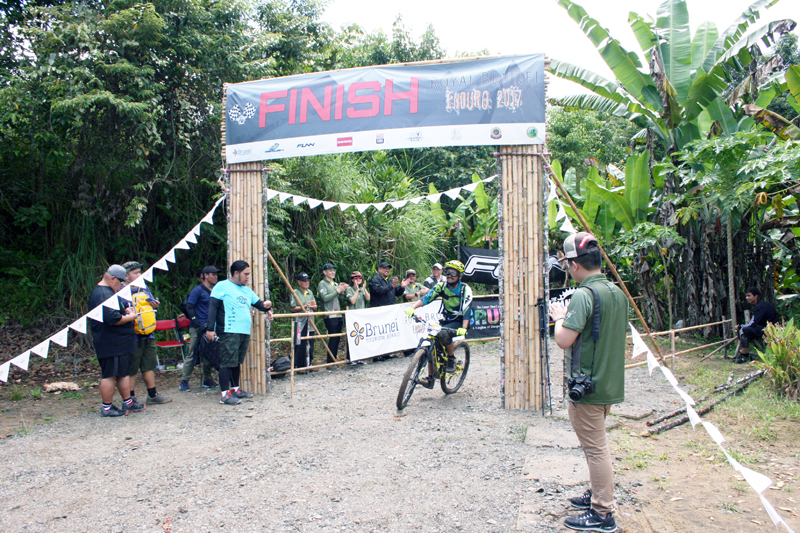 Seasoned Enduro riders Daniel Birch from Australia and Florent Poilane from France, both of whom have participated in all of the Asian Enduro Series in 2017, had warm things to say about the Royal Brunei Enduro.
"I think it's quite refreshing to see such a small country have a big mountain bike scene," said Florent. "There are so many good riders here already. I think next year's Enduro will be bigger and better, especially with all the work that Jason (from Kingdom Rides + Adventures) is doing." As for next year, Florent advised: "Build bigger and more trails. The more trails there are the better it is for the riders to train, in different conditions."
"Get the community involved," Daniel also advised. "Get the guys and girls to build trails, and then the trails and Enduro will be more fun."
Jason Pickett, Managing Director of Kingdom Rides + Adventures, said, "I am really really happy, really proud of the Bruneian riders. There's never been anything like this in Brunei and what they did over the past two days is a lot of riding and a lot of hard work. They completed the race and did well."
As for the possibility of Brunei being a part of the Asian Enduro Series in 2018, Jason said, "Definitely, tentatively slated for the same weekend next year. We've had great support from the government and local companies. The Brunei Tourism Board, the Ministry of Primary Resources and Tourism, Royal Brunei Airlines as our title sponsor, has been super awesome. All of our sponsors have been great."
When asked to talk about what plans he has for next year's Enduro, Jason laughed, "I've got a few ideas, but I'll keep those cards close to my chest right now!"
---
Learn more about the Asian Enduro Series in Brunei online at their website here and on Facebook.
More information on Kingdom Rides + Adventures can be found on their website here and on their Facebook page.
The shorter version of the above coverage of the Royal Brunei Enduro 2017 was first published in the Borneo Insider's Guide 2018 January-March issue.