From Father With Love
By Pauline Chan
Images by Yue Kai Entertainment China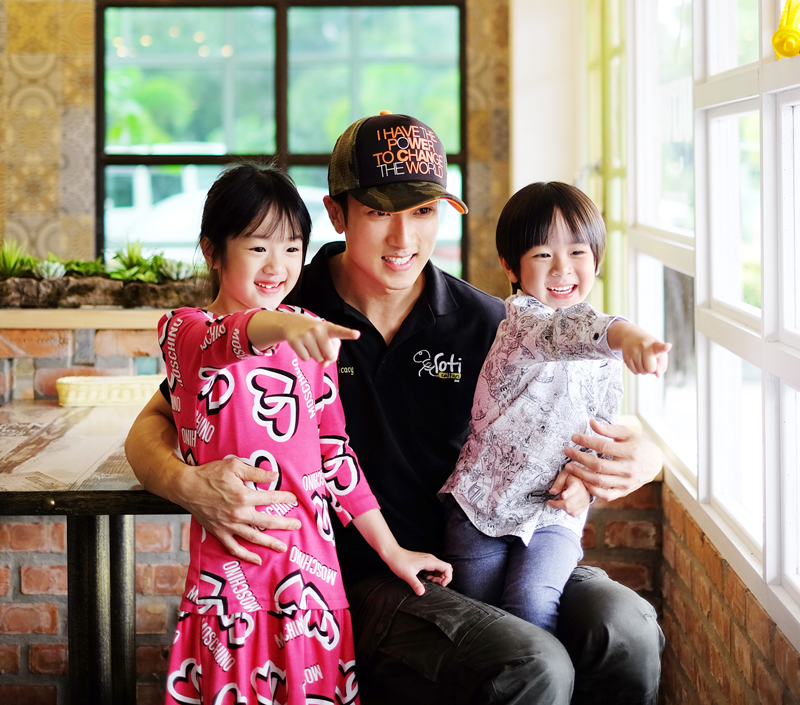 Wu Chun is a person who never says 'no' to trying something new. He is currently starring in one of China's most popular reality show with his children, Nei Nei, 7, and Max, 4; and somewhere in between shoots in China, sending and picking up his kids from school, running a fitness centre, a bakery and a health food restaurant, he still manages to find time to open a new diner last October named Roti Culture. But Wu Chun's life seems to be a complete bliss even though his hands are full juggling fatherhood, acting and multiple businesses. He recently won the 2018 Most Influential Artiste Award at the 2017 NetEase Award Ceremony in recognition of his achievements in show business and contributions to society. His reality show, Dad, Where Are We Going?, takes Wu Chun and his children out of their comfort zone and plunge them into places and situations where they have to count on their wits, resilience and love for one another to overcome the challenges presented to them. Wu Chun calls it 'a once in a lifetime opportunity'. Not only did the show provide entertainment for over 3 billion online viewers in China, it was an adventure that gave Wu Chun and his children a different kind of education.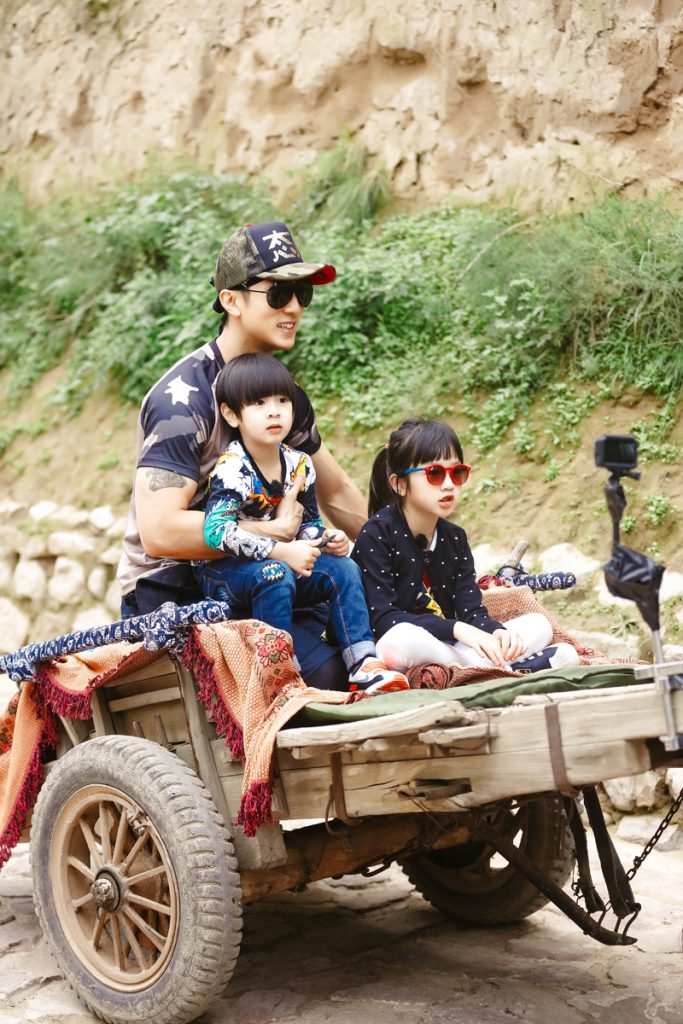 BiG: You and your kids are in the 5th season of Dad, Where Are We Going? which was ranked number one on China's TV charts when it was on air. What makes it is so successful?
Wu Chun: When the show first debut, it was very popular. Perhaps it appeals to a wide range of viewers, from children to the elderly. Maybe people like to see a bunch of male celebrities handle their children without their mothers around! They probably find it amusing to see these dads looking after their kids alone for three days in a row, wondering whether they can do it. This show brings us to remote villages in China that are not so well developed and the audience get to see different cultures and beautiful landscapes. I feel that it not only serves as entertainment, it is also educational. In the show, we are given tasks to fulfil, which, when we succeed, decide our fate, like where we will stay, what we will eat.
The audience can also see our kids' reactions on TV, they are innocent and how they react on screen is genuine. Kids on the show learn to do their tasks without their father's help and work together with other kids as a team to solve the problems given to them. Some dads don't get to spend a lot of time with their kids, their interaction with them and what they learn throughout the show is precious. The father and children bond grows after that. You'll see after the dads spend a continuous 3 days with their kids, the love that grew over that time. Sometimes, the experiences with them bring tears to my eyes.
BiG: Your kids are in the show roughing it out with you. What do you think they are learning on the show?
Wu Chun: This show not only provides entertainment, it is also educational. My kids had to learn to adapt to different environments. Some places we stayed in had cockroaches, bugs, no air con, but they try to adapt. Some of these places don't even have toilets. In some episodes, we went to farms and picked our own vegetables and cooked them ourselves. It was interesting to see how my kids learn to be independent and manage their tasks. I feel that my kids also learn to count their blessings and realise that they very lucky so they shouldn't complain about what they lack. I believe these are all good learning experiences for kids. They also learn about different cultures in China even though we are all Chinese. I find that very meaningful.
People have asked me why I do this show with my kids, why don't I just record my personal time with them and air that? The show involves many cameras, sometimes we can't see what they are doing behind us but the cameras capture moments that are very often heartwarming. Years from now when my kids look back at these shows, they will remember those moments that we shared. It makes it all worth it. Plus, part of the first episode was filmed in Brunei, it was a great chance to show Brunei to the billions of viewers.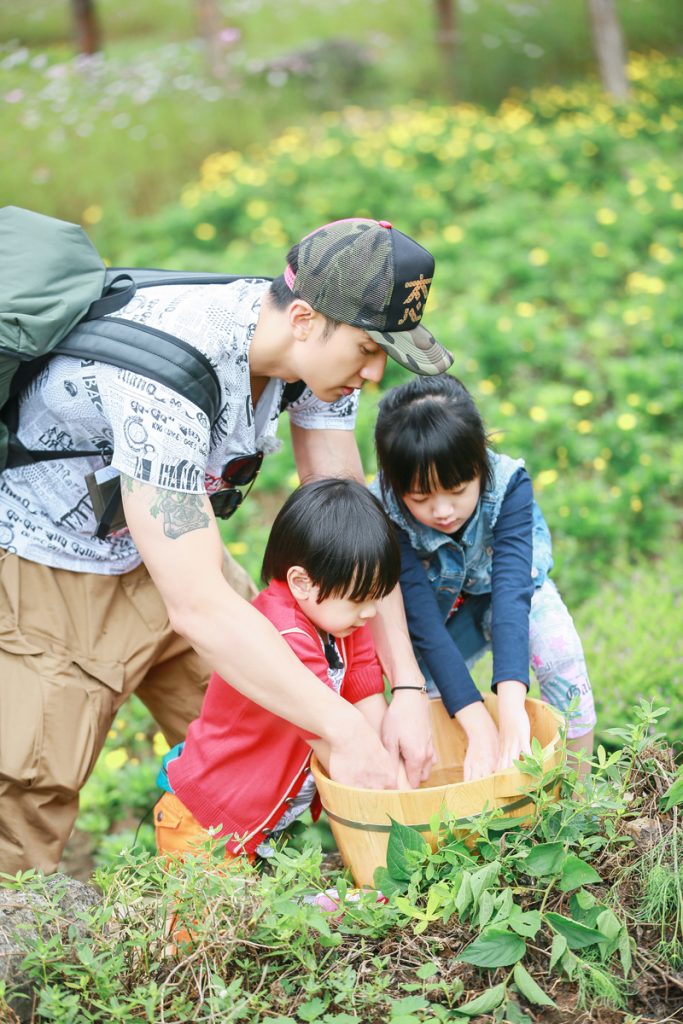 BiG: What are you learning as a parent while filming this show?
Wu Chun: Looking after them in those remote places is not the same as looking after them at home in a comfortable house. We are together for 24 hours a day, three days in a row for each episode. I have to figure out how to guide them and be very patient with them. I also learn to let go – let them leave their comfort zone, take risks, try new things. It's all a learning process for me too.
BiG: Did your kids ever want to give up at any point during filming?
Wu Chun: Yes they did. In the first episode. This is a reality show, there is no script, everything was announced at the last minute. When the producers announced that we have to be separated for five to six hours and I couldn't sleep with the kids that night, I told my kids and they cried. They wanted to give up. I talked to them and told them they have to be strong, give it a try and they agreed. Ever since that day, they became braver. It made me cry to see them so brave and willing to push on.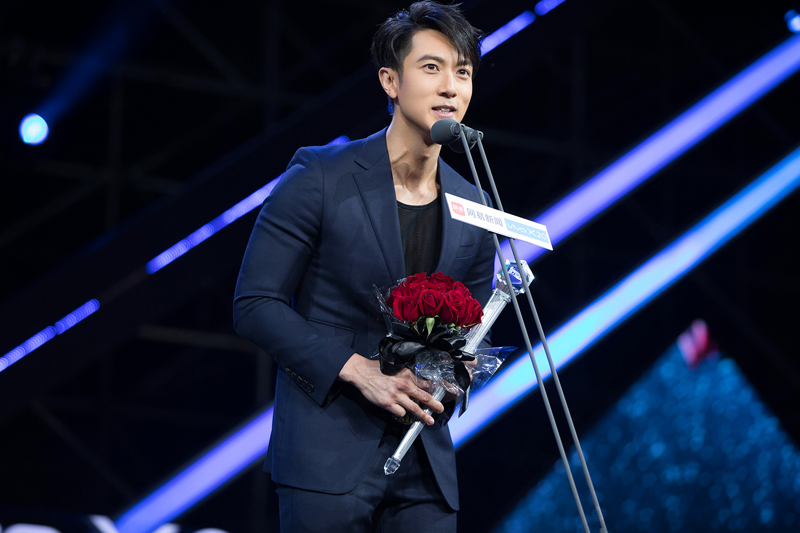 BiG: What kind of dad are you?
Wu Chun: I am a nagging, non-stop-talking kind of dad! I like to talk to them about all kinds of things and teach them through conversation. I like to tease them too. I want them to think 'hey, dad is quite fun too' and they will listen to me when I give them advice. Sometimes I will be strict. Depends on the situation. I find that it's not useful to discipline them when they are upset or crying. I will choose a better time when they are calmer to bring up the subject again for reflection and learning. I always tell them that I am not scolding them but teaching them. I never scold them. I would not blame them if they make a mistake. It is our responsibility as parents to guide them and patiently nurture them.
I feel that no matter what they choose to do when they grow up, most importantly, they must have good character because then, their direction will always be right. I hope that they will grow up to be cheerful, humble and loving people. They can have a simple life, if they are happy, that's good enough for me. That's why for their names, I have chosen words that relate to happiness because happiness is very important to me. I just want them to grow up to be happy, and I will endeavour to be a part of their world as their friend, their father and their teacher.
BiG: What do you think of the overload of technology in a kid's life nowadays? Do you believe in a) giving them more? or b) giving them less?
Wu Chun: I feel that when they watch TV or their iPad, there's good and bad. This world is always changing and we need to adjust. We need to keep up with the pace. Kids will occasionally watch these electronic equipment, the most important thing is the content, whether what they watch is good or not. It's our duty as parents to monitor, so the use of these equipment is OK with me. They could learn a lot from watching good programmes. The important thing is not to be addicted, to have rules, have a balance, because I would like them to use their time to do some sports, spend time talking and interacting with people. I am glad that my kids actually like to talk to me, given a choice of watching an iPad or chit chat with me, they would choose to chat.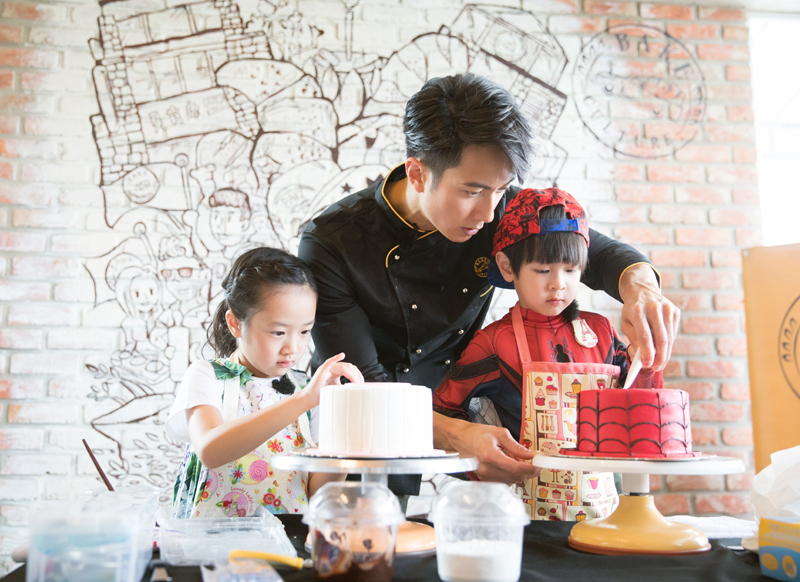 BiG: What do you hope your kids will grow up to be and how will you help them to achieve that?
Wu Chun: I believe in focusing on their personality. I feel that no matter what profession they choose to be in, most important is that they have a good personality. I always tell them that they must never give up. I just want them to grow up to be happy, and I will endeavour to be a part of their world as their friend, father and teacher. That's why for their names, I have chosen words that relate to happiness because happiness is very important to me.
The shorter version of the above interview with Wu Chun was first published in the Borneo Insider's Guide 2018 January-March issue.