Surfing Up North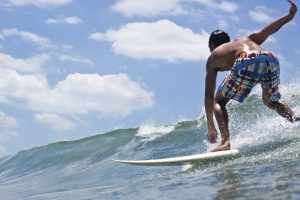 Surf's up in Kudat this November with the inaugural Music & Surf Festival 2017. Organized by Sri Pelancongan Sabah in collaboration with Sabah Surf Association and Kudat District Office, the 2-day event will see surfers taking on the waves at one of the most picturesque beach destinations in Sabah.
Kudat has long been a cultural magnet for tourists to Sabah who want to explore and enjoy its rich cultural heritage centered on its traditional longhouses, indigenous lifestyle, arts and crafts. Its unique location at the meeting point of two seas, the South China Sea and Sulu Sea, at Tanjung Simpang Mengayau soon made Kudat a choice destination for sun seekers, nature lovers, divers and surfers. Beach resorts along its popular Kalampunian Beach is a haven for weekend getaways with the annual Sunset Music Festival at Tanjung Simpang Mengayau attracting music lovers to experience glorious sunsets to the sound of music and crashing waves on its rocky promontory.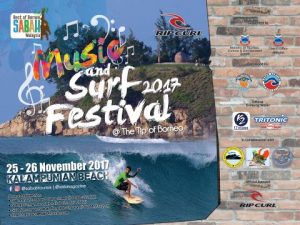 The Music & Surf Festival now brings together the best of Kudat with a two day event that combines the annual music festival, which will now be held at the beach to coincide with the surfing event, with a lineup of exciting programmes that includes a surfing competition open to local and international participants, surf clinics for those who want to give surfing a go, and a free sunset beach concert featuring popular local singers to get everyone grooving in the sand. Food trucks selling beach snacks and drinks will be there so don't fret over a picnic basket. Just get yourself to Kudat for this not to be missed event from 25 – 26 November! See you there!
For more information, visit http://www.sabahtourism.com/events/music-and-surf-fest-2017