Rock Out in Miri at the Rocktober Fest Borneo 2017 This Weekend
It was only in July this year that Nielsen Music's report gave the world some very disappointing news to head-bangers about audio consumption in the US: hip-hop and R&B has officially overtaken rock as the most-listened genre in the country. Add to that the many proclamations of "Rock is dead" by several rock legends including Gene Simmons, who has mentioned the genre's demise many times over the years.
Well, rock is not dead, not in Borneo anyway. It's definitely very much alive in Miri, with the upcoming Rocktober Fest starting today until tomorrow to give our fellow rock fans a reprieve from all the sad news and a reason to celebrate the genre.
The inaugural Rocktober Fest Borneo 2017 was officially launched yesterday at a press conference held at the ParkCity Everly Hotel Miri, an event attended by YB Datuk Lee Kim Shin (Assistant Minister for Land and Air Transportation and Safety, and Assistant Minister for Tourism), Cr. Karambir Singh from Miri City Council, representatives from Miri City Council and Sarawak Tourism Board, organizer NorthEastern Group, performing musicians, sponsors and partners of Rocktober Fest Borneo, along with members of the media.
Set to be the biggest beachside festival in Borneo, the Rocktober Fest Borneo 2017 will be held from 6 to 7 October and will feature over 30 rock bands on two stages and will be held at the scenic ParkCity Everly Hotel. The two-day festival, organized by the NorthEastern Group, boasts an impressive line-up sure to please the biggest metal heads, with over 37 acts from Malaysia, the Philippines and Brunei ready to rock out on stage. Expect to see fan favourites such as Hujan, Estranged, XPDC, Oh Chentaku, OAG, Bunkface, and Slapshock, along with emerging bands from Borneo.
YB Datuk Lee Kim Shin, a self-confessed rock music lover, said in his speech, "I am happy that rock music is still going on strong. With events like Rocktober Fest Borneo, I hope that we will be able to attract the younger crowds to come to our city. This weekend we have rock fans from all over coming here for Rocktober Fest, so I hope that it will be an annual event in Miri city."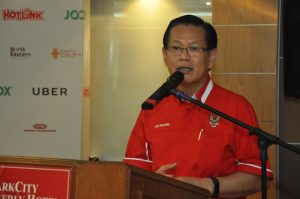 Joseph Kaos Jr, a representative of Rocktober Fest 2017 organizer NorthEastern Group, cited renowned international music events like the Reading Festival as its source of inspiration. "We first started down a series of small events here in Miri called the 'Alice Live Series' with nationally renowned bands, and after getting a positive response, we decided to do something bigger, and thus, Rocktober Fest Borneo was kick started."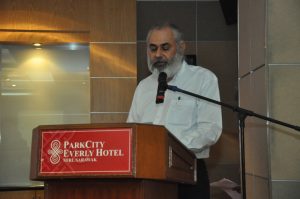 Cr. Karambir Singh, present on behalf of Mayor Mr. Adam Yii, confirmed Miri City Council's full support of Rocktober Fest Borneo 2017. "We have always been very supportive of local endeavours to further promote our city as an exciting and vibrant tourist destination," he said. "This event is an exciting one for us as it not only features top Malaysian and international musicians – it also provides a platform for up-and-coming young Borneans to showcase their musical talents."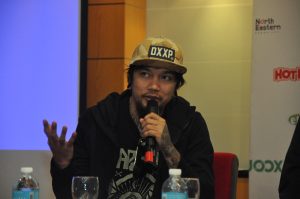 One of the most anticipated performers for the festival, Filipino heavy metal band Slapshock, will be celebrating their 20th anniversary this year and their first performance in Borneo. "We're very excited for Rocktober Fest, as we've never played here before," said the band. "When we play in front of a new crowd and in a new place, we feel like we're a beginner, like a new band, instead of a band that's been around for 20 years! We want to give the Rocktober Fest 2017 crowd and intense, high energy performance, so we can make our current fans proud of us and also gain new support!"
On stage with YB Datuk Lee, Cr. Karambir Singh and Joseph Kaos were lead singers from Slapshock, Malaysian band XPDC, and post-hardcore/metalcore indie band Sekumpulan Orang Gila. The event ended with a Q&A session with members of the media and photo opportunities with the musicians present, sponsors and partners of Rocktober Fest Borneo 2017.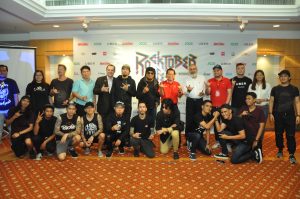 Aside from live performances, festival ticker holders will also be able to enjoy other activities and offers held at the festival site. Local and contemporary food will be served at The Food Village, talented Bornean tattooists at The Tattoo Garden will be ready to ink you, plus sales of official merchandise from participating rock bands and the Rocktober Fest 2017, and giveaways by sponsors and partners.
Those who have not purchased their festival passes can buy tickets at the door on the festival dates, at a rate of RM88 for a one-day pass.
Rocktober Fest Borneo 2017 is fully supported by the Miri City Council and Sarawak Tourism Board, and is sponsored by Hotlink, JOOX and Uber. This year's festival partners are ParkCity Everly Hotel Miri, Stubapp, Alice in Borneoland, Marshall Headphones, MOMAwater, and The Tuyang Initiative, and its official media partners are hitz.fm, EraFM and TapauTV.
Get the latest updates by following Rocktoberfest Borneo (#RTB17) on Facebook or head on over to the website (www.rocktoberfestborneo.com).