Coming Up Roses with the Pandora Rose Collection
The delicate hues of rose gold have been prettying everything up this season, and in the Pandora Rose Collection – everything has been coming up roses. With a collection that highlights striking hues and cuts, the Pandora Rose metal renders the collection radiant in blush hues, designed in styles that are classy, vintage yet contemporary, and eye-catching.
The Pandora Rose collection highlights striking hues and cuts in the delicate shade of rose gold
The new Dazzling Droplet, Pink Radiant Droplet and Radiant Hearts charms in Pandora Rose are adorned with the glow of tonal pink stones. The Hearts of Pandora series are adorned with subtle embellishments such as micro-set stones, and rings are cast in the shade of blushing metal. The ubiquitous Pandora hoop earring now gleams with the lustrous pink metal blend, and finished with a row of delicate cut-out hearts that lend lightness to the design.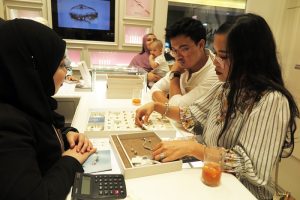 The Pandora Rose Collection for Autumn 2017 was launched at an event held at the Pandora boutique at The Mall Gadong on 6th October 2017, which also served as a gesture of appreciation to their local patrons. Food and dessert were served throughout the afternoon, and a revolving "Jewellery Tower" provided some fun for the crowd – customers were given the chance to win exclusive Pandora merchandise by guessing the number of Pandora Rose charms in the tower.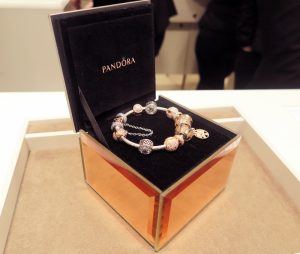 As a special gift to their local patrons, Pandora is also giving away a rose jewellery box with every purchase of BND288 (including one Pandora Rose item), and offer only valid at the Pandora boutique located at The Mall Gadong, until stocks last.
Pandora is an international jewellery brand from Denmark, known for designing hand-finished and contemporary jewellery made from high-quality materials at affordable prices, and is sold in over 100 countries.
You can find the Pandora Rose Collection at the Pandora boutique located at the Ground Floor of The Mall Gadong, or at the Brunei International Airport.