The Ogre, The Princess and A Swampful of Freaks
The Borneo Insider's Guide to Shrek: The Musical
A special report by The Fairy Godmother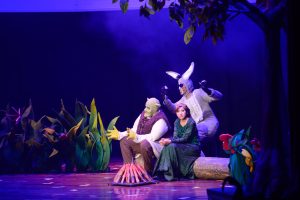 Did you see it? Did you catch Shrek: The Musical on 16th and 17th? If you didn't, well, then you have missed one of the most entertaining stage productions in the country this year.  Shrek: The Musical, produced by Relentless Entertainment, was a delightful, kid and adult-friendly musical about a green ogre named Shrek, who found love with a princess who had a habit of turning green in secret, amidst chaos thrown into their lives by a diminutive Lord with ambitions of becoming a royal.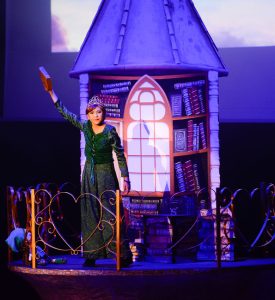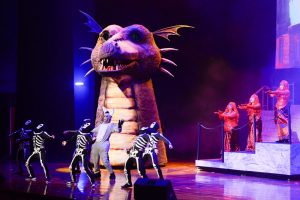 The production involved a cast of over 50 people – the biggest to date for a Relentless production – magnificent background sets, and costumes and make-up that would make Lady Gaga envious. The two-hour long musical was packed with addictive songs, laugh-out-loud humour and Broadway-style dances that brought the audience to its feet, and people are still talking about the dragon that smiles and bats its eye lashes.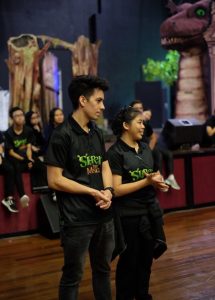 Putting together a full-scale musical such as Shrek: The Musical was a colossal task, and the founders of Relentless, Sumardi Hedus and Amy Cheong, personally worked on every detail of the show for nearly four months, doing everything that was needed to bring the musical to the stage: casting the right person for each role, choreography, directing, designing the costumes, sourcing for props, directing the placement of background sets, planning the stage lighting and sound; conducting rehearsals, arranging for vocal practices; there's much much more but you get the picture.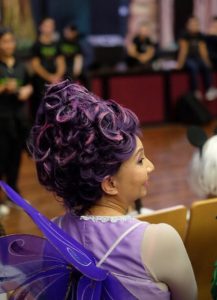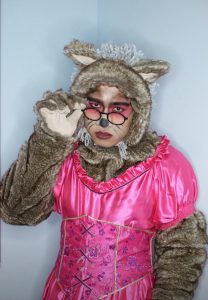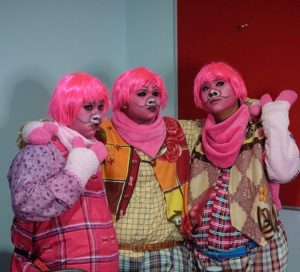 I had the privilege of being given a place among the young company of performers as the Fairy Godmother – a member of the downtrodden fairy-tale misfits who were banished to Shrek's smelly swamp and were later instrumental in preventing a bad union between Princess Fiona and Lord Farquaad, her fiancé with an effeminate hairdo, leading to a happy ending that all fairy-tales are so famous for. For my role, I had to sing songs about freak pride, dance with a broken plastic wand, slip in and out of a shimmering pink and purple costume, wear a large purplish wig resembling a badger with streaks. And I had the time of my life.
My recent debut in Shrek not only fulfilled a lifelong dream of performing in a musical but it gave me an insight into the workings of a stage production. Auditions were held in early May and after the roles were assigned, we saw our scripts for the first time. At my first rehearsal as part of the unruly band of fairytale people, we had to do warm-ups that incorporated burpees, star jumps and hops, and when we were nicely out of breath, sing a line from our character. That was Day One, and I recall thinking to myself that this is going to be a great weight loss programme.
The rehearsals were intensive, although not so much for a fairy godmother with a few lines and some boogie time that lasted no more than 20 minutes in total. There were vocal classes where we each learnt to sing in our respective voices, in my case, alto, and then we practiced religiously to combine our parts into a harmonious sound. We also had to learn dance steps from Sumardi, who choreographed all the dances in the show. I could master either the singing or dancing separately with some practice, but the singing and dancing together in one smooth move? That was like trying to tie a ribbon with my feet and it took a lot more practices to get both in synch. This was multi-tasking at level 10.
As for the four main performers who played Shrek, Princess Fiona, Lord Farquaard and Donkey, not only did they spend more time on stage than everyone else, either in scenes with each other or with other characters, off stage, they had to live in each other's space a lot. Besides rehearsals, they had to promote the musical by doing interviews for radio and TV, press conferences, but despite all that, they still hung out with each other, building a friendship tighter than a lycra top on a cyclist.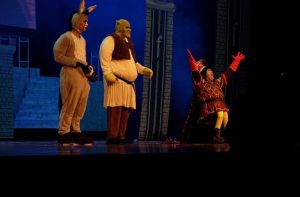 Stardom requires a lot of stamina and resilience. Safwan, who played Lord Faquaard, had to dance on his knees, even though he wore kneepads, it was not an easy thing to do. The young man who played Shrek, Mustaqim, had to endure long hours in a prosthetic face. It was hot and stifling under the mask and his facial movements were restricted which means eating or drinking was limited. On the day when we had to do two shows, he wore that face from 7a.m to past 10p.m after the second show was over. When the mask finally came off at the end of the day and he could breathe easy, a grateful smile was all he could muster!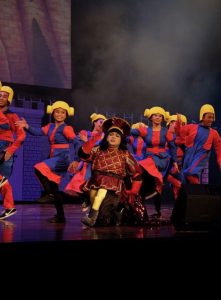 During the week leading up the show dates, we rehearsed everyday at the JIS theatre. A team of volunteers practised the movement of stage sets and props into marked positions in a timely fashion. One of the most impressive prop was the towering dragon, 17 feet tall and covered in sponge. Within the belly of the prop were handles and levers that moved the dragon's eyelashes and mouth. Four people got into the dragon's belly and worked the parts frenetically to give it life on stage, and when they exited, you could see that they were all sweating profusely.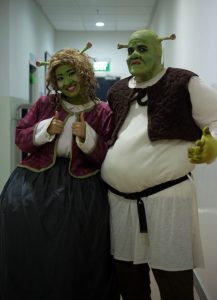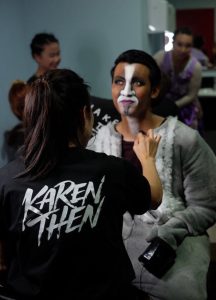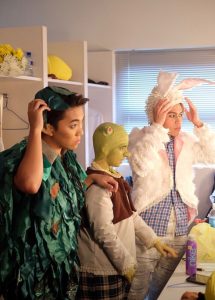 The special effects make-up team comprising Karen, Anthony and Muaz came in to create the faces for Shrek, Donkey, Lord Faquaard, the Big Bad Wolf and 13 other characters. Some had to wear wigs, some had to be painted and some had to wear foam latex masks. In one of the scenes, Princess Fiona, played by Aqilah, transformed from human to ogre and the make-up team had about two minutes to stick on a prosthetic nose and paint her face completely green before she reappears on stage.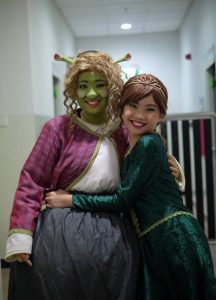 The group of cast, crew and directors had only one goal – to put on a good show, no, a superb show. Each and every person, regardless of the size of his or her role, worked as a team. One of the nicest things I saw behind the scenes was how the cast members supported each other and cheered like they were in a team sport event. We could watch the show in between our scenes on TV screens in the various rooms behind the stage, and whenever other members of the cast nailed their songs or dances, applause and cheers filled the room, that's how Team Shrek scores.
The show is over, no more rushing to rehearsals after work, no more playing a fairytale character, no more pretending I am in a swamp with a bunch of freaks. The adrenaline was still high days after the show and I suffered from withdrawal symptoms, I could not stop singing. The other performers don't want it to stop. Ask them what they love about doing musicals and they all say the same thing: being surrounded by people with the same passion. Most of the cast members have been in previous Relentless productions before and they are like a big family. They love rehearsals and they still want to get on the stage and do this all over again. The shows will go on, soon the directors will hold auditions for the next musical.
I can imagine the rehearsals for the next show: the chosen ones will fill the room with their youthful energy. Some will break into song or dance without any encouragement, and some will spontaneously cartwheel across the room like tumbleweeds. There will be boisterous chatter and mischievous horseplay, and the directors will hush them so they can focus on the serious stuff. While there will be plenty of mirth and circus, when it is time for these performers to deliver, like an opened carbonated soda pop, the individual bubbles will rise to the top together and release a sweet burst of music and fantasy that will bring you to another world.