A New Look for The Coffee Bean & Tea Leaf, Centrepoint
by Amal Kadir
The Coffee Bean and Tea Leaf is one of the first coffee franchises to pour its signature coffee to the Brunei public. Originating from the United States, CBTL first opened its doors in Centrepoint in 2001, and in celebrating their 16th anniversary of brewing in the sultanate, CBTL re-opened their doors to a revamped and fresher look of their first branch.
The media were invited to the re-launching of the first Brunei branch on 8 September, 2017. The ceremony kicked off with the recitation of Doa Selamat followed by welcoming remarks by the guest of honor, Yang Amat Mulia Pengiran Anak Abdul Mun'im bin Pengiran Anak Haji Tahiruddin, the Managing Director of The Coffee Bean Brunei. This was then followed with a cheque presentation to three charity organizations made by the public and contributions from CBTL, namely SMARTER Brunei, the Centre for Children with Special Needs and Pusat Ehsan Al-Ameerah Al-Hajjah Maryam.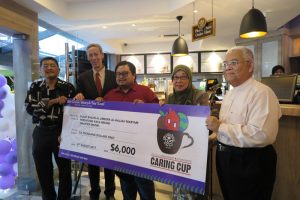 The guest of honour then officiated the reopening with a ribbon cutting ceremony. Also present at the event was His Excellency Craig Allen, US Ambassador to Brunei Darussalam.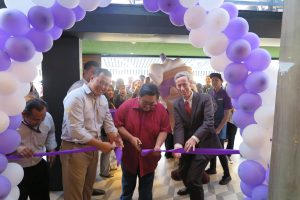 Frederick Milin, Brand Manager of PAR Food & Beverages Sdn Bhd shares, "it's important for us to evolve and change with our customer's needs. Based on the feedback of our regular customers, the present look is a fresher and lighter theme paying tribute to the Californian lifestyle element while the layout has increased customer seating and provides a better area for large groups that frequent our Centrepoint outlet."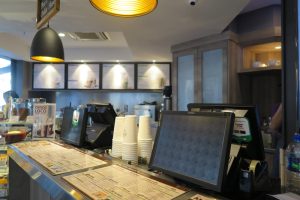 As you walk in to order your drinks, you will be greeted by a smiling cashier, ready to serve your coffee needs. The overall area is brightly lit, coming from both natural light through the window and the warm ceiling lights.
The interior is renovated to evoke a youthful, vibrant energy toward visiting patrons. There is a subtle pop of colours in the form of paintings, furniture and wall designs that embraces the sunny Californian roots of The Coffee Bean.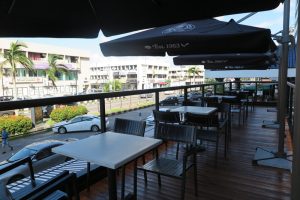 Customers can also hang around on the second floor of the open deck, facing the busy streets of Gadong as you sip a cup of coffee in the cool shade.
The event also saw the launching of new merchandise from CBTL in celebration of theit 16th Anniversary, retailed at BND23 each, and the launch of two Ice Blended drinks: Berry'd Treasure – a delightful blend of berry juice and vanilla, and Cookies & Cream, which comes with a choice of Mocha or Vanilla flavours.
For updates on The Coffee Bean & Tea Leaf, check out their website here, or you can follow them on Facebook or Instagram.