The Business of Fashion
by Intan Abu Daniel
With a lot of hard work and a lot of support, what was once considered a fantasy for the fashionable population of Brunei is nearly a reality: fashion is close to becoming a viable career path for Bruneians. Many factors has contributed to making this a possibility, such as hard work, talent, education, knowledge, support of our local entrepreneurs, and most notably the thing that connects us all: social media.
Social media has been a great asset – the effort in getting your brand seen by the world has now been reduced to the click of a 'Post' button – but this hardly makes your work any easier. For every local brand designing their own scarves, there are plenty planning the exact same thing. So how do you make your brand stand out in a sea of Instagram posts? How do you get the word out about your fashion line but also make the public interested in what you have to offer? And from that point, how do you keep them interested?
Here to solve that problem is Ephemural Media, a fashion media company that specializes in producing images and providing information on the right imagery, helmed by fashion influencer and blogger Jeera from www.jeeradoesfashion.com and Izzy, her husband and fashion photographer. With Jeera's expertise in navigating the social media world and Izzy's photography skills coupled with the pair's exposure in the regional fashion industry, the two felt that their combined skills would be instrumental in helping local fashion designers kick start their brand into the regional media sphere.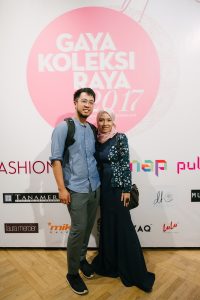 "The reason why we decided to start a fashion media business is because we felt there was a lack of maturity in terms of visual communications with brands in Brunei," Izzy explained. "After having been exposed to the fashion industry outside of Brunei, we thought that we could bring something to the Brunei audience and provide imagery that is mature, and perhaps provide guidance on how the brand should represent itself."
As creative director, Jeera feels that a photo needs to be more than a nice backdrop and a good outfit, and fashion needs to be more than the idea of a nice outfit. "When you design clothes, there must be a story, a target person you're designing for, or a concept. Like how trends exist. Last year, the colour of the year was rose quartz and serenity blue and pink, and the reason behind that was gender neutrality. Clothes are designed because they're trying to convey certain moods."
Fashion trends are the markers of social groups. It can proclaim your individuality and dictates many of the behaviours and attitudes of the public (and if a person feels that they don't fall into any sort of 'trend', remember that being anti-trend is also a trend in and of itself). In today's Internet-savvy world, following fashion trends can show sensitivity to your community and its tastes; it is much more than an outfit.
"You need to ask yourself, what is it you're trying to portray with your brand? What is your brand story? The target audience guides the direction of the shoot," said Izzy. "We have a lot of experience with setting up the shoot and directing the models. For our clients, we will submit ideas for everything needed in a photoshoot, like hair and make-up, styling, colour schemes, things like that. We want to bring Brunei's fashion industry up to the same level as those regionally, and we want our local brands to have confidence in their imagery."
"We're trying to engage with brands who are fashion forward, irrespective of whether it's modest fashion or not, and who wants to develop their brand identity. It could be men or women's fashion, kids' wear, even cosmetics and jewelry."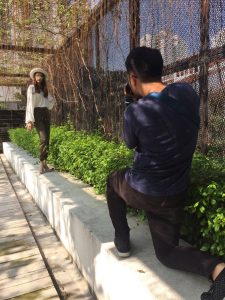 In producing the best image for your fashion brand, you could do a lot worse than Izzy, whose professional engagements include two photoshoots with online retail giant FashionValet, both of which have been displayed on the FashionValet social media channels and at the FashionValet storefronts in Kuala Lumpur and Singapore.
As for Jeera, the fashion influencer and blogger has connections with most regional fashion designers, especially those affiliated with FashionValet, with whom she has a close relationship with. Yet despite their connections, the married couple would prefer to remain in Brunei and help local designers with their fashion labels.
"Quite honestly, if we wanted to make money out of this we would continue working in the regional scene. But we want to see Brunei grow, to develop the economy by diversifying," Izzy said. "I think there are people here with good taste, with the right direction for their brand. They just need help in communicating it."
"Our livelihood is here. Our children are here," Jeera continued. "We want to stay here, and we want to help push Brunei fashion labels out there."
So what does Izzy and Jeera hope to bring to Brunei's fashion industry?
"For Brunei, we'd like to kick off the idea that every fashion brand needs to have a story and an identity, and that we can provide tools on how to present that in the best light," Jeera answered. "But for us personally, we hope that Ephemural Media becomes a service that can provide imagery and direction, and to pass on the knowledge to the local market of what you need for your fashion label. That would be for us."
For information and updates, follow Ephemural Media on Instagram – or you can follow Izzy here or Jeera here. Inquiries can be sent via email to: izzyosman@gmail.com. 
Images courtesy of Ephemural Media.