Loreng Dinamika: Gathering of Brunei's greats
By Rozman Mashor
One of the many forms of Humanity's innate ability to creatively express its personal views and understanding of its external environment and its deepest innermost self, via individual perspective and raw emotion is the pursuit we know simply as that three-letter word called art. Its very being also takes multiple forms, but on October 18, the Loreng Dinamika Art Exhibition commenced at the Mabohai Shopping Complex and involved the gathering of several of Brunei's most renowned veteran painters.
Pg Abdul Wahab Hassan Al-Abbas, Dr Hj Zakaria bin Hj Abd Hamid, Dato Hj Sofry Hj Abd Gafor, Pg Timbang Pg Hj Tuah, Hj Dyg Hj Mutalib, Pg Mohd Roslan, Haji Yussof Hj Matzin, Siti Kaprawi, Hj Padzil Hj Ahmad, Osman Mohammad, Awang bin Sitai, Kassim Ismail and Abdul Malek bin Matarsat, Adizain and Yang Amat Mulia Pengiran Anak Hamlatul ARSY Mulia, have been creating works of vibrant splendour for decades, wowing viewers with both their raw and refined talent. Additional paintings exhibited included three paintings by the Guest of Honour, Pg Dato Paduka Hj Asmalee Pg Ahmad, as well as two paintings by the curator of the Brunei Museum, Hj Rahim Ahmad.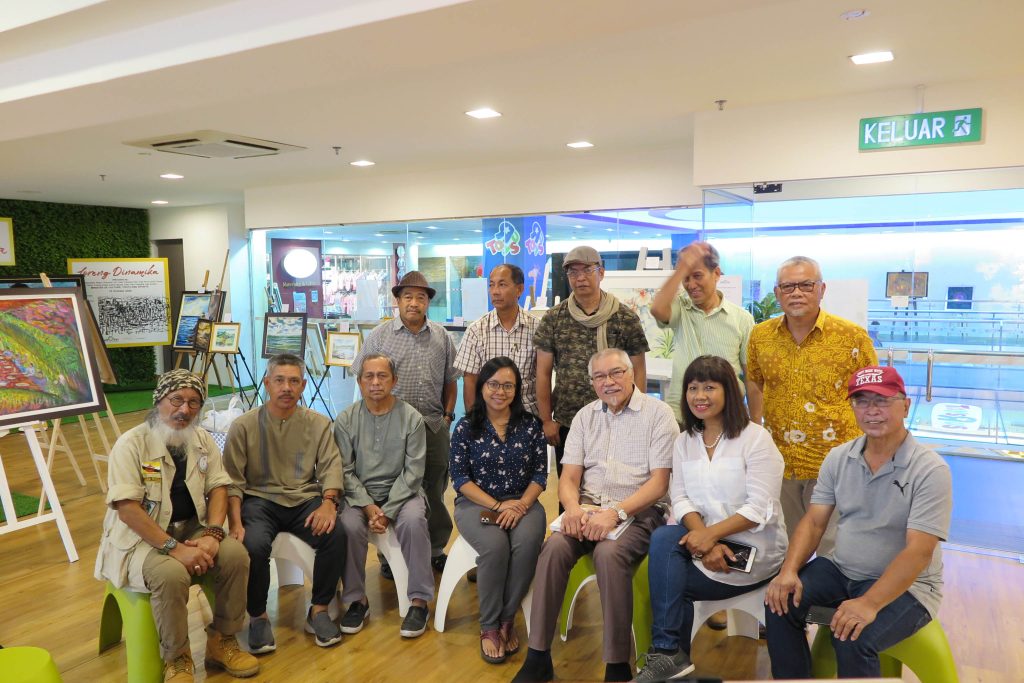 Some of the artworks depict the natural environment that our much-loved Sultanate is famed for worldwide, as well as the structures that can be found here. Some have been produced in clean and clear tones while others are abstract representations that cleverly depict the artists' unique view of the world around them. Others still are a wild and sometimes chaotic riot of colours, or a seamless blending of hues, that may make no sense to one viewer while simultaneously evoking strong emotion and feeling from another. The only commonality in play is our inability to debate their aesthetic quality and appeal for they are truly works of art.
Officiated by the Minister of Culture, Youth and Sports; Major General (Rtd) Dato Paduka Seri Haji Aminuddin Ihsan bin Pehin Orang Kaya Saiful Mulok Dato Seri Paduka Haji Abidin, the exhibit has seen the placement of multiple artworks on a raised wooden decking in between the escalators of the 1st floor of the shopping complex, as well as along the perimeter and within the 2nd floor exhibition gallery (Unit 204). Open to the public from 10am until 9pm daily, the exhibition, was originally slated to last until November 1 before being extended for a full week until November 8 courtesy of a better than expected reception from the public. The artworks were available for purchase, with several pieces having already been sold but remaining on the premises for viewers to enjoy until the exhibit comes to an end, and they are transported to the homes of their proud new owners.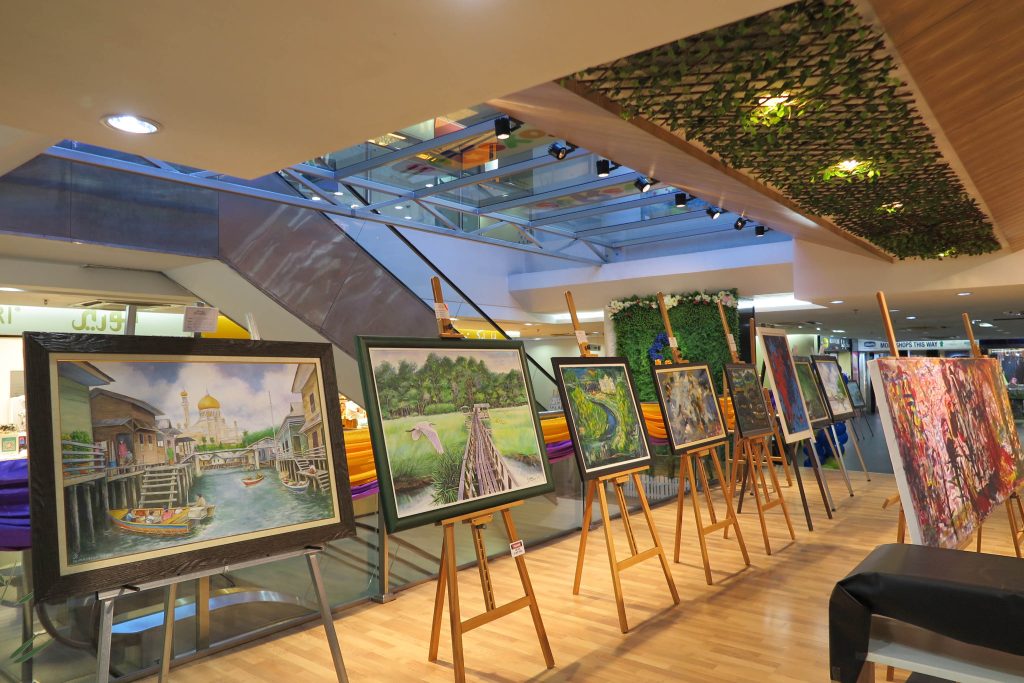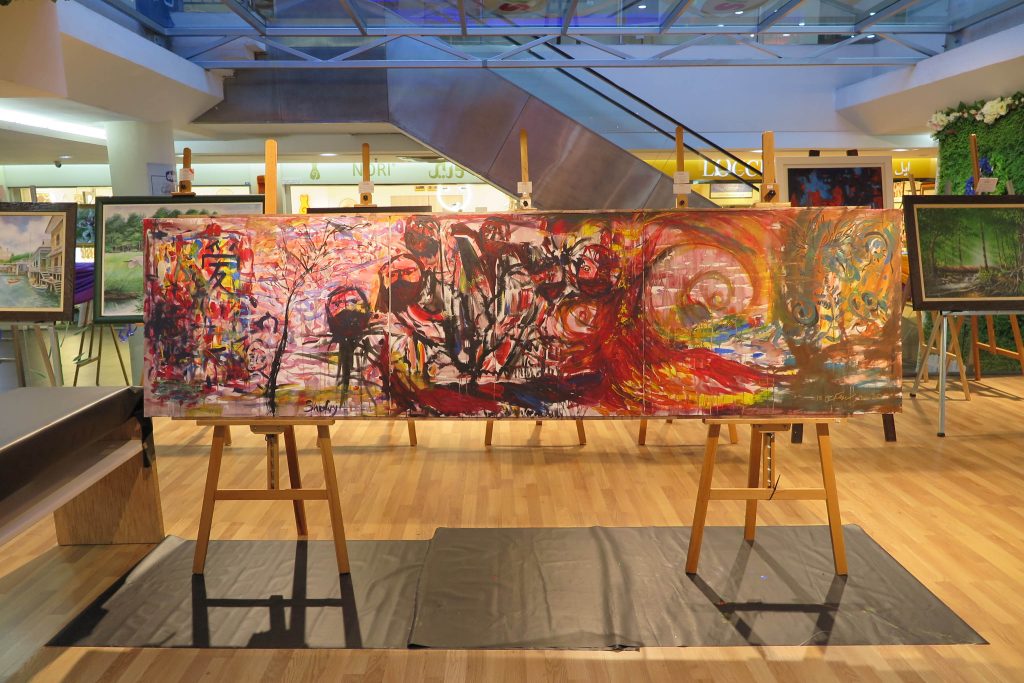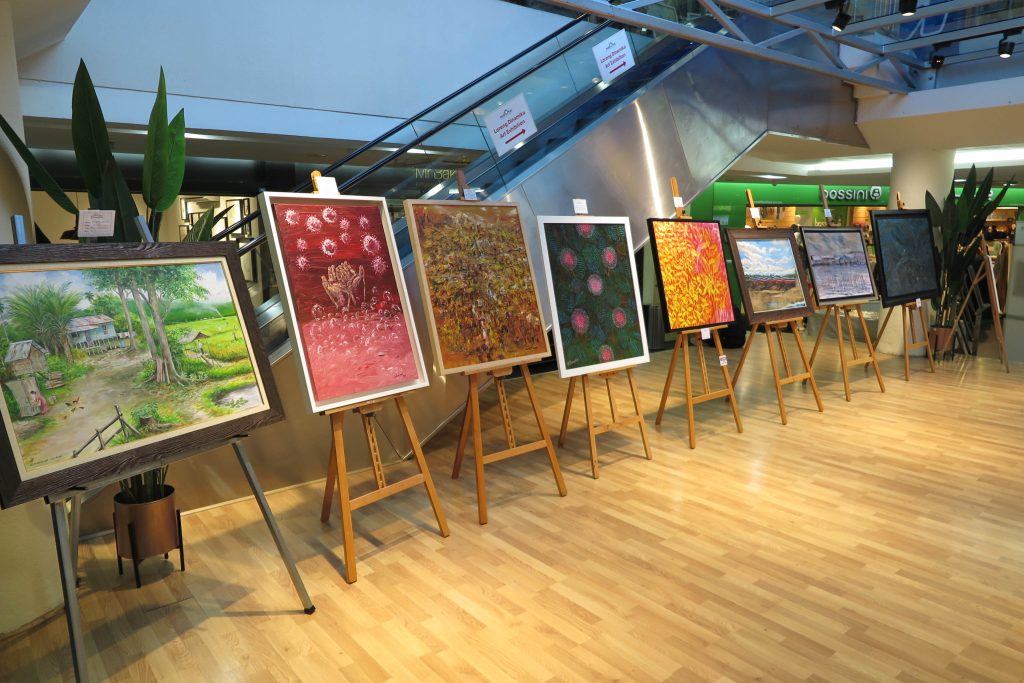 Organised by Mabohai Shopping Complex and Astera Consultants, the gathering was made all the more interesting when the well-renowned veteran artist and public figure, Pg Dato Paduka Hj Asmalee, arrived at 4.30pm on Friday, October 23. Attending upon invitation by the organisers to host a discussion with the featured artists and members of the public who were present at the time, the venerable artist sat on a low stool as part of a wide circle with up to 20 other people, regaling them with his life story of how he first developed an appreciation for art. In a summarised 1-hour long tale of the past seven decades of his life, which was peppered with anecdotes and plentiful moments of wide-eyed smiles and laughter, he recounted several fascinating stories. From working with Radio Televisyen Brunei, Culture Youth and Sports to being Bruneiu Ambassador to Myanmar and china. While in these two countries he was inspired to accomplish a number of remarkable paintings. Following his retirement from Government service he continues to give lessons and guidance to Six form students.
Pg Dato Paduka Hj Asmalee also discussed how he created an art style he calls 'Zikirism', a technique of painting incredibly detailed pictures by applying dots of pure colour. This approach is motivated by his strong Islamic beliefs and remembrance of Allah the Almighty.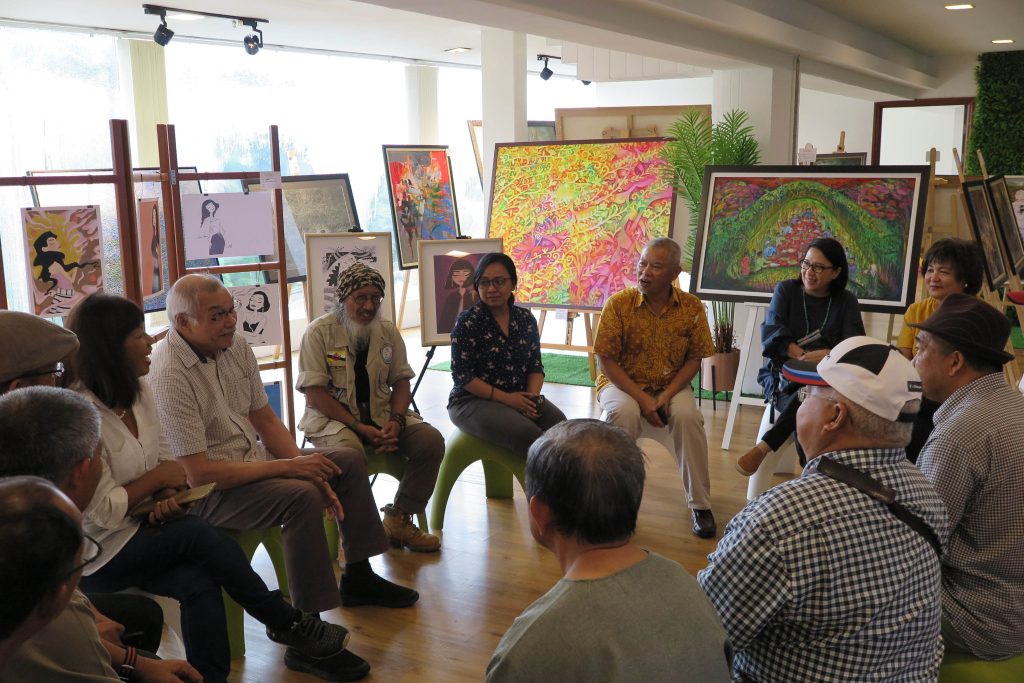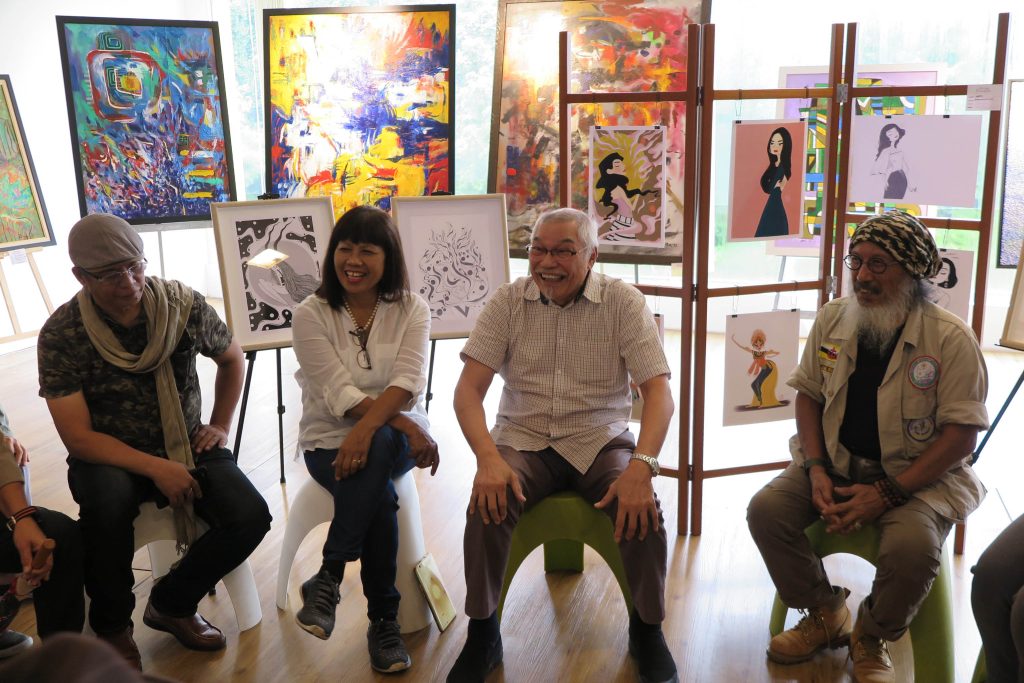 Following the conclusion of the discussion, the organisers presented tokens of appreciation to the guest of honour, while the featured artists of the exhibition –renowned in their own right – clamoured to have some time with Pg Dato Paduka Hj Asmalee, sharing the impact he had in their own lives while posing for photos with him against the backdrop of their own artwork on display.
It is the year 2020, and as Brunei continues its inexorable march into the future, all aspects of the creative design industry continue to develop at a rate that would once have been considered unprecedented just 20 years ago. With art exhibitions of this nature, and a rising wave of gifted and talented new artists on the rise, it is very much this publication's hope to see more events of this colour taking place to showcase what Bruneians specifically, and residents of Borneo more generally, are capable of achieving.