"Jom ke Sarawak, Sabah dan Labuan!"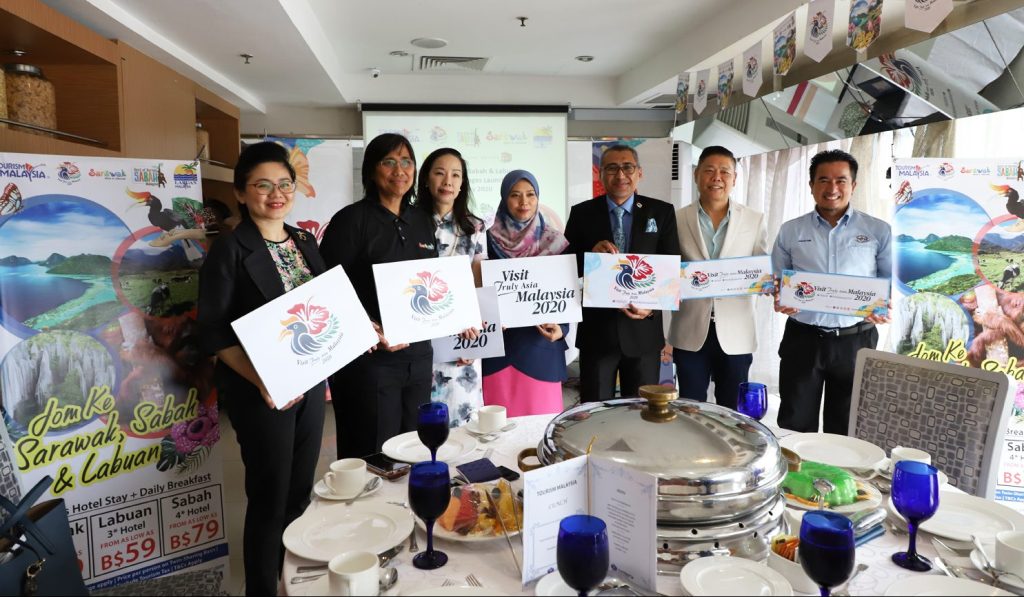 Tourism Malaysia wants Bruneians to visit Malaysia more—to keep in running theme with Visit Malaysia 2020. Joining hands with Pan Bright Travel Service to promote attractive holiday packages to Borneo-centric destinations, Tourism Malaysia hosted an intimate luncheon to celebrate the launching in the presence of representatives from the Sarawak Tourism Board, Sabah Tourism Board, Labuan Corporation, Royal Brunei Airlines and members of the media. Held on 29 January 2020 at Seasons Restaurant of Centerpoint Hotel, the event was launched by Haji Ibrahim Seddiqi bin Talib, Director of Tourism Malaysia Brunei Darussalam and Mr. Johnnie Cheong, General Manager of Pan Bright Travel Service.
Guest of Honours also include Puan Nadia Azura Mohd Nudri, Deputy High Commissioner of Malaysian High Commission and Madam Vivien Lo, Executive Manager of Pan Bright Travel Service with Puan Sharzede Datu Haji Salleh, CEO of Sarawak Tourism Board and Mrs. Josephine Chai, Senior Marketing Manager of Sabah Tourism Board among distinguished invited guests.
For the past decade, Brunei Darussalam maintains its position as the highest contributor to tourist arrivals in Malaysia, making it a prominent market in the Malaysia Tourism sector. Targeting 30 million tourist arrivals and RM100 billion in tourist receipts, the Visit Malaysia 2020 campaign extends an inviting hand to anyone looking for a travel experience to remember.
Of their collaboration with Pan Bright Travel Service, Haji Ibrahim Seddiqi bin Talib, Director of Tourism Malaysia Brunei Darussalam commends the travel agency on their dedication and professionalism in consistently providing quality service and cost effective holiday packages to Malaysia from as low as BND59 per room for a 1 night hotel stay in Labuan or Miri.
Also on offer for the world traveler seeking a truly Malaysian experience are packages including a 3-day 2-night stay inclusive of hotel stay, daily breakfasts and return air tickets from as low as BND159 per person on twin-sharing basis to Kota Kinabalu, BND169 to Sandakan and BND349 for the Island Hopping package to Semporna, Tawau and many more.
Haji Ibrahim Seddiqi bin Talib also highlighted several key places in Labuan, listing Manikar Beach as a prime spot for couples looking to shoot their pre-wedding photos as well as other ideal spots for teambuilding retreats (Pan Bright also offers their Team Bright programs specially catering to companies looking to host their own work retreats. Read more about it here: www.panbright.com/team-bright).
"Last year, we were able to encourage more Bruneian tourist arrivals to Sarawak and Sabah. It coincided with Royal Brunei Airlines introduction of its RB Link direct connectivity just in time for our Visit Malaysia 2020 campaign," the Director also mentioned, alluding to the national airline's regional flights to seven exciting destinations within Borneo.
For more information on packages, please visit www.panbright.com and be sure to follow them on their social media on Instagram and Facebook. To find out more about Visit Malaysia 2020 and what tourism in Malaysia has to offer, visit Tourism Malaysia's website at www.tourism.gov.my.