Findlay Hosts 11th International Study Fair At Rizqun Hotel


Juggling between different study options, university rankings, submission deadlines and scholarship opportunities is a plight for any student. With GCE 'O' and 'A' level exam results just around the corner, students everywhere are scrambling to sort out their further education prospects. Here's where education services agency Findlay (B) Sdn Bhd handily steps in to assist in the process, providing students with options and alternatives in order to get to where they want to be in the pivotal journey to further their education. Hosting their 11th International Study Fair at the Rizqun International Hotel on 20th January 2020, representatives from 20 institutions representing the UK, Australia, Singapore and Malaysia were in attendance to discuss study options with students looking to enter universities from later this year to 2022.
New partners at the Fair included universities such as The University of Law, which covers 13 campuses across the UK as well as the University of Southampton, Malaysia campus. The universities in the UK include Coventry, De Montfort, Lancaster, London South Bank, Northumbria, Queens Belfast, Edinburgh, University College Birmingham, Dundee, Portsmouth, South Wales and Surrey. Also present were the University of Tasmania in Australia, James Cook University, Singapore campus and Curtin University Malaysia campus to offer their trusted expertise.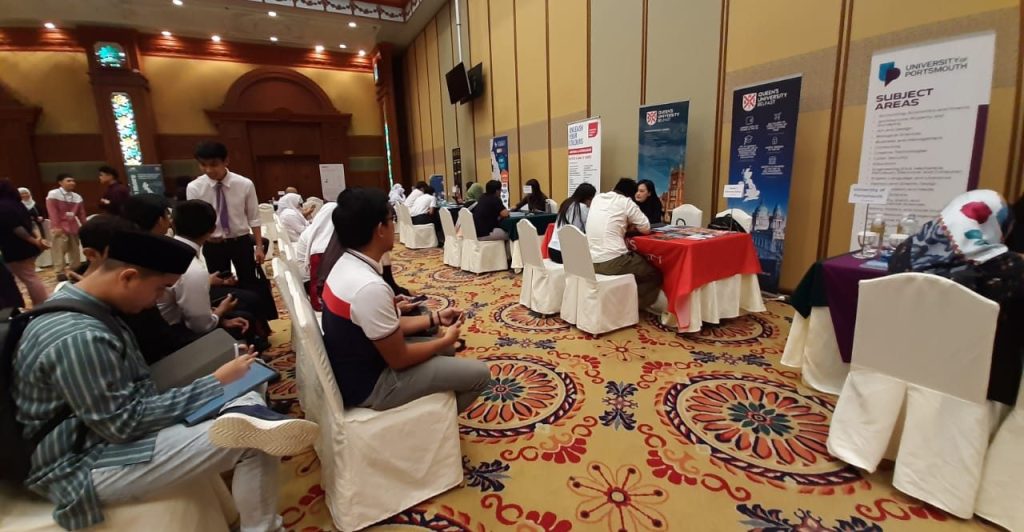 For students and parents with concerns and interests regarding career paths and future professions, leading professionals from the public and private sector were also present at the Fair. Students still unsure of which educational path to take or what career direction to pursue need not worry with Findlay's showcase of the Morrisby Career Profiling psychometric assessments which evaluates a student's aptitudes, interests and personality to identify the most suited A-level or IB (International Baccalaureate) subjects, degree options or career paths for them.
Throughout the afternoon, presentations on "Biosciences and Nutritional Sciences", "Studying in Scotland", "Traditional versus Modern Universities" and others were held to further enlighten potentially interested applicants. Ministry of Education officers from the Brunei Darussalam National Accreditation Council and the Scholarship Section were also available to attend to inquiries related to their area of expertise. BIBD (Bank Islam Brunei Darussalam) hosted their own booth to discuss inquiries pertaining to financing, Plus-EXP offered in depth details on internship opportunities while CfBT answered questions regarding IELTS English language tests. Several of the universities present at Findlay's International Study Fair also offered attractive scholarships for students, some of which are offered automatically and others based on separate applications.
Sunita Martin, Managing Director of Findlay, describes the essence of Findlay's services as "comprehensive, personalised and long-term" as they assist students with the technicalities of applications, visas and pre-departure information while extending a helping hand throughout the duration of their studies. And even after, according to Martin, "When students graduate, they still have free access to CV Writing and Interview Skills workshops" which also helps with boosting employability. It is particularly this nurturing nature of the relationship between Findlay and its students which places Findlay in a class of its own in the education market.
If you missed out on the 11th International Fair, Findlay will be hosting another Higher Education Expo at Rizqun International Hotel from 8 – 9 February 2020. For more information and updates, visit Findlay's website at www.findlaybsb.com or follow them on Instagram.