Feel the Heat: the BIMP Eaga Culinary Challenge, 10-12 November 2019
In what looks to be the biggest edition of the Brunei Halal Showcase 2019 (2019 BruHAS), the BIMP EAGA Business Council has put together the first ever BIMP EAGA Culinary Challenge – a World Halal Culinary Championship that will take place within three days with 12 professional culinary teams battling it out to become Champion.
The event, taking place from 10-12 November 2019, will take place during the 2019 BruHAS at the International Convention Centre in Berakas.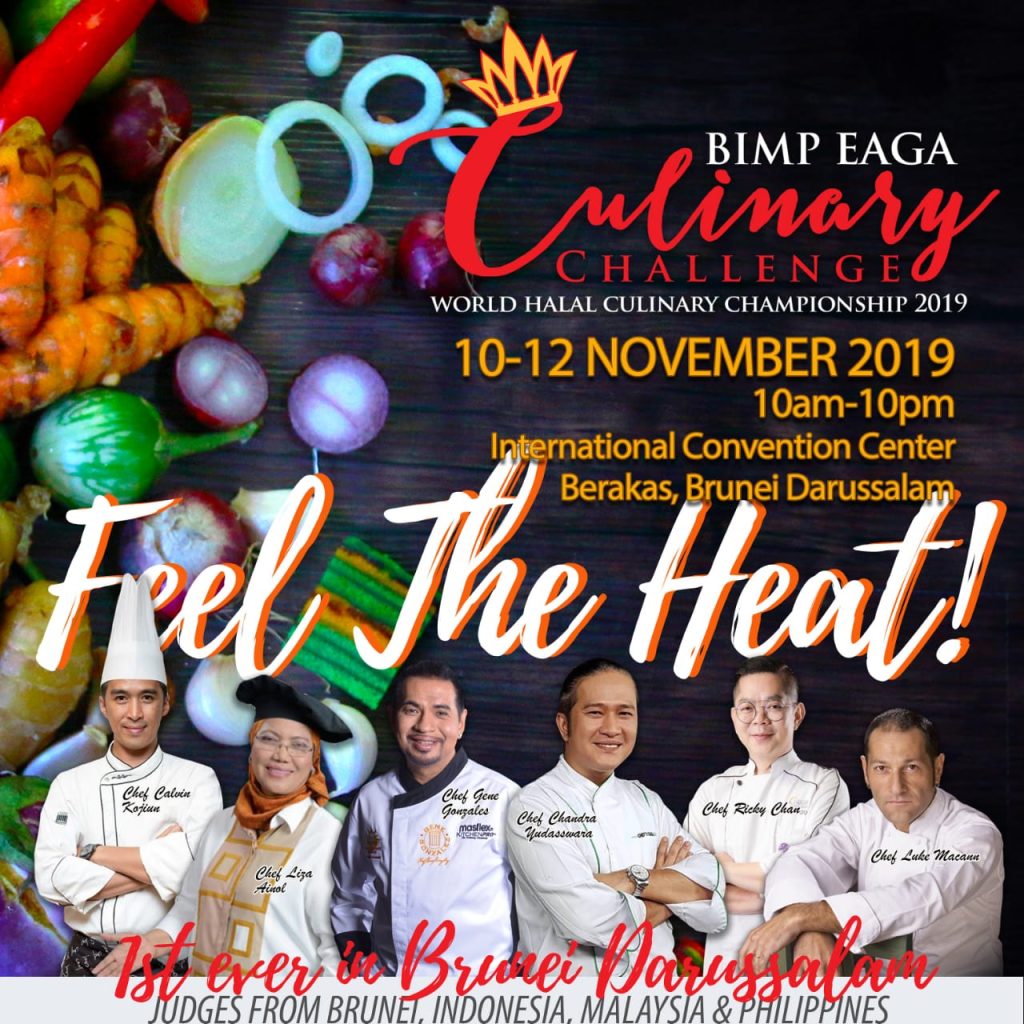 Judging these chefs aspiring to make their mark in the halal culinary world is a panel of professional chefs from around the world, which includes Chef Gene Gonzales from the Philippines who made his mark opening Café Ysabel when he was 23 years of age; host of local TV cooking show Chef's Table, Chef Chandra Yudasswara from Indonesia; former chef of the Shangri-La at the Maldives, Chef Calvin Francis Kojiun from Sabah; Chef Liza Zainol, a celebrity chef from Malaysia; Chef Luke Macann from New Zealand, a professional chef and restauranteur turned teacher who is currently sharing his culinary wisdom at the Laksamana Culinary School in Brunei; and Nestle Professional Malaysia executive culinary chef, Chef Ricky Chan.
16 teams comprising three chefs per team coming in from Brunei and the BIMP EAGA region will be competing for the exalted Champion title. The 16 teams will be divided into four groups, with each team battling it out on the first and second day, each team coming up with a Concept Set Menu of Appetizer, Main Dish and Dessert for Middle East to Far East Cuisine (first day) and Western Cuisine (second day). The winning team from each group will then move on to the Grand Finale on Day Three, where a Mystery Box of ingredients will be given to the competing teams to come up with an ASEAN Fusion Cuisine comprising a Appetizer, Main Dish & Dessert.
Prizes for the top four teams will include a certificate a cash prizes, and cash prizes again to be awarded to the Best Appetizer, Best Main Course and Best Dessert within the three days.
---
Follow @Sitikaprawi_astera_consultant for more information and updates.