A Staycation with Nature: Hilltop Cabin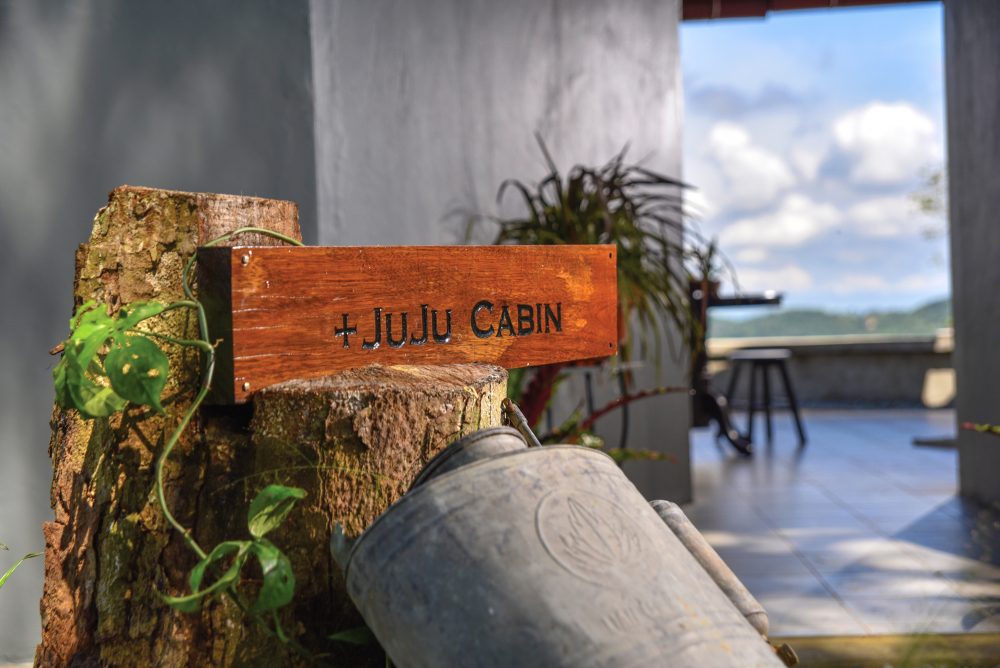 Holidays with the whole brood or a loved one are not cheap. Kids eat a lot and romance can come with a hefty price tag but fear not – getting away from it all has never been easier or cheaper with a staycation. Both +JuJu Cabin and Shangri-La's Rasa Ria Resort & Spa are less than 2 hours from Kota Kinabalu and are perfect for a short city escape.
Secluded but not isolated, +JuJu Cabin is located on a 10-acre private property in Tamparuli which is less than an hour's drive north of the city. Managed by Borneo Orchard House, the property has a durian orchard, pineapple crops, a Big Guesthouse and owners' residence to welcome visitors of different interests but the cabin is strictly for adults only.
Perched on top of a hill, +JuJu Cabin has its own driveway, facilities for exclusive use immersed with outdoor living; perfect for adventurous solo travelers or nature seeking couples who appreciate a detached, independent self-catering cabin surrounded by secondary jungle. The highlight of this private adults-only vacation rental is the awesome 270° panoramic vista of lush mountain views and glimpses of the South China Sea. Guest facilities feature a handcrafted wooden cool tub in the patio to take off the afternoon heat and soak in the stunning views, an open-air dining and simple kitchen complete with cooking utensils, medium sized refrigerator and pantry stocked with essentials for self-catering.
For a break in the solitude, visitors can travel down the 6km winding road to Tamparuli town, well-known for its suspension bridge that inspired the much loved song 'Jambatan Tamparuli', dig into its signature fried noodle dish or visit the very colourful weekly fresh market on Wednesdays where farmers from all over the district gather to sell their produce and to catch up on the latest news in town.
The beginnings of +JuJu Cabin is pretty interesting if you're into local folklore. When the owners, Tina and Brian, first bought the land, this part of the property was covered with undergrowth between matured rubber trees and a number of mysterious shallow circular holes scattered before an old Strangler Fig. One day, they discovered a freshly dug 2 metre wide empty hole with green coconuts, rolled up kirai (local cigarettes), nasi lemak, peanuts, black coffee and sorts neatly placed on the outer rim with incense sticks. On the fig tree hung pieces of red paper with Chinese writings and red wax from prayer candles.  A sound theory by a local kampung friend is that back in the day when there were less shrub, one could see the steamships sailing pass from the fig tree's vantage point, and that spot is where pirates bury their loot; those believers must have dug holes and prayed for fortune.  That's when the owners decided to name the spot +JuJu Hill (using a plus sign for positive juju).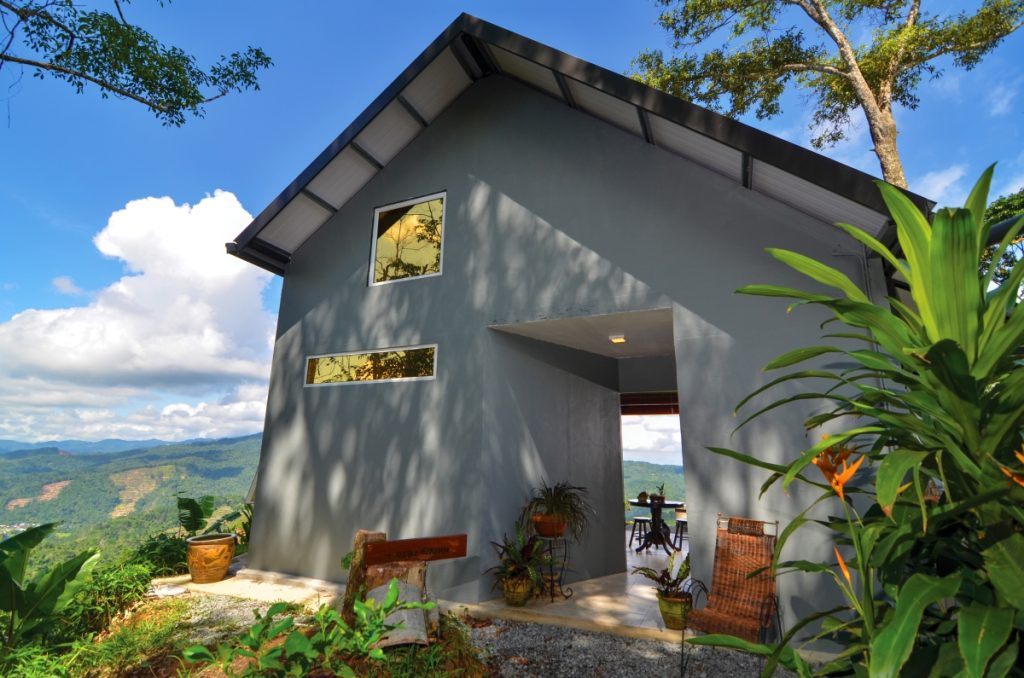 Few years ago during a long drought, a small bushfire cleared the land, creating just enough space for a tiny holiday house.  During the construction of +JuJu Cabin, two old shovels and a fist sized Pyrite Crystal, known as Fool's Gold were uncovered and then promptly buried again for good juju. The Strangler Fig now stands guard over the cabin allowing its "chi" to flow through and the gold tinted windows to hint that +JuJu Cabin is indeed the real hidden treasure.
For children-friendly family stays, it is recommended to stay at the Big Guesthouse which can accommodate 12 persons. Book your private +JuJu Cabin through AirBnB.
Jalan Kiwoi Lingga Bambangan,
Daerah Tuaran, Kampung Kiwoi,
Tamparuli, 89250
Kota Kinabalu, Sabah, Malaysia
FB: JuJu Cabin
IG: @Borneo_Orchard_House
W: www.BorneoOrchardHouse.com
This article first appeared in the October-December 2018 issue of Borneo Insider's Guide magazine.