Beat The Blues at Biru Biru Cafe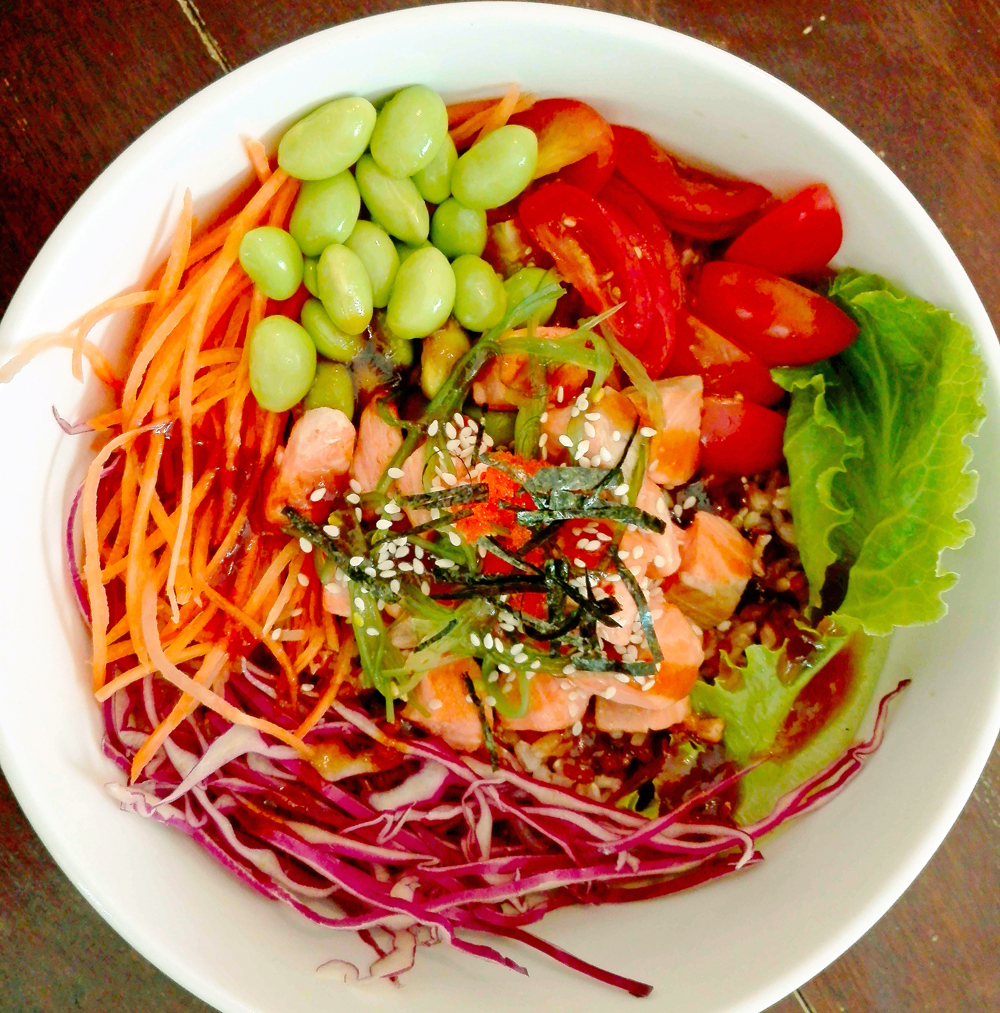 Riding on the trendiest food fad that is making clean eating a little less dull is Biru Biru Cafe's very colourful In a Bowl series of custom-made poke bowls. Poke means 'to slice or cut' in Hawaiian and refers to chunks of raw, marinated fish, unusually yellowfin tuna or salmon, which is tossed over rice and topped with vegetables and sauces. Usually eaten as an appetizer, it is substantial enough to have as a main meal. In a Bowl allows you to customise your own bowl with a choice of brown rice, sushi rice, baby lettuce or soba noodles as your base before topping up with vegetables of your choice. Then add seaweed flakes, fried shallots, ebiko, furikake or wasabi to give your fresh food a bit of flavour. The choice of sauces is limited to ponzu lime for a bit of zing, spicy kimchi and sriracha aioli for a bit heat, mango aioli for a bit of sweet and teriyaki and house shoyu for a bit savoury.
Colour, texture and taste are so well-balanced that you'd want to come back for seconds. With its wide choice of sides and toppings, you can play around with any number of combinations to make each meal a new experience. They also have smoothie bowls and other food options on their western and local cuisine inspired menu for the less health conscious!
Biru Biru Cafe has a wonderfully nostalgic old-school kopitiam ambience and decor, and although its non-air conditioned, it's airy enough to make it tolerable even in the mid-afternoon heat. Located in the old part of the city away from the inner city traffic, Biru Biru Cafe is a comfortable hang-out for lunch, dinner and drinks. They also occasionally host performances and screenings to support local artists so it's worth giving them a call before dropping by to find out what's on for the evening.
24, Lorong Dewan, 88000 Kota Kinabalu, Sabah
Opening hours: 11.00am – 1.00am daily
Tel: +60 12 272 7116
FB:@Birubirucafe
IG: @Birubirucafe
Biru Biru Cafe is a non-halal establishment. This article first appeared in the October-December 2018 issue of Borneo Insider's Guide magazine.