Abdul Zainidi's Hometown Fairytale
Maybe Brunei hasn't had its global blockbuster yet – not for the lack of some truly solid attempts – but if anyone thinks that the art of cinema is lacking in the sultanate, then we're happy to inform you that you're mistaken. There are films that are made for a big, general, action-happy audience, and then there are films that speak to your inner subconscious, that dares to you to look, reflect, and think on what you had just seen. And when it comes to the latter, no one films it better than our own Abdul Zainidi.
Currently under scholarship at the Busan Asian Film School, Abdul Zainidi has already made his mark. He joined forces with Korean producer Jungwoo Lee to collaborate on 'Worm and the Widow', and the project was given the honour to take part in B.I.G's IT Project market at BIFAN 2018, which saw Abdul Zainidi pitching his idea and meeting with top industry experts from esteemed organisations such as Astro, Hong Kong Film Festival and Sitges Film Festival.
About being selected to take part in the project, Abdul Zainidi says, "The experience was fantastic. Meeting with top industry experts, these encounters allow us privileged 'selected projects' to benefit and learn from and also be exposed on a professional platform."
The duo went on to win the coveted Bucheon Award, which includes a cash prize to turn his project into a reality.
"It was amazing to be nominated for the project but I had no expectations to win the top award. It was, as we say in Brunei, rezeki, and for that I am eternally grateful. A lot of work goes into making films and I felt that this was a culmination of hard work and sacrifice and years of being unknown even within the Brunei cinema scene."
The cash prize awarded from the project will complete Abdul Zainidi's vision into a cinematic reality. The project, the 'Worm and the Widow', is a fairytale set in Tutong about a handicapped boy and his encounter with a widow, nicknamed The Witch. It will be filmed in Brunei, and will have the entire cast speaking in the Tutong dialect.
Brunei remains a consistent topic in most of Abdul Zainidi's projects, who explains, "Whether I'm in France or in South Korea, home is where the heart lies. For me, home is something I don't forget. As filmmakers, we are fortunate enough to express our thoughts and views of art through the language of film and for me, I use film to show the world my view of Brunei. Of course, opinions are divided because my take on Brunei can seem often artsy or creepy!"
"But there's an importance in being honest, and accepting of the fact that I promote Brunei overseas, even if it is in a different light. Ultimately, it's important to never forget your roots and where you came from."
Regardless, or perhaps because of Abdul Zainidi's arthouse take on the country he came from, the filmmaker from Tutong has received several accolades under his belt. From France to winning a scholarship to study at the Busan Asian Film School, to being selected at the Asian Film and being selected for the Film Leaders Incubator programme, and more, Abdul Zainidi is always at work on his next project – which typically, though not in Brunei, receives recognition from other countries.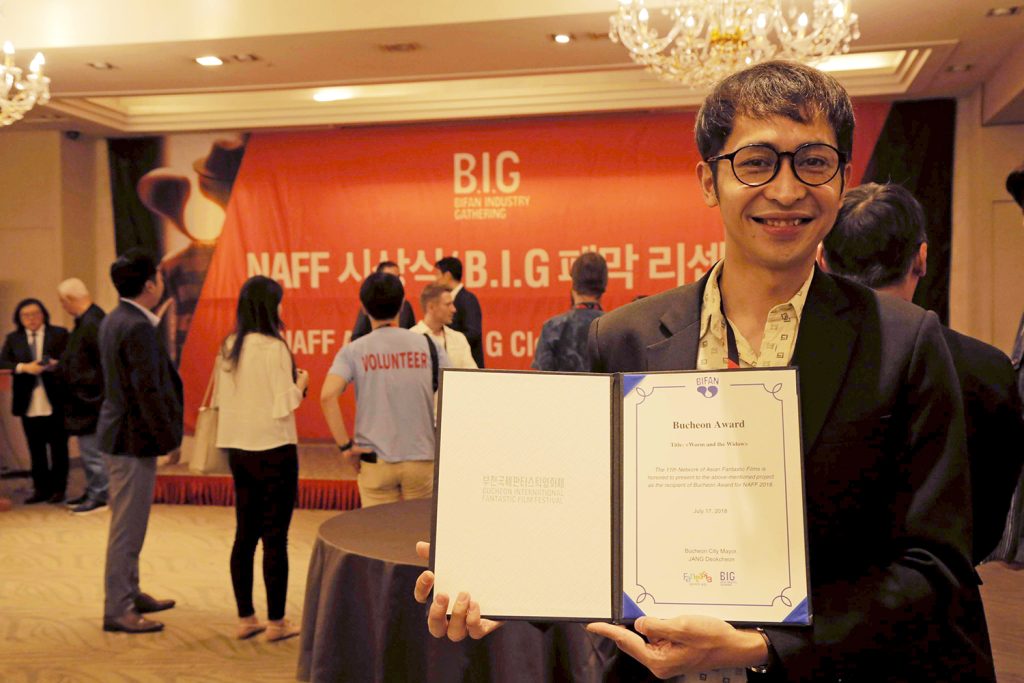 Currently in South Korea, Abdul Zainidi is predicting a lot on his plate when he returns to the sultanate in December.
"I'm hoping to begin pre-production for the 'Worm and the Widow', and start on my next foray into the theater world with 'Pockairport'." This next play tells the story of a young man named Manngis who enters a strange airport and boards a plane that takes him to a land inhabited with strange characters.
As for his own hometown's burgeoning film industry, Abdul Zainidi hopes to bring his own experience to the table to help out his fellow local filmmakers.
"Coming home to Brunei, I have never been shy in sharing my experiences and helping aspiring filmmakers with their dreams. Earlier this year I helped out some local filmmakers, and they often contact me through Instagram and Facebook to ask me questions about filming. And I always help them out, regardless of how busy I am, and I make time to teach them. A good filmmaker is one who transmits his own craft and passes it on to younger filmmakers."
Follow Abdul Zainidi on his cinematic journey by connecting with him on Instagram or Facebook.
---
An excerpt from the above article was first published in the Borneo Insider's Guide 2018 October-December issue.