Brunei's First Duty Free Shop Launched at the Brunei International Airport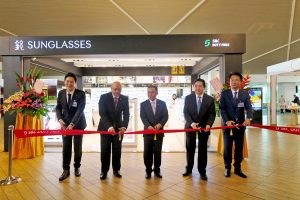 Brunei Darussalam saw the opening of its first duty free shop last Saturday, 30 June 2018, at an event held at the Satellite Area of the Brunei International Airport. The event was officiated by Yang Berhormat Dato Seri Setia Awg Hj Ali bin Apong, the Minister of Primary Resources and Tourism; Yang Berhormat Dato Seri Paduka Dr Awg Hj Mohd Amin Liew bin Abdullah, the Minister of Finance II; and Yang Berhormat Awg Abdul Mutalib bin POKSSDP Hj Mohammad Yusof, the Minister of Communications.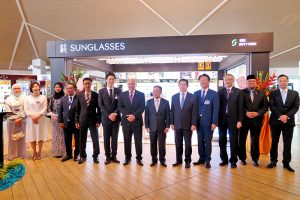 Last year, the Brunei International Airport recorded an arrival of 244,278 transit passengers and the launching of the duty free shop was based on the need to boost the shopping experience for airline and transit passengers. The opening of the SBC Duty Free Shop with its myriad options will hopefully prove to be a significant contribution in enhancing passengers' positive experience of Brunei.
The SBC Duty Free Shop is a part of the Shinwoo Group that also operates business under the areas of construction, trading, and logistics. This Korean-based company invested in opening the duty free shop in Brunei as it finds the sultanate to be an attractive country to invest in, due to its economic strength, political stability, geographic location, and clean and safe environment.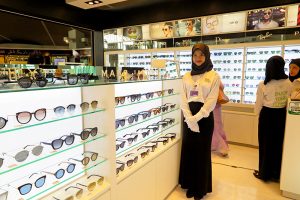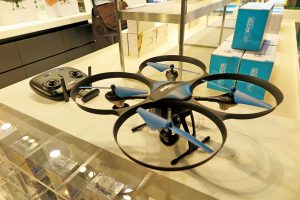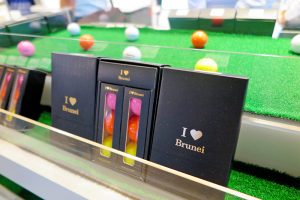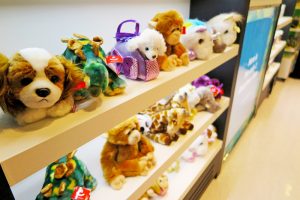 Mr Sung Weonwoo, representative of SBC Sdn Bhd, had other reasons for wanting to invest in Brunei.
"My initial feeling when coming to Brunei was witnessing the modern infrastructure, good facilities, clean environment, highly educated people and I was amazed with the hospitality and warmth of Bruneian people," Mr Sung Weonwoo said in his welcoming remarks. "This country has a strong economy, a good strategic location, political stability, high focus on safety and strong relationship with its neighbouring countries. With all these reasons, I decided it was the correct decision to establish a company and invest in Brunei Darussalam."
Mr Choi Sangkwon, President of the Shinwoo Group, expressed hopes that the opening of the duty free shop will be the first step in the development of other businesses in Brunei.
"SBC Sdn Bhd is proud to be part of Brunei International Airport's first Duty Free Shop operating in Brunei, and it will pave the way for our next phase of developing other businesses in Brunei," Mr Choi Sangkwon said in his speech. "We hope that this first establishment will help to promote other Korean companies to also have an interest in investing in Brunei Darussalam and will link them to any business opportunities and partnership whenever necessary."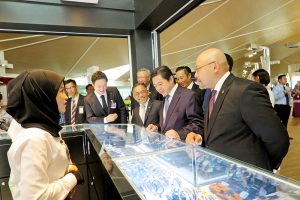 The event was officiated with a ribbon-cutting ceremony and then a quick tour of the four SBC Duty Free Shop outlets in the airport, which sells a collection of premium brand products such as watches, sunglasses, electronics, and other designer collections.
The opening of the SBC Duty Free Shop and the potential of developing future businesses in the sultanate will also make good job opportunities available for Bruneians, and the company has already employed a total of 20 locals. "We will do our very best to ensure that we always provide good quality job positions and conducive working environment for Bruneians," Mr Choi Sangkwon remarked.
The SBC Duty Free Shop operates from 7am to 12.30am daily.