East Bali Sojourn
By Wan Zainal Abidin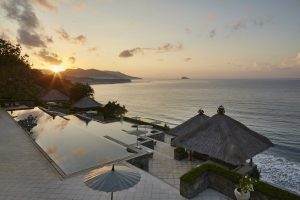 My adventures in Bali had always been the same old routine – stay in a nice resort and the usual mix of eating and shopping. On my recent getaway to Bali, I was keen to avoid the crowds in the south side so I decided to search for a more authentic experience on the eastern side of the island. Home to the sacred mountain of Mount Agung, beautiful countryside, traditional villages and relaxed coastal towns; this is the Bali of years gone by. My resort of choice was Amankila, which celebrates its 25th anniversary in 2017. And with a yearlong calendar of special events and cultural experiences to mark this milestone, it is definitely the time to visit Amankila!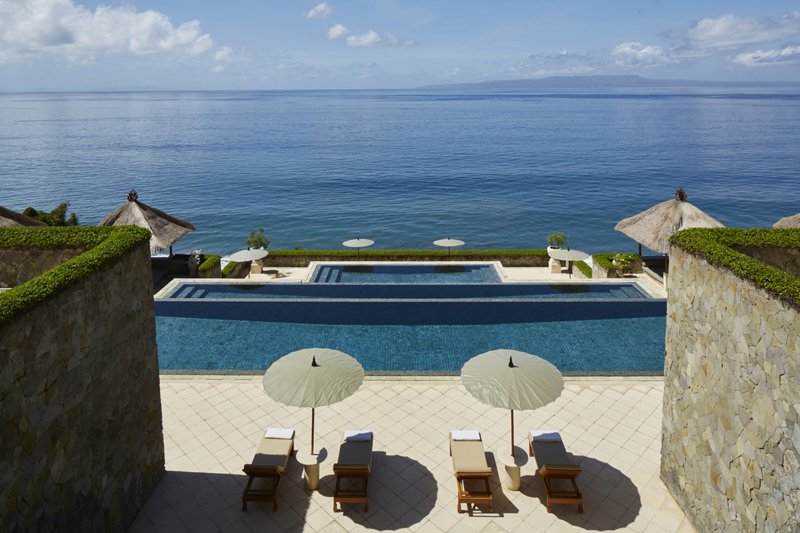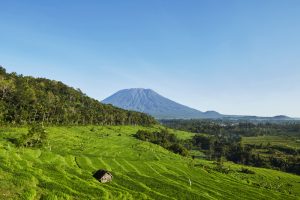 Amankila, which means peaceful hill, is perched above the Lombok Strait, on the slopes of Mount Agung, near the village of Manggis in East Bali's Karangasem Regency. Amankila offers the perfect launching pad to discover east Bali and all that is has to offer: soft powdery black sand beaches, dive sites of spectacular underwater havens, lush greenery and infinitely tall palm trees. Individual stilted pavilions with alang-alang roof thatching, reflecting the graceful architecture and culture of Bali, are enveloped by regal coconut palms. The pavilions surround a spectacular infinity pool that cascades down the hillside in three tiers, reminiscent of a rice paddy field. This forms the heart of the resort, and this is where on countless evenings, I watched the sun set with my pre-prandial drinks overlooking the swathe of stone steps leading down the iconic tiered pool. The resort's setting and location is indeed unrivalled in Bali.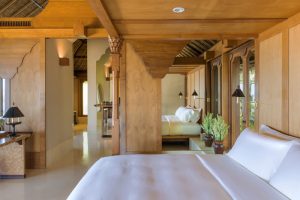 Amankila's 33 suites, nine of which has its own pool – enjoy complete privacy with ocean or garden views. All suites feature canopied king-sized beds, a living area, a large bathroom with a soaking tub and outdoor terraces. Spacious, tactile and modern yet respectful of local Balinese elements, the suites are decorated with inlaid pearl and coconut-shell furniture and other local materials that blend harmoniously with the natural environment. I stayed in the Garden Suite that is nestled in the hillside some three stories above the tiered pool with stretching views of the Indian Ocean. Throughout the interior, timber is the keynote material, all done to celebrate the rich Balinese heritage and despite being 25 years old, I must say that the timber finishes are well maintained and look almost brand new. Just outside my room is an open-air terrace that I enjoyed lounging on. In fact, I even had my breakfasts served there on most mornings.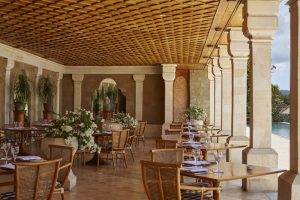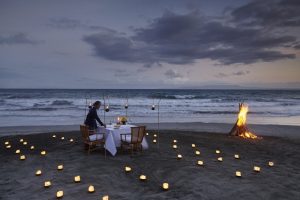 On most days, I take light lunches at The Terrace by the main pool while soaking in the ocean views, and on others, I dine at The Beach Club restaurant located at the coconut grove. This informal restaurant is open only for lunch and serves amazing fish tacos, but the star-dining venue has got to be the Dining Room in the main resort pavilion where Chef Shane holds reign. On my final night, I had the most delicious porcini ravioli and grilled baby chicken – a feast made in the heavenly kitchens. And as desserts go, the lovely traditional pisang goring Bali and cheese selection will take some beating.
Aquatic diversions over and under water are plenty including snorkeling and diving. Beyond these water adventures, there is always the option of retiring to the sanctuary of the Spa Pavilion which offers a rich tapestry of spa programmes that reflect the cultural healing traditions of the Balinese people. I spent my last afternoon at the resort getting oiled up and rubbed down at the spa, almost forgetting that my eastern Bali sojourn was quickly coming to an end.
At the end of my stay, I was very impressed with Amankila. Its charming service staff, excellent cuisine, exceptional diversions and best of all, its easy connection to my home base, Bandar Seri Begawan. The next time I want to do nothing, escape my mind-boggling schedule, Amankila makes it an easy choice.
A Family Friendly Resort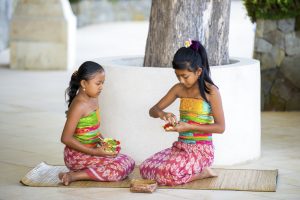 While most people think that Aman resorts are for starry-eyed honeymooners only, there is plenty to do for the family. Here is a list of things to note for those with children in tow:
Being a family friendly resort, qualified and experienced childcare and babysitting services are available upon request.
From mini football to croquet and pool toys to kid's fishing rods, different types of beach toys are available at the Amankila Beach Club to keep your little ones busy. Complimentary water sport activities including Jobie Cat, Stand up paddleboard, boogie boards and kayaks and available from the beach club too.
During high season and major holidays, a supervised kids afternoon picnic with personalised invitation is held daily at the beach club.
Enroll your child in a Balinese dancing class, where they will be dressed in traditional costumes for the perfect photo memento.
In Bali, little girls are taught at a young age to make Balinese offerings called Canang. Little guests at Amankila can join the local girls to learn make these offerings.
For kids aged 6-12, there is the opportunity to enjoy the aquatic adventures of East Bali by joining the surfing classes conducted in association with East Bali Surf and Sail.
See the wonders of Ujung, the water palace built by the last Raja of Karangasem in a different lifhgt by signing up for a cycling expedition for the family and get ready for the most memorable ride of your life. Pedal alongside a seasoned guide as you take in the stunning historical sites and glimpses of the locals' homes.
Pamper the little ones with Spa for the Young treatments that include Little Princess and Prince manicure and pedicure and mini facials using organic Aman products for the not so little ones.
Get the hotel to pack you a picnic lunch and take the entire family to Bali Safari and Marine Park. Home to more than 50 animal species, the park combines a Balinese cultural ambience with an African savannah experience – definitely a great activity for guests of all ages!
---
AMANKILA
Jl. Raya Manggis, Manggis
Karangasem, Kabupaten
Karangasem, Bali 80871
Indonesia
Tel: 62-36341333
For more information on Amankila Resort, follow them online at their website here, and on Instagram.
This article first appeared in the October-December 2017 issue of Borneo Insider's Guide magazine.